Since spring of 2014 I have been working on migration of Exterminatus to the 2013 version of the Source SDK. Players should find this version is more stable, has shorter loading times and a high frame rate than the previous Beta which uses the 2007 Source SDK.
Mitch has set up a new dedicated server in Australia ( [AU] Mitch's Exterminatus Server) with encouragement from Ceadda. The new server should be listed in the in-game server browser, but you can connect direct at 223.27.28.16:27015
Installation instructions
Install the "Source SDK Base 2013 Multiplayer" to your steam library (it's listed under "tools").
Run the Source SDK Base 2013 Multiplayer at least once. You can exit once the menu has finished loading.
If you already have a copy of the EX beta, delete it.
Run the Beta installer and follow it's instructions.
Restart Steam. You should now see both the Exterminatus Beta 8.0 listed in your library.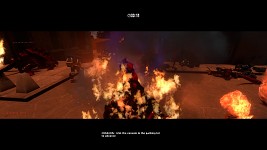 Features
The stormbolter now fires a single shot twice as fast, rather then 2 shots at once.
New Deathspitter impact sounds by DontAsk4470
New Sporemine bursting sounds by DontAsk4470
Turret Sound effects for "target spotted!" and "damaged" (HL2 sounds found by DontAsk4470).
Balance
Buffed Terminator armor effectiveness against most attacks, but still vulnerable to psionics.
Buffed Terminator starting ammo from 60 to 120
Buffed Stormbolter damage from 17 to 30
Nerfed Tarantulas rate of fire to the same as the marine's heavy bolter.
Buffed Tarantula max range from 1200 to 2400.
Buffed Tarantula damage from 8 to 16 to compensate for it's lower ROF
Nerfed the rate at which the Meltgun does damage
Buffed Meltgun damage from 18 to 19 per tick.
Buffed Flamer damage from 23 to 24 per burn.
Buffed Assult marine jump pack range.
Nerfed Plasmagun charge damage.
Nerfed Genstealer leap range.
Nerffed Carnifex armor protection.
Nerfed Lictor talon damage from 66 to 50.
Buffed Lictor leap range.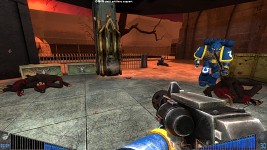 Tweaks
Made servo skulls invulnerable (their deaths were causing crashes).
Moved the Tarantulas "eye" so attacking players show now remain in it's field of vision even at melee range.
The screen shot key should now work in all the menus, regardless of what key you have it bound to.
Objective icons are now aligned more centrally.
Switched to the "sv_pure" method of checking server and client are running the same version. The default whitelist should allow chapter skins to keep working
Improved the class and war gear menu presentation.
Prevent Leaping players from seeing out of the map on Thunderhawk, Tarsis Ultra, Ichar IV, Valley and Lycantium.
Added a button controlled door to the vent on Orbital to slow down players using that short cut.
Added an extra level of detail to one of the bronze forgeworld panel props (the one with two tanks).
Grated DontAsk4470 a "Contributor" hero banner for his work with Source Filmmaker, sound effects and general community spirit.
Tweaked the tyranid warrior ragdoll to be less ridged (now more bouncy and inclined to do the splitz).
Technically this version is actually 8.02, it took more alpha versions to get to this state than I had expected when I started the migration at 7.9.
I have several more sound effects from DontAsk that can be included in EX, but I don't think they would be worth holding up the Beta release any longer. I expect i'll get around to including them in an alpha patch over the course of the (northern hemisphere) summer.