Saga with updated versions of Endless Summer, which was started in June, comes to an end. Let me remind, that original Endless Summer and all three updates for it (each update includes not only fixes, but a lot of new original content for summer mod) were released in 2011.
But after two years, in 2013, I decided to make updated editions of mod and its updates. For the most part because I wanted to release them on Mod DB with new and quality English localization.
But, as is often the case, when you come back to your old work, you can not resist the temptation to improve it.
So, now I can say that Endless Summer mod was really updated. It is the same mod as in 2011, with same atmosphere and style, but now it is better. Translation is better, graphics is better, stability more than ever excellent. I hope that all who decide to play in this mod will be delighted.
Time to back to main hero of this news, third update for Endless Summer mod. As previous two updates, it adds many different things to the game, and as previous updates this update must be installed only after the base mod (and updates 1-2).

Update named «Treasures of Sea Wolf». And the main feature in this update is an quest with same name. In original (base) mod you first could get some information about the sinking pirate ship. Now it is time to solve its secret!
«Treasures of Sea Wolf» quest will offer you to make a real adventure that is connected with investigation and mystic. To start adventure: go to the Hunter's House and carefully read the newspaper...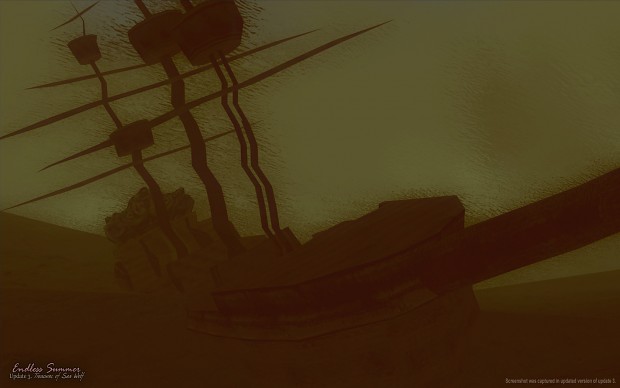 ---
Also in Update 3 for Endless Summer
New girls
: four girls models in summer clothes.
New real estate: in Bayside, small town on the ocean coast, now you can buy a nice house.
---
Special for updated version of update
New quality English localization:
now you can pass the pirate quest, enjoying this.
Added pack of low quality textures: instead of some «heavy» HD-textures from mod, will be used low quality analogs for best performance on not too powerful computers.
Added MIP-maps on grass textures and textures from update (for best performance and more quality displaying); made better compatibility with Windows Vista, 7 and 8; added several textures from HRT 1.4, for example, better textures for Ferris wheel and some other changes and many more changes.

---
Well. And base mod, and all three updates were re-released. And it means that soon will released updated version of Endless Summer: Full Edition. It will contains base mod with already integrated updates and all this with fully automatic installation.
Stay tuned. Because summer continues.