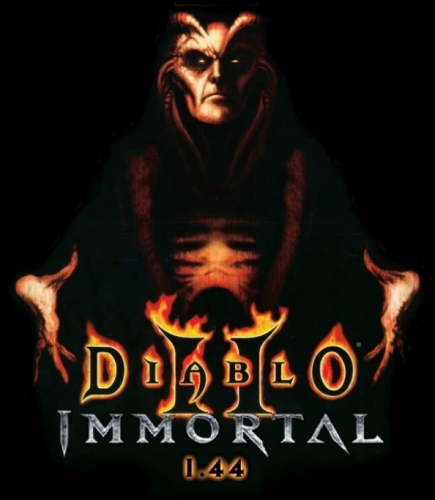 Diablo returns - not only to the shelves, but also in this next update to Diablo 2 Immortal, which is all about the original, and all about boss battles. Hunt the Three across the ancient world, hunt their minions to complete new epic quests, and discover yet unknown threats in the dark corners of the map!
But that is not all, of course, because as always the update was used to polish and improve all kinds of things. Like the Sandvich! Nom nom nom!
Also a special thanks this time to the German community their help, feedback and enthusiasm in creating items, and the guys here at ModDB/Desura for their support.
Features of 1.44
Five fully playable Diablo 2 classes
Original characters, looks, sounds and designs
Hybrid character and class mixture support
Unique new skill types
Javelin class weapons
Major sound overhaul
Rewritten balance systems, support for "weak" damage types
Proper scaling and a steeply rising challenge across 12 acts
New resistances for all enemies, with immunities in Hell
New enemy skills and better AI
Adjusted spawns with more champions & guest monsters
New enemies, new heroes, and new loot to find
Epic boss fights and large-scale endgame quests
Lilith assimilation code
Changelog for 1.40 -> 1.44
Many minor fixes and improvements

Out-of-combat regeneration skill for all classes

Now comes with Diablo true type fonts

Balanced some Barbarian skills, revamped Berserk

Fixed resistances on all Hell Knights and Swarms

Introduces fan-made D2 items

Epic boss battles in Grim and Hell

Hellfire quest & another secret quest for Hell difficulty

Screens
Download Version 1.44 Full (85 MB)
Local ModDB Link
FileSmelt Mirror

Known Issues
* Mod starts directly from Custom Game (not main selection)
- Missing maps.arc in resources. Available here. Was fixed in new upload.
* Weapon block grants 10 base attack speed
- Bug. Should be +10%.
* Small 4:3 resolutions show black bar behind the skill menu
- Native to Kirii's UI. Try another resoultion.
* Relics cannot be attached to javelins
- Current state of the art for 1h ranged weapons. One can use the "relics in all" cheat to allow it.
* Grim difficulty does not unlock on first occasion.
- Not sure what causes this. Just do the final quest once more (or unlock with Defiler).

Please leave a comment if you encounter any other bugs.

As always, it is also recommended that you get the Bugfix Fanpatch to prevent those which are part of the original game. Details about and history of the mod can be found in the Development Thread on titanquest.net. Also have a look at the forums there for general information, build discussion and current events.
Enjoy!