I'm very happy to finally be showing you our completed US Airborne model. After last months fantastic work by Scuba Steve & Tman was completed I couldn't wait to get my hands on it for a texture. Apologies the renders on the media sheets are a bit dark I got a little excited with it. The textures come in 82nd Airborne and 101st varieties (with the 502nd and 506th from the latter division each represented for now). Please note in order to save space here I have only posted the Media Sheets for the rendered model the information sheets will still be available via our homepage or forums (Please note on moddb there are only 3 images showing the rest of the images for this release can be found in our media gallery here or on our forums).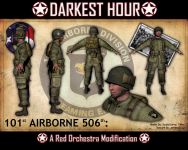 Along with the Renders We're also going to show you guys each of the the units in game. The 82nd featuring in St Mere Eglise Night, the 506th on Brecourt and the 502nd on Carentan Causeway.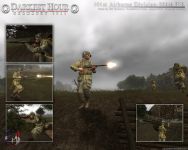 Last but not least the US finally has some MG support to call in. The .30 caliber machine gun has already been keeping the testers who like to play the Axis side in check. The second weapon in our final segment is the M1 Carbine. This little baby has been in game for months but we finally got round to tweaking a few things on it and we felt it was time to show it off. Please note the main image is actually of the player reloading (we are perfectly aware there should be a magazine underneath the gun usually) the character is just reaching for his ammo belt.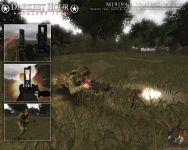 That just about wraps it up for this build I will leave you with a couple more shots of the Airborne in game and with news that we are expanding the number of clans we'll be accepting to our closed BETA in the New Year from 3 to 5.
See you on the field,
Aeneas2020
p.s. The other imgaes for this release can be viewed in our media galley...and lastly don't forget to vote for us for MOTY here
Moddb.com