Our team got three beginners in 3D-design. They must learn a lot, but I believe they will present you first 3D models of units, buildings or elements for Map Editor.
I'm waiting for new HUB projects, too. I think my skills are enough to code it into the game. What more? A bit records from voice actors, for example.
I'm not sure I have written, emailed or something like this, but I'm saying it now to every of you: in our total-conversion mod ther'll NOT squads of infantry, only single units. There are two reasons:
1. It's unrealistic you get team of skilled, well-trained soldiers in short period of time – and for small amount of money from resources.
2. Because of we want to implement cover-system, infantry could have possibility of taking cover everywhere it's logical. And well… 6-person-squad cannot hide behind a barrel or small container, can it?
There's one more information you should know about.
Creating cutscenes for Corporation campaign will start… next year. Yes, We have 100% actors for it and all equipment needed to make a movie! The last thing we have the problem is "green-screen". It's quite valuable (these goods, and big), but instead we have some rooms to design as command-centers. And I'm learning Blender to create some cinematics on the battlefield, like in Tiberian Sun cutscenes.
In the end, I would like to introduce you an alpha-draft of aircraft forces for every side. Only one plane has an concept-art (Cobra), we have uploaded it many days ago, but we will remind it.
Corporation

Bolt - cheap, light and fast fighter unmanned, armed with several automatic guided missiles, that may seriously damage defensive structures.
It is so fast that in good fly path air deference cannot even react to attack before them past over.
(problems starts when they back the same route what they came)

Fist - manned bomber - slower but more deadly , making damage , but it cost more.

The guard - a helicopter assault-defensive, very well armored, but hard to maneuver.
Quite expensive, ideal for fighting position, strengthen defenses and tactics rolling fortifications.

Jumper - unarmed aerial vehicle for transportation vehicles (one).
Very reliable but expensive.


ASUT

Cobra - crewed fighter, a little stronger than the Bolt, faster than Fist weaponed with laser beams.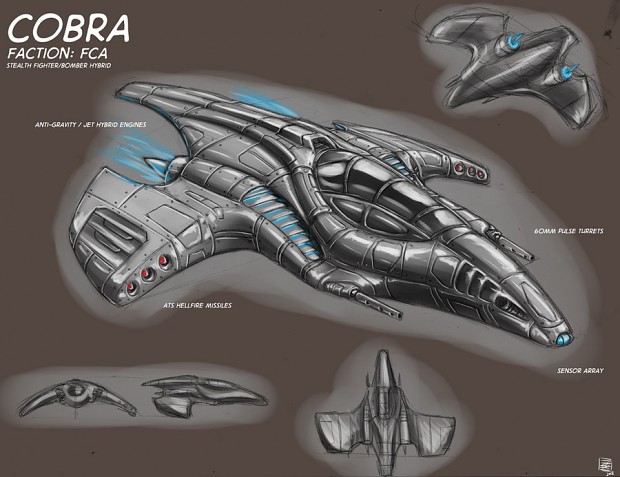 Cormorant - a helicopter with two rotors, 2 Gatling guns. Quite hard to take down, can transport up to 4 Soldiers

Commando - slightly lighter armor of Knight, transports 1 vehicle and 1 infantry, while deploying units generates a small force field


FAR

Hornet - light, fast and maneuver fighter with 2 mini rocket launcher. Very cheap.
Causing little damage but suitable for unexpected attacks and weaken the advancing enemy forces.
It's very difficult to hit him.

The Guardian - light fighter armed with a plasma cannon. Expensive.
With masking technology becomes visible only after the attack, or when it finds within range of special radar or any mobile unit

Silent Blow - plane bomb , kamikaze style