Greetings, everyone.
Today is a very special day. Not only is it a new month, but a new mod has now become available for you all to download. For quite some time, it would appear that this project has accumulated a great following of users of this website, and now I want to give something back as a well-deserved "thank you" from the bottom of my heart.
With every fibre of my being, I am pleased to announce that Call of Chernobyl: Mutants Uprising is now available for you all to download. Patch v1.00 is now live and you are all more than welcome to provide any feedback on where this mod excels and where it may need to improve.
In my previous article on this mod, I had released a trailer to showcase some minor elements of this mod, including some gameplay to keep things interesting. This trailer can also be viewed below.
In this quick update, I would like to inform you that this mod provides the player with the opportunity to pick between ten unique classes, each favouring different playstyles and abilities. Each class will come with at least one unique skin as well as a selection of character portraits that will allow you to take on your savage appearance.
These classes range between the following:
- Bloodsucker: Feared by many and admired by none, you lust for the taste of your prey's blood. You are capable of delivering deadly melee attacks, slashing away at any unsuspecting prey. For those times when you must feed, you can also make use of your tentacles to suck the blood of your victims.
- Snork: Agility is a Snork's best friend. A Snork's dinner is it's other best friend. With this class, the Snork has an undivided focus on melee and getting up close and personal on it's enemies. With no ranged attacks included, the Snork's tactics would dictate whether or not you may survive playing this role.
- Pyrogeist: Coupled with your fiery temper, your ranged attacks will deal a great deal of damage to your foes. You do not have any melee capabilities, though this doesn't stop other stalkers from staying on their toes and trying not to become roast turkey.
- Zombie: Slightly undead and really slow. With only your melee attacks and your deceptive appearance on your side, you don't really have much choice with this class. Of course, this is not a bad thing; you just need a stalker or two to claw away at and everything will be okay.
- Controller: Slow, stocky and dangerous. These three characteristics, combined with your deadly melee attacks and ranged psi attacks, speak volumes about what defines this class. As a Controller, the world around you is a very deadly playground, and your key to success is staying in control.
- Pseudogiant: Strength is always on the side of the Pseudogiant. Your melee attacks will send your enemies flying and you have the ability to become immune to most damage types, including gunfire, for a limited amount of time. The best class to ruin any stalker's day in the Zone.
- Burer: A very diverse class. Gives you the ability to use ranged telekinetic attacks, deadly melee attacks and throw objects at your enemies. In conjunction with your sinister appearance, many stalkers will brand the Burer as a force to be reckoned with.
- Poltergeist: Supernatural. This is one of the many words that can be used to define the Poltergeist. Similar to that of the Pyrogeist, though not as rare, the Poltergeist is a very crafty supernatural form that can partake in manipulating it's surroundings for it's own gain (i.e. throwing objects, etc.).
- Izlom: With long limbs and savage tendencies, the Izlom is a territorial mutant with an eye for tranquility. Upon being disrupted from it's time alone, it can prove to be a fearsome enemy in the eyes of most stalkers. The Izlom will charge a target, not looking back and not hesitating to close in for the kill.
- Zombified Stalker: Not to be confused the Zombie class. Allows you to play as a real Zombified Stalker, complete with matching animations and deadly weapons. To use this class, press the [Z] key when your character's name has not been selected (press [ENTER] to unselect your character's name) and select your desired character portrait. You will spawn with an assortment of ranged weapons and skins.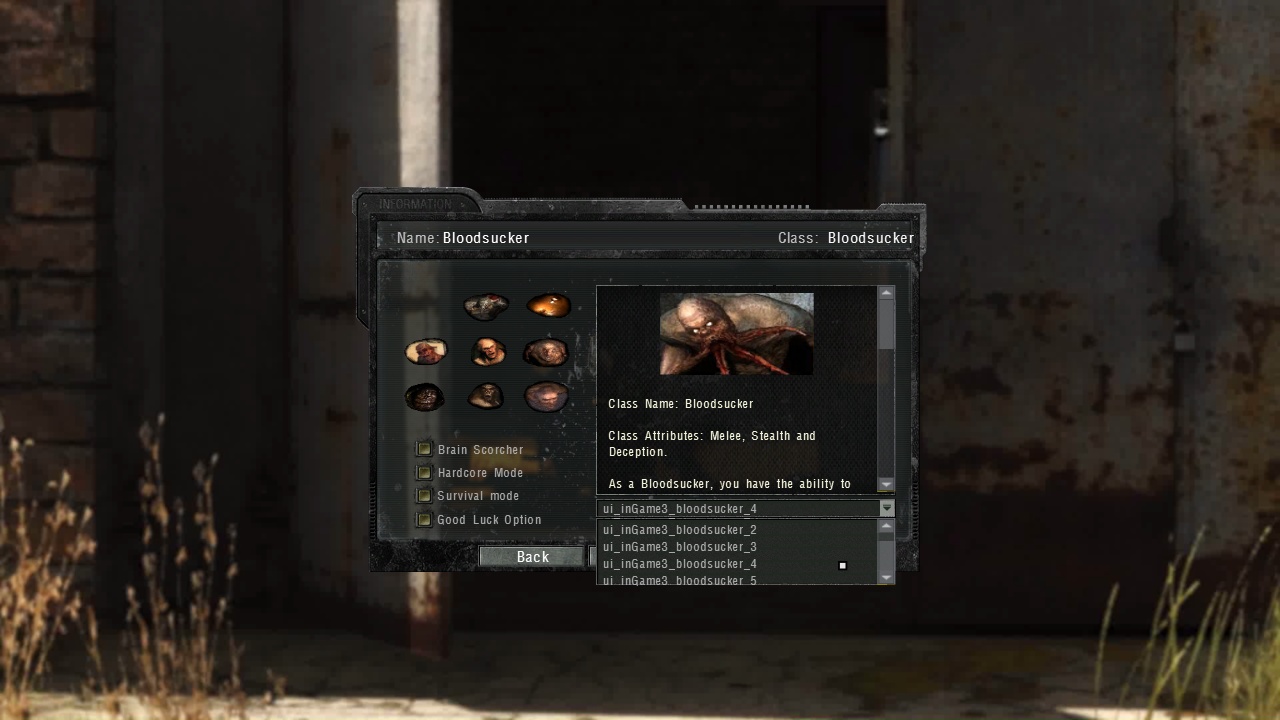 Feel free to provide any suggestions on how this mod can be improved. I will give you all some time to get used to playing this mod and develop your own opinions on this project.
If you wish to download this mod, it will be available via the addons section of the original Call of Chernobyl mod. The download for this mod can be accessed via this link: Moddb.com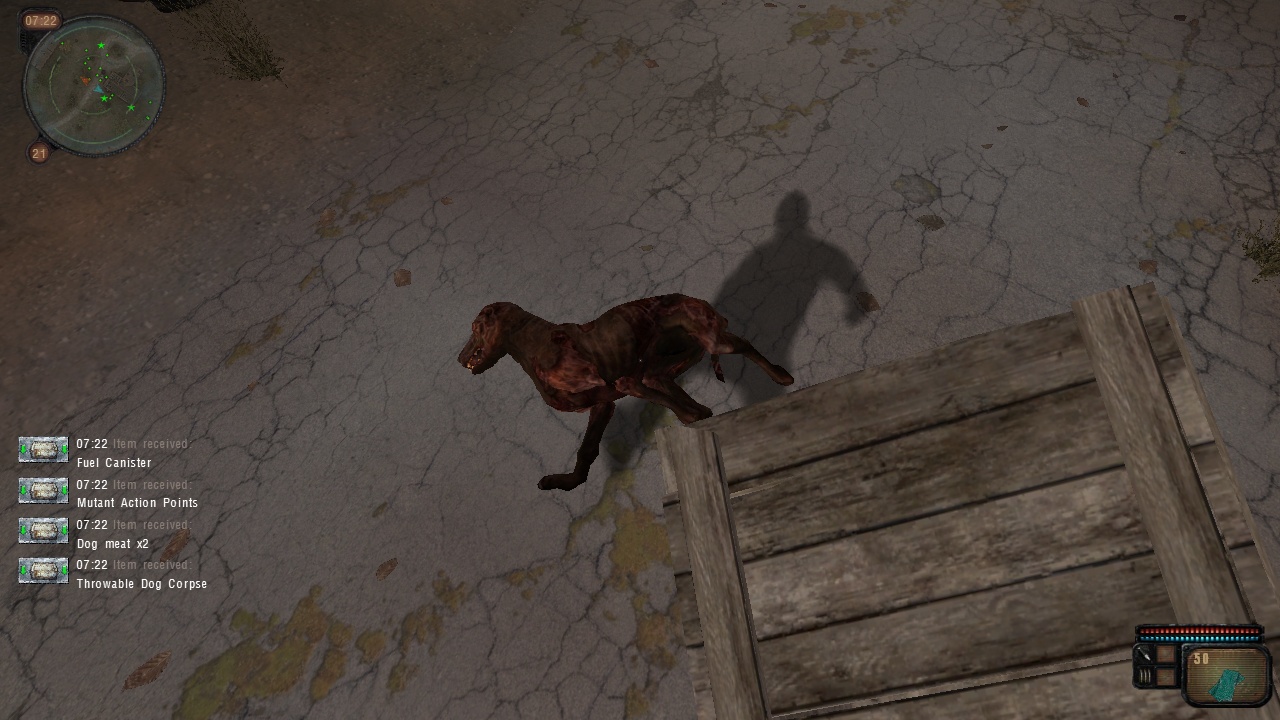 Currently, this mod has been reworked to enable all classess to be played indefinitely, from acquiring ammo from fallen foes to accumulating Mutant Actions Points by testing your ethics as a mutant; would you protect your species or slay your herd for your own gain? That would be up to you to decide.
Onwards from there, I would like to thank you all once again for providing your suggestions and motivating me to continue with working on this project. It certainly means a lot to me and I feel that the release of this mod can greatly benefit the S.T.A.L.K.E.R. modding community, from allowing other modders to take inspiration from this mod to enabling others in tweaking this mod to their liking.
In my next article, I will be addressing any feedback provided for improving this mod, as well as some points about where it may excel. I truly hope you all have fun with this brand new mod and I hope to speak to you all in my next article.
Kind regards, Jacob.