1 MAY 2016
California Megamod 3.1 have been released in the first of may of 2016,
You will need at least 12 GB FREE in your hard drive to install the full California Megamod version 3.1
i recommend to install version 3.1 in a different folder than previous version, because if you mix the folder from version 3.1 with the folder from version 3.0 or older it may fuck both versions and none of them will work, and this is the only reason i always upload the full game with any new release, to avoid the posibility of people mixing files and fucking the whole game in previous and new version.
Eventhough the full installation takes 12GB in your hard drive, its been very efficiently compressed using new winrar version 5.31, and so the installer files only weights 6 GBs. But you dont need to have WINRAR installed in your computer in order to install the new california megamod, because the compressed files have been packed into a EXECUTABLE AUTO-INSTALLER (.EXE). Windows does not allow a .EXE file of 6 GB in size and gives error message, and so i split the installer into 2 parts of 3 GB each one:
1- California megamod 3.1 installer.exe (3 GB in size) (this one installs all files and folders except the audio folder)
2- the AUDIO folder installer (also 3GB in size) (this installs only the full AUDIO folder). (This is required by the megamod but it could also work without it, if you get a copy of the original AUDIO folder from GTA SAN ANDREAS, but you will be losing some new features)
Version 3.1 Audio have smaller files that will use less RAM and less CPU usage, so in theory it should result in some kind of FPS improvement and/or maybe be able to run better in low end machines.
I have uploaded both files to a new server without spam that will make your life easier, because you will only have to download just 2 files, and the download speed will be very fast and more secure. If you dont have a good internet connection then you could use a download manager, but for the rest of the world it should not be needed.
The new California Megamod version 3.1 is focused mainly in fixing the main bugs from previous version (3.0), it also comes with some small improvements, nothing very impressive this time, but i think it's worth the download.
REMEMBER TO START THE GAME YOU NEED TO DOUBLE CLICK CaliforniaMegamod.HTA (prefered) OR CaliforniaMegamod.EXE (ANY OTHER .EXE WILL FAIL TO LOAD THE GAME, OR WILL CRASH THE GAME ONCE LOADED).
CLICK HERE TO DOWNLOAD BOTH INSTALLER FILES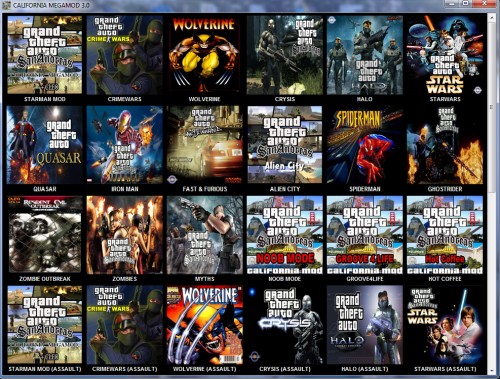 EXAMPLE VIDEOS: