Hey folks! 0rland0 d00m, here. Lots of things have been going on since we last updated you on our campaign's progress. The purpose of this post is to give sneak peeks and brief hints at the great things to come for PBM. As per usual, these things are not representative of the final product. We can't show you everything, but "we have such sights to show you..."



Check out the trailer that Zetsubo (Media Production) made for us!
Lots of progress has been made in the mapping department. Many things have been updated since last month's beta map. One of our mappers, Black Metal Chainsaw (of Chillax fame), has had a great start on Map 2. This map is set on a alien planet and will have wide open areas for vehicle battles. (More on that later) We're glad to have her on the team. Additionally, The Zombie and Kars have been hard at work building and finalizing other maps. Maps 1 and 9 have seen lots of attention in the past month. I'm a huge fan of complex map design, and so far our work is radiating with a coat of sci-fi/horror glory. I can't until release time.


Here is a video update of the UAC Prison Block.
Vehicle battles, you ask? Yup, we're working on that. I feel compelled to give a big shout out and thanks to our new voxel dev Collegia Titanica, as well as our voxel genius D3X1K AXYZ. Because of them we can look forward to battle mechs, A-10 airstrikes, tanks, and turret battles. There is not much here that I can say without revealing too much - we want this part to surprise players. Additionally, D3X has made PBM it's very own loading menu. Check out some cool screenshots of this stuff below.
In other news, we are in talks about including new features that have not been seen in Doom before. Things such as the previously mentioned airstrikes, turret battles, and even a zipline mechanic. Because of the efforts of Etto, these things will soon come to fruition. As The Zombie has stated before, we tell Etto what needs to happen, and he just does it. He is a miracle worker when it comes to scripting. It would be neglectful of me to forget our sprite developer, Mryayayify. Below are some shots of the work he is doing on the above mentioned features.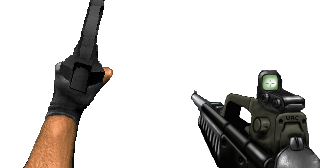 One of Mryayayify's zipline sprites.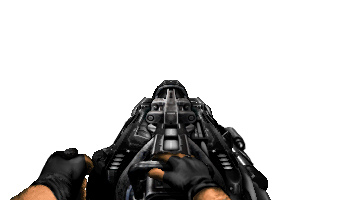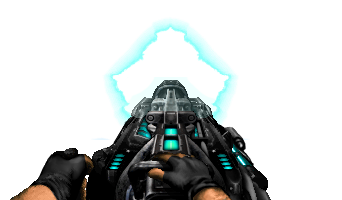 Some sprites for our turret.

Now, here is my favorite part - the music and SFX. Rob Hafmans (AKA Mr. Caffeine) and I have been hard at work creating an immersive experience in the audio department. Etto has been scripting dynamic audio progressions for our death metal action tracks, and it sounds utterly evil! I wrote an article on this a while ago which can be viewed here. Rob has been steadily creating the ambient soundtracks for our maps. His stuff is amazing! I have been chipping away at sound effects for unique events in the campaign, as well as doing voice work for enemies and (a secret) NPC. With the landscape-work season picking up it's becoming more difficult to find the time to work on this stuff, but I will always find time for PBM. Perfection does not come easy, but I'd say that Rob and I are pretty damn close. Most of my work cannot be shown off due to it's sensitive nature, but thankfully Rob has been kind enough to post a few of his ambient tracks. Here are two of them for your auditory pleasure:

Map 4's ambient soundtrack.

Map 3's ambient soundtrack.
That about concludes what we are able to show off this month. I hope you guys enjoyed the sneak peek, and as always feel free to send some constructive criticism our way. Before I conclude this, I'd like to give a shoutout to our concept developer RedAr. He just returned from a month-long hiatus due to eye surgery. I personally know what it is like to deal with eye issues, and I can tell you that it is no fun. We wish him a rapid recovery and a healthy life going forward. Also big ups to THING for plastering our logo all over his school, thanks for the support buddy. (Pics below.) We are one big family here at 10 Gauge Studios. We're psyched to be working on this thing together.

Until next month!
- 0rand0 d00m (Sound Design & PR)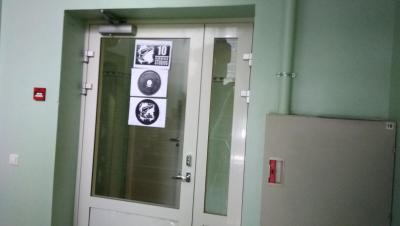 The best kind of vandalism.