Some of you are probably familiar to the quest "Brain Dead" from "Far Harbor", Fallout 4's latest DLC. If not, be wary, [SPOILERS] ahoy!

A few weeks before Fallout 4's release, Autumn Leaves, a Fallout : New Vegas Mod was published on Moddb and the Nexus. It featured a colorful cast of excentric robots, in charge of a forgotten Vault where a strange murder happened. Sounds familiar ?
Maybe, to those who played Far Harbor's "Brain Dead."
It was only recently that a nice fellow nicknamed "endolex" brought to my attention that there was several similarities between the two. Since I didn't play "Brain Dead" myself, I did a bit of research on Let's Plays and Youtube. AND SOON :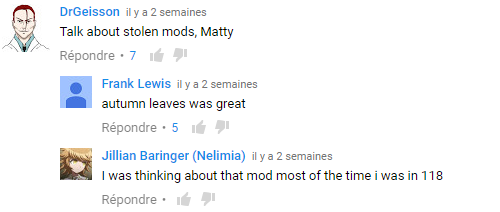 Wow, there, people. I knew that Bethesda was keeping an eye out on mods and taking the best ideas to integrate them in their future installments (like they did for Wasteland Defense for Fallout 4), but this!
Let's take a look at it for ourselves.
The comparison :
First off, both quests begins with a discussion through an interphone with the caretaker of the Vault, a headwaiter robot with a rather distinguished persona. The big mandatory Vault Door opens, leaving the player up for the exploration of said vault.
Up till now, nothing unusual, as Vaults are popular locations in Fallout's universe. Is all gud.
THEN!
The main quest itself, which consists in investigating the murder by checking the crime scene, and speaking to every robot in the Vault :
The mysterious death of the prime financier of the Vault, who - in both cases - worked alongside Vault-Tec to build the special place.
The importance of voice modulators in the plot, to distinguish the robots between themselves.
The sexytime moment.
And of course, the mandatory "Let's discuss paintings with a robot."
Then, there's the Neural Interface Matrix in BD versus the Neuro Comp Matrix in AL, the presence (and relevance to the plot) of a robotic expert in the Vault, the feel of the central atrium, the quasi-exclusive robotic cast confronted to a murder, the misleading piece of evidence (Keith/Rolland), among others.

Now, now, truth be said, I honestly thought Bethesda's staff played Autumn Leaves, had a blast with it (I hope) took some things out of it and made their own thing for Far Harbor. And I seriously think this is perfectly okay. After all, Autumn Leaves' inspirations are countless (Asimov's, Cluedo, Planescape : Torment, Arcanum, older Fallouts, etc.) and being influenced is a natural part of the writing process.
Of course, it raises some questions : should modders get some recognition from the industry, compensation? How could those two dynamics - paid content and free creation - should be managed? What kind of acknowledgement should a big publisher give to small creators? What is the kind of acknowledgement they can afford?

In my case, why am I making a post of it? Well, to raise some awareness of Autumn Leaves, really. Since I witnessed the interest that "Brain Dead" had raised from the players, I thought it would be cool to jump on the occasion to tell them that more of this kind of quests exists. (Though Autumn Leaves lasts around 6 hours vs 1 for BD.)
Since Autumn Leaves was out but a few weeks before Fallout 4, I always felt that people didn't have the occasion to discover it by the time they jumped to F4. On another note, I also fear that people who played Brain Dead would stumble on Autumn Leaves and ignore it because "Oh, hey, it's Brain Dead all over again!"

So, if you liked Brain Dead, want to play a "Whodunit", but with entirely different themes, different writing, different plot, different music (!) different voice acting (!!) don't hesitate to download Autumn Leaves
Feel free to drop by Hypatia, Autumn Leaves' Library. You will be welcomed with open arms.
NB : Screencaps from Far Harbor were taken from Father's Youtube Channel.