Finally we are proud to present to you all the first demonstration video of "Arx - End of Sun".
This video is intended as a technical demonstration more than actual game/story contents. The map is exclusively built to demonstrate what we have achieved so far regarding game-play and game mechanics.
The assets created for this demonstration, such as textures and props models will be used further on in development for the game itself, but expect to see a vast array of extra materials in the full release.
Here a little summary on what you are going to see in our first demo:
- Inventory system, Journal system, Magic runes, Store quick magic and magic mode system.
- New interactions such as opening doors/chests or manual drop pickup world items.
- Water physics with underwater blur effects and water drip visuals when raising from the water.
- Readable game objects system, such books, area/shop signs or secret notes.
- Poison damage effects and invisibility effects.
And now the video itself, sit down, turn-on your speakers and enjoy:
"Why it took so long?"
(A self interview on the development of this demonstration)
Russell "Solarsplace" Taylor - Lead Project, Game Designer, Game-play Programmer, 2D/3D Artist, Level Designer
Its been approx 8 months of serious development to get this far, probably longer, but much of that was spent rummaging through the original game assets and SDK trying to understand IDTech4. It has been rarely less than 16 hours a week invested in this project for longer than I can remember. There is always something that has to be done. Be it a map model, a texture, a new feature... wondering (and praying that it could be done!) how it would be possible to do so many things in the Doom 3 engine that have never been done before. Not as easy as it sounds with a full time job, wife and kids.
However, one ideal we have always tried to stick by, is quality over quantity, and I hope you can see this from this demo. Above all, we are absolutely convicted to stick with this project to its completion. What would make it worthwhile for me personally, is to produce a mod that I would be excited to play myself in the likeness of the original Arx, and for some fans of the original game and new players alike to say, thanks, I enjoyed your mod and appreciate the hundreds of hours of effort you put in.
Some of of the biggest challenges have been faced for me personally with the actual game code and producing model assets for the game. Having programmed professionally in most languages and technologies except C++, suddenly being faced with a massive SDK all in C++ was the biggest challenge. Next but, by no means least, learning a tool like Blender to produce models for the game is no less of a challenge! - but if you need a medieval torch or a barrel for your mod - I'm your man!
Lots of new challenges to start on now, with the big push for the 'real'game to start, such as non-linear level transitions and mass production of cave models.... Hope you will check back from time to time to see how we are getting on....
Also, big thanks to Arkane Studios for their permission to let us create our mod based on their masterpiece game Arx Fatalis.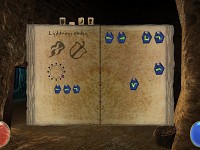 Nicola "Neurological" Capecci - User Interface Programmer, 2D/3D Artist, Level Designer, Music Composer
Well I think we achieved a good result considering we worked on all this only in two, from models to interfaces, from mapping to programming but there is still a lot to do and we probably can't take all the work both for lack of skills in certain areas (like character modelling) and time.
But for me the hard part was to learn environment modelling, more precisely modelling caves and make them believable and performance-friendly at the same time. Myself and Solarsplace discussed a lot about this taking a look also at other games to see how they did caves.
We first took a look at Oblivion that use a sort of tile system where you place chunks of model caves together to form a hall or corridor, but the problem is that system doesn't allow for great variety and can make caves looks too similar each other. Then we took a look at the Half-Life 2 mod Dear Esther which in my opinion it have the best looking caves ever done in a video game.
So we jumped in on that way to make caves. I first started making the main shape of the cave considering the limits I had. Doom 3 models uses vertex pain for blending two textures, but only two different textures. So when the main shape was finished I subdivided it in more models, we started to make some little rocks models with their own texture and normal map, then I started to place all those little models here and there. Obviously is not a clean way to make a cave that looks real (SSAO would have helped), but I think for this is the best way to do the caves considering the performance issue we may have to do a huge unique model for everything.
Surely the result is not the same of Dear Esther, but for now is the best we can do.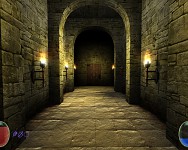 Help needed
We are seeking for some help to continue the developing of the mod and start producing real assets for the game/story itself.
Concept Artist/Illustrator:
- Ability to produce artworks to use as backgrounds for menus and cut scenes and character concepts for the 3D artists to produce the needed models.
- The knowledge of Arx Fatalis are not needed but a plus.
3D Character Artist/Animator:
- Ability to produce high-Quality models of characters provided as artwork by the Concept Artists.
- Ability to produce normal maps from hi-poly models
- Ability to rig a character to be ready for animations
- The knowledge of Arx Fatalis are not needed but a plus.
- The knowledge of MD5 model format is not required but a plus.
For more info on Arx - End of Sun, visit:
Moddb.com
Forum.arkane-studios.com
Arxendofsun.solarsplace.com