NEW WEAPONS
- AEK-971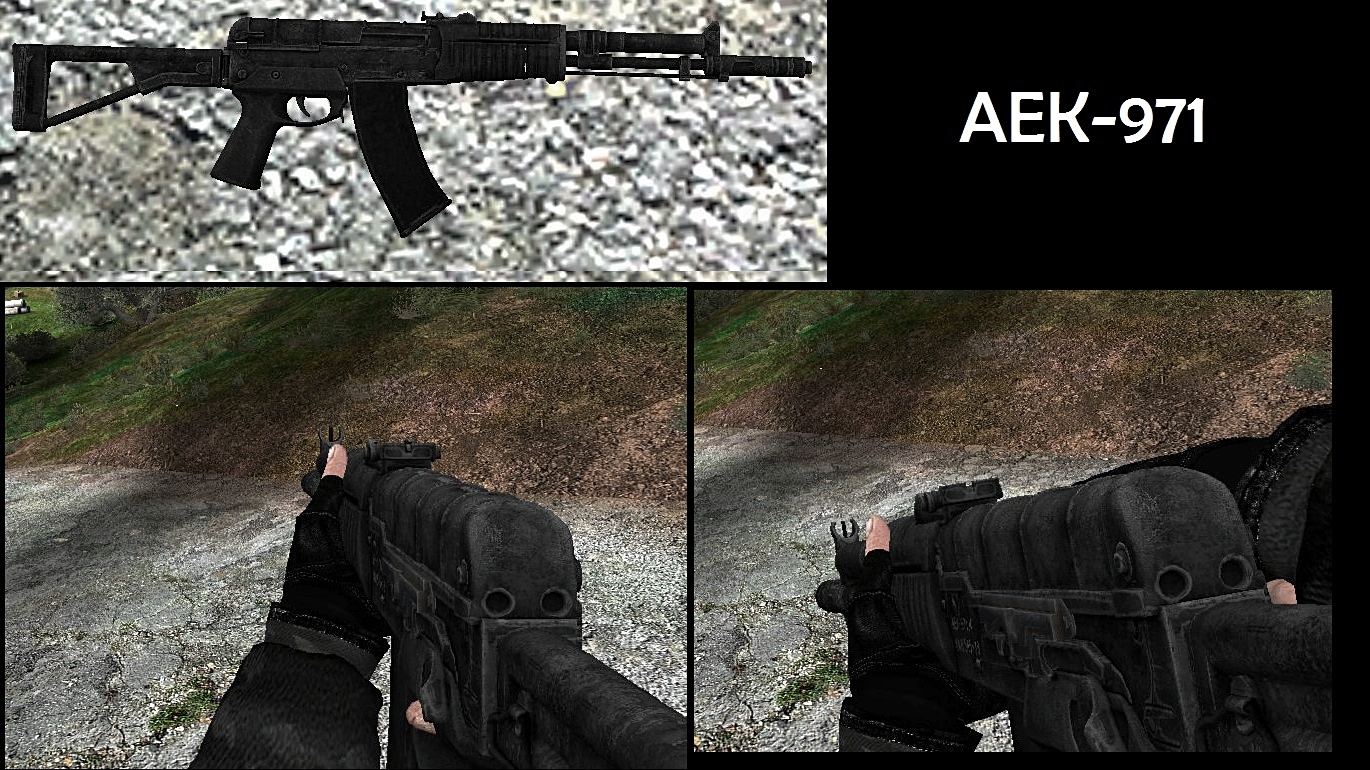 Highly Accurate Gun, High Rate of Fire, but Low Damage.This is Are,The AEK-971.The AEK-971 assault rifle was developed at Kovrov Machinebuilding Plant (formerly known as Kovrov Machineguns Plant) by chief designer S.I. Koksharov. Originally designed and tested during 'Abakan' trials of late 1980s, it failed in trials, but its development was continued in hopes to sell the gun to police forces and for export. During early 2000s small batches of AEK-971 rifles in 5.45x39 caliber were manufactured for Russian MVD (internal affairs ministry) troops, but its production has ceased in 2006, as Kovrov Machinebuilding Plant got rid of all military production and switched to civilain products only. All plans, tools and technological packages for AEK weapons were transferred to the ZID plant in the same city, but production of the AEK-971 was suspended for several years due to the lack of orders.Find it at Trader,Ready your Money.This Gun Can be Equiped with a Supressor,and PSO-1 Scope.
- AK-9
A Rarely Gun at the Zone,also Expensive but Payed by a Good Handling, Reliable and High Stopping Power Causes uts 9x39mm Magazine (20rnd),you cant find it At Any Traders,you just Can Find it IF You're 'Lucky'. This Gun is Also can Fitted By a PK-AS Sights and a Silencer/Supressor. (Thanks To The Creator)
- AK74 PMC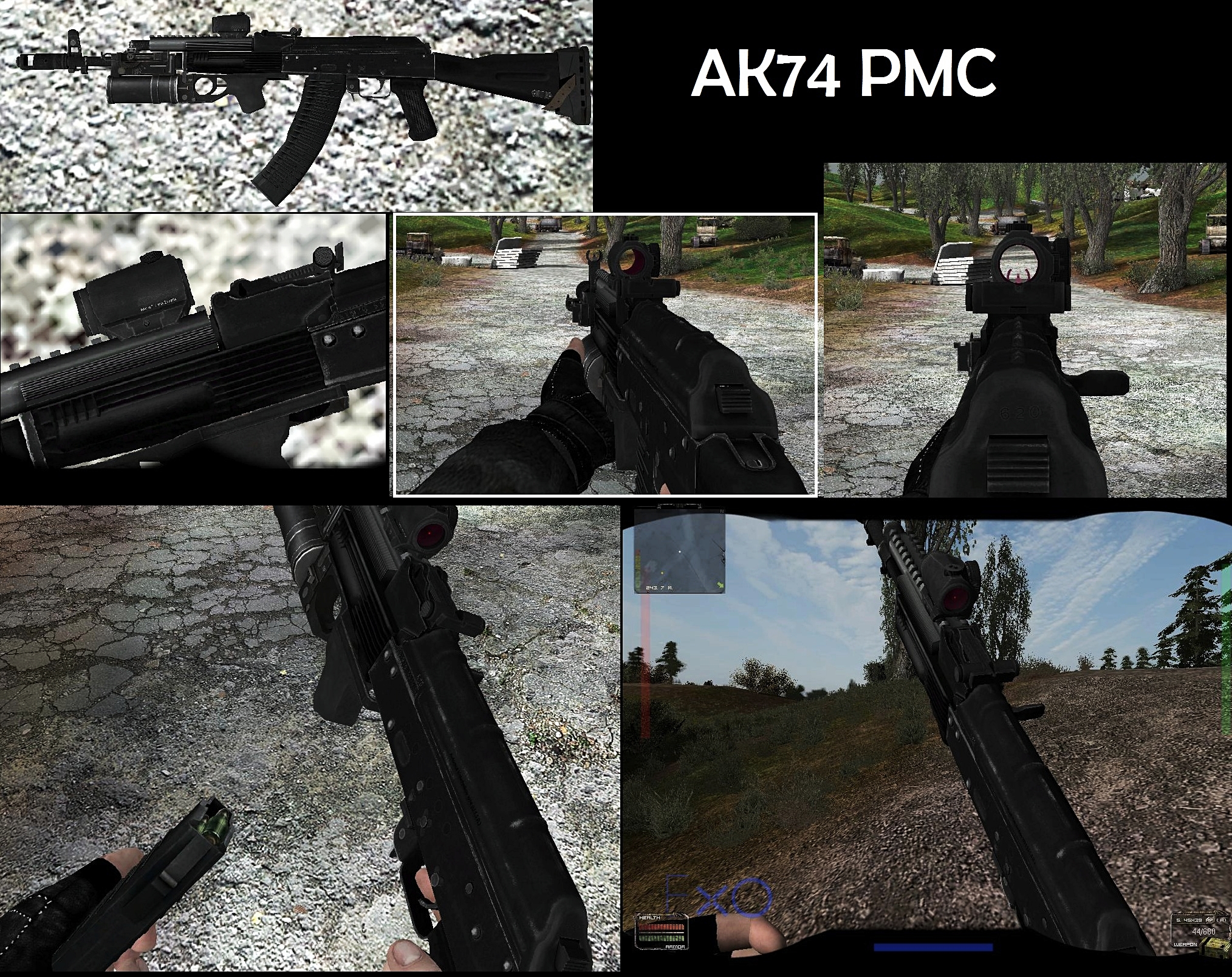 Modifiyed AK74 with Picantiny Rail (Front, Upper),Equiped with Micro H1 Sight (Red Dot), and With 45rds RPK74M Magazines,a Best Killing Machine...!!! You can Find it In Sidorovic,and This Gun can be Equiped with a Grenade Launcher, and Supressor.
- AK104 FSB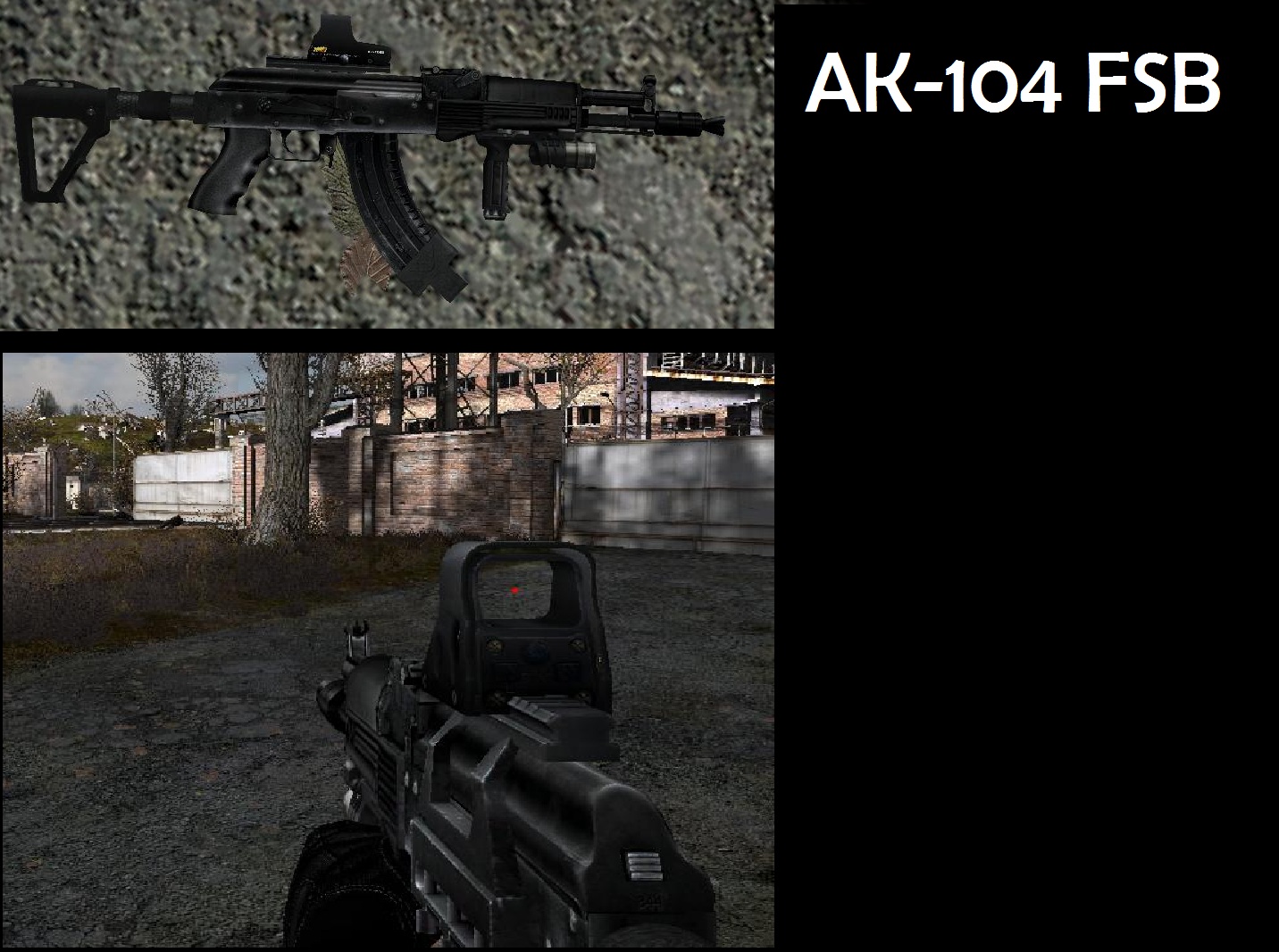 Used By Russian FSB and Spetznaz,but you may can Find it at Any Places (Treasures).This gun is Realy Reliable,with a Front Handgrip, an EOTech XPS-2, and Unique Stock. (Thanks to Aaz)
- Bushmaster ACR-Carbine
A Modern Gun with a Good Accuration, Reliable,had High rate of Fire, modarate Damage and Cool design,but Also Expensive. Its Realy Difficult to Got this Gun,not Because its Prices but because this gun is Very Rare. (Thanks To The Creator)
- DSA SA.58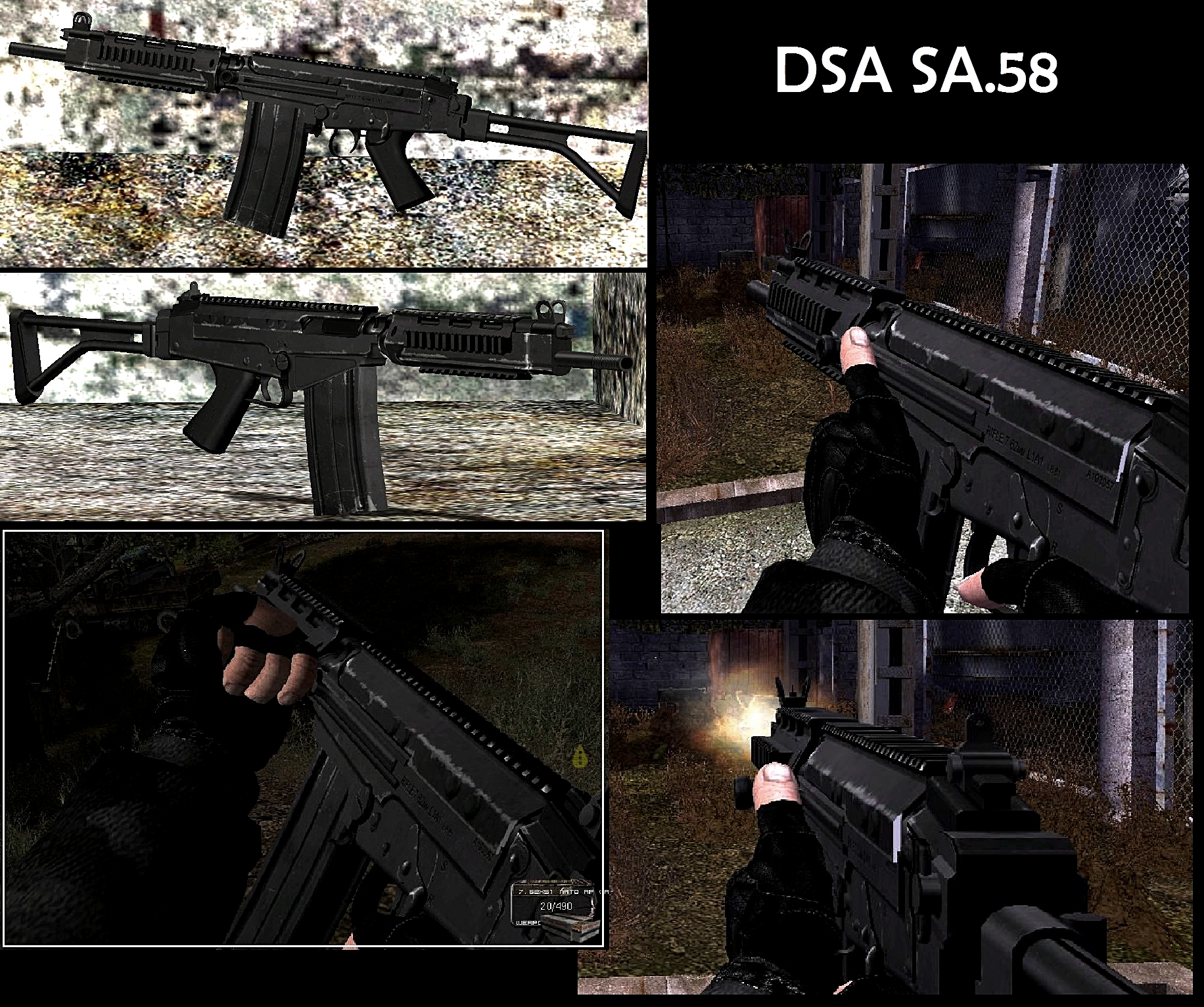 Compact Assault Rifle with Sniper RIfle Power,This is It,the DSA SA.58.With its Good Handling, High Accurate, and High Damage,Good Sidearm.This Gun Can Equiped with Elcan Sight.
- FN Herstal P90
The FN P90 are one of The Best Sub machine Gun in the world,and In This mod.With Good Accuration on Shot to Medium ranges,Low Recoil (Almost None),Reliable,but Also Had low Damage.This gun is Easy to Find,Some Bandits Use this Gun (Elite Bandits) You can Find it at Some Traders,sidorovich,Semyon Darko, And The Barkeep.This Gun Can be Fitted with a Supressor. (Thanks To The Creator)
- HK MG4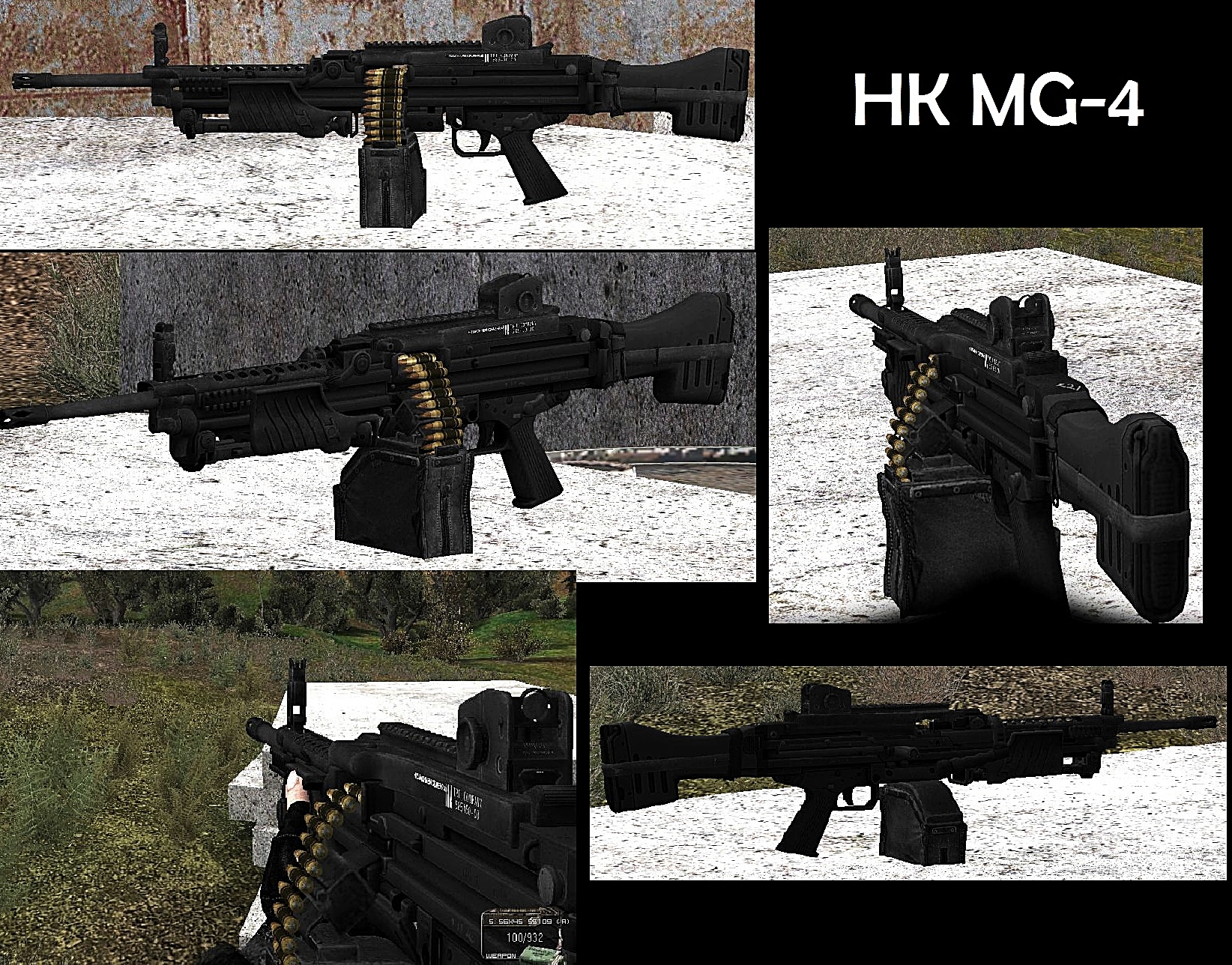 The Hecler Und Koch Machinen Gewehr 4 (HK MG4) is Good Light Machine Gun,Recomend to Use it When Going to the Sarcopaghus and in Pripyat.
- HK USP Match (With .40 S&W)
One of The Best Pistols on this Mod.With A Good Handling, Balanced Rounds (10x22mm .40 Smith & Wesson), Make it Had Excellent Accuration, Low Recoil, But Lower Stopping Power and Expensive.But its Possible to Shot Something Accurately from 40 meters Away. (Thanks to Goroskob)
- IMI TAR-21 'Tavor'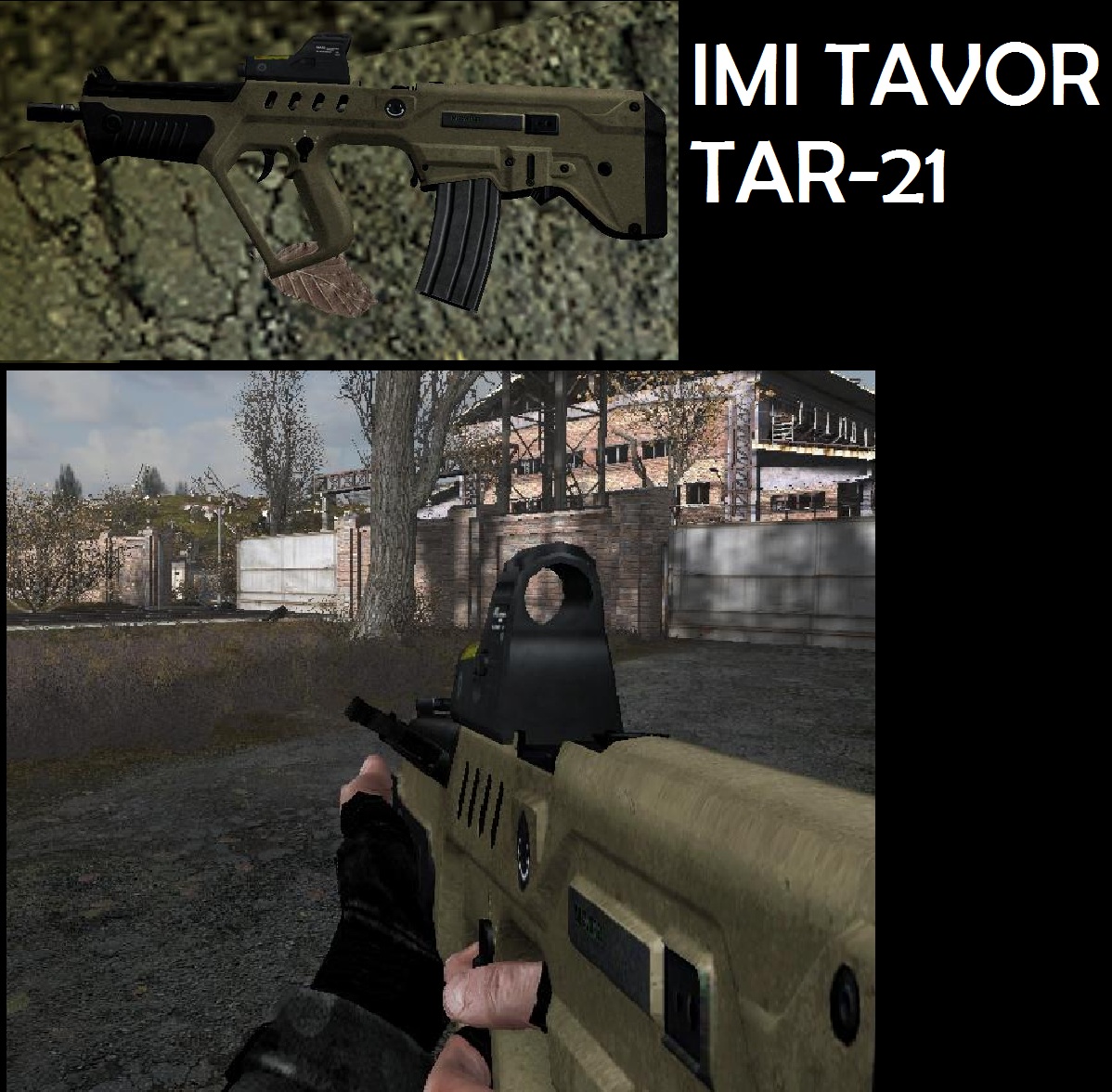 The IMI TAR-21 Tavor is a Balanced Gun.With Moderate Rate of Fire, Good Handling, good Accuration, and Good Penetration. But If you want this Gun,You need Some Cash.You can Find it at The Trader 'Sidorovich'. This Gun Can be Fitted by a Supressor/Silencer. (Thanks to Aaz)
- KORD HMG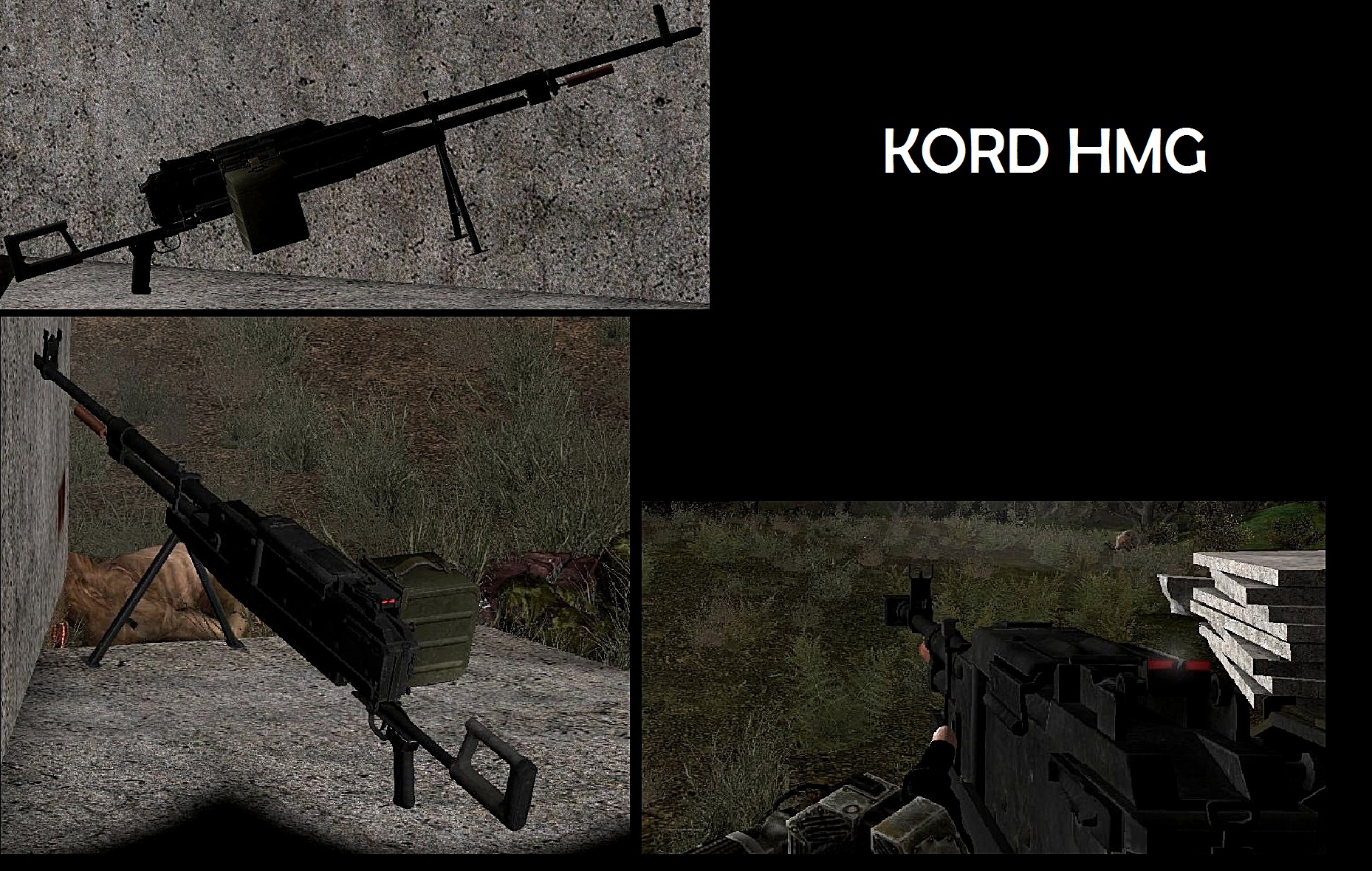 Its Impossible...??? Nope,Now its Possible.The Most Heavy gun in this Game.You need To Use Exoskeleton to Use This Gun.No one of Stalkers who want To Use it,They will say "Just Crazy People to use This Gun on Your Feet".Indeed,This Gun Had Bad Handling,High Recoil,But Extremely Deadly...!!! This Gun Can be Equiped With PKS-07 Sight.
- PP91 KEDR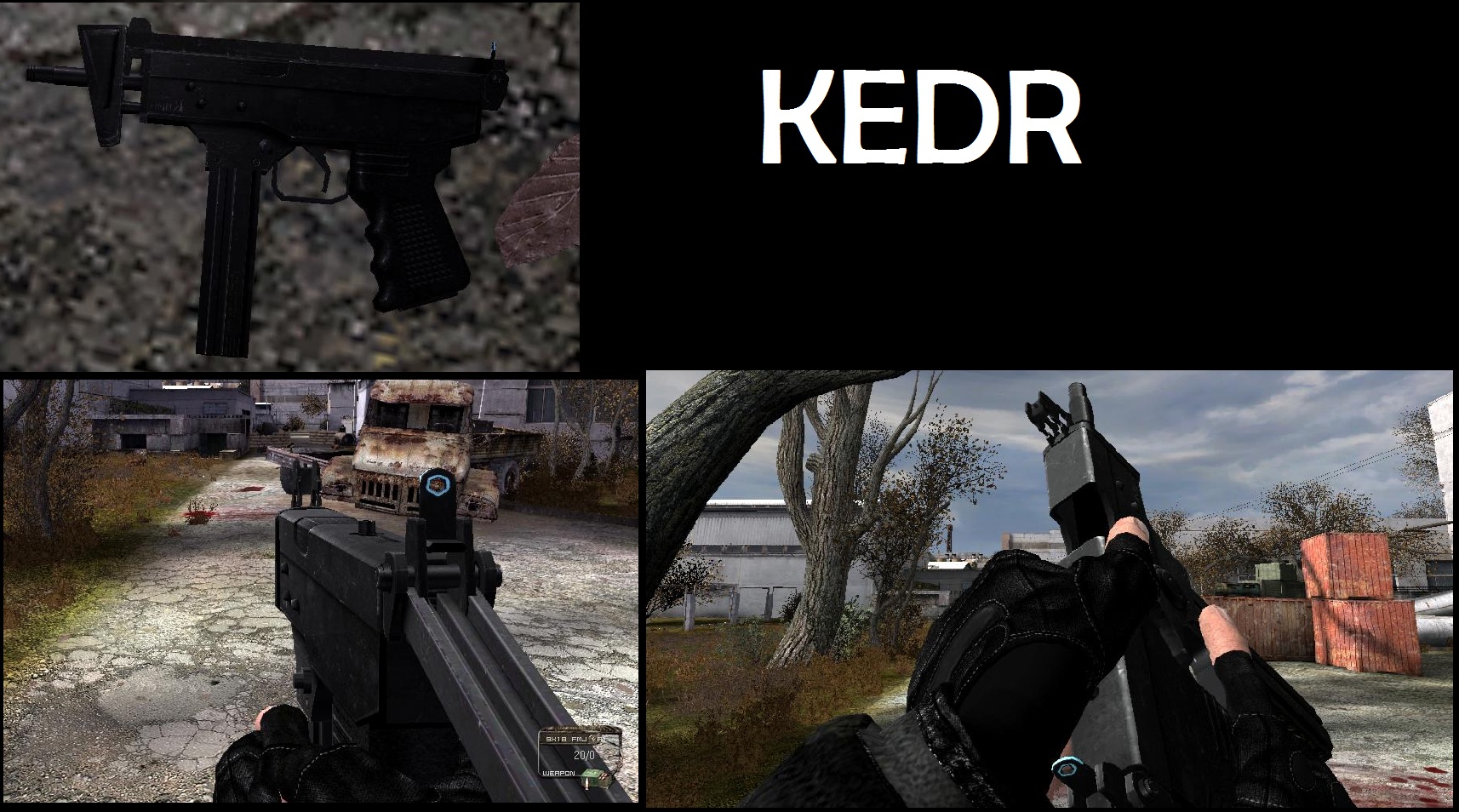 The PP91 Kedr is very Compact Gun Great For Short Ranges,with its High Rate of Fire, low damage, Great Mobility, Very Cheap, but Also Low Magazine Size (9x18 20 rounds Per-Magazine,but had Fast Reload time),make it Very hard to Survive.This gun is Just Recomended For Professional S.T.A.L.K.E.R..You can Find it Anywhere.this Gun can't be Fitted by Anything.
- KRISS Vector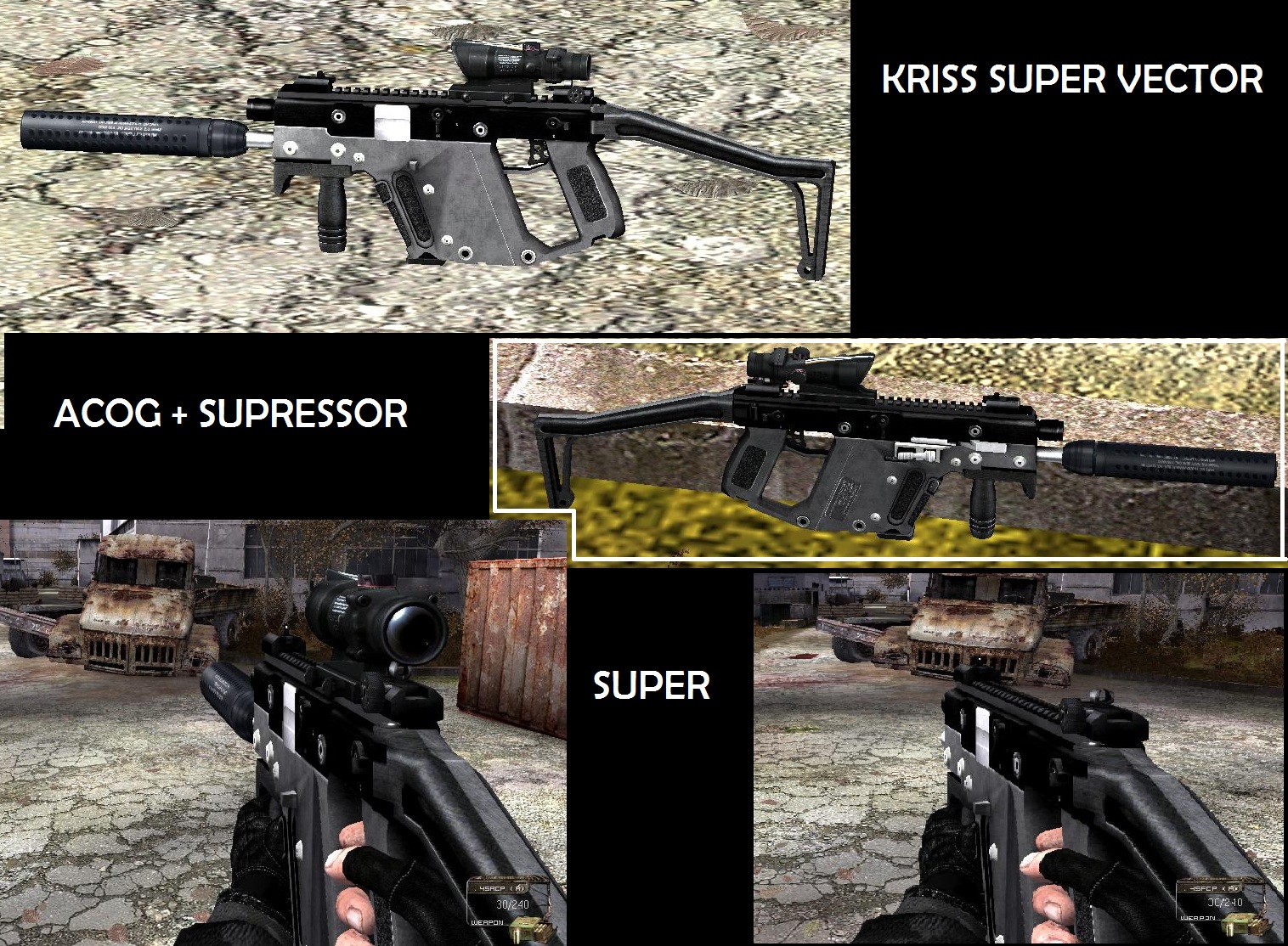 The Vector's SMG is One of The Best Sub machine Gun in this Earth.High Rate of Fire,Great Handling,Low Recoil (Almost None),cool Design,Moderate Damage,but low Magazine Capacity (30rnd).Balanced Gun for Short Ranges.Recomended to use this Before Going to X18 Laboratory.You may can Buy it at Any Trader,but with High Prices.This Gun Can be Fitted with Acog Scope and Supressor.
- M1 Carbine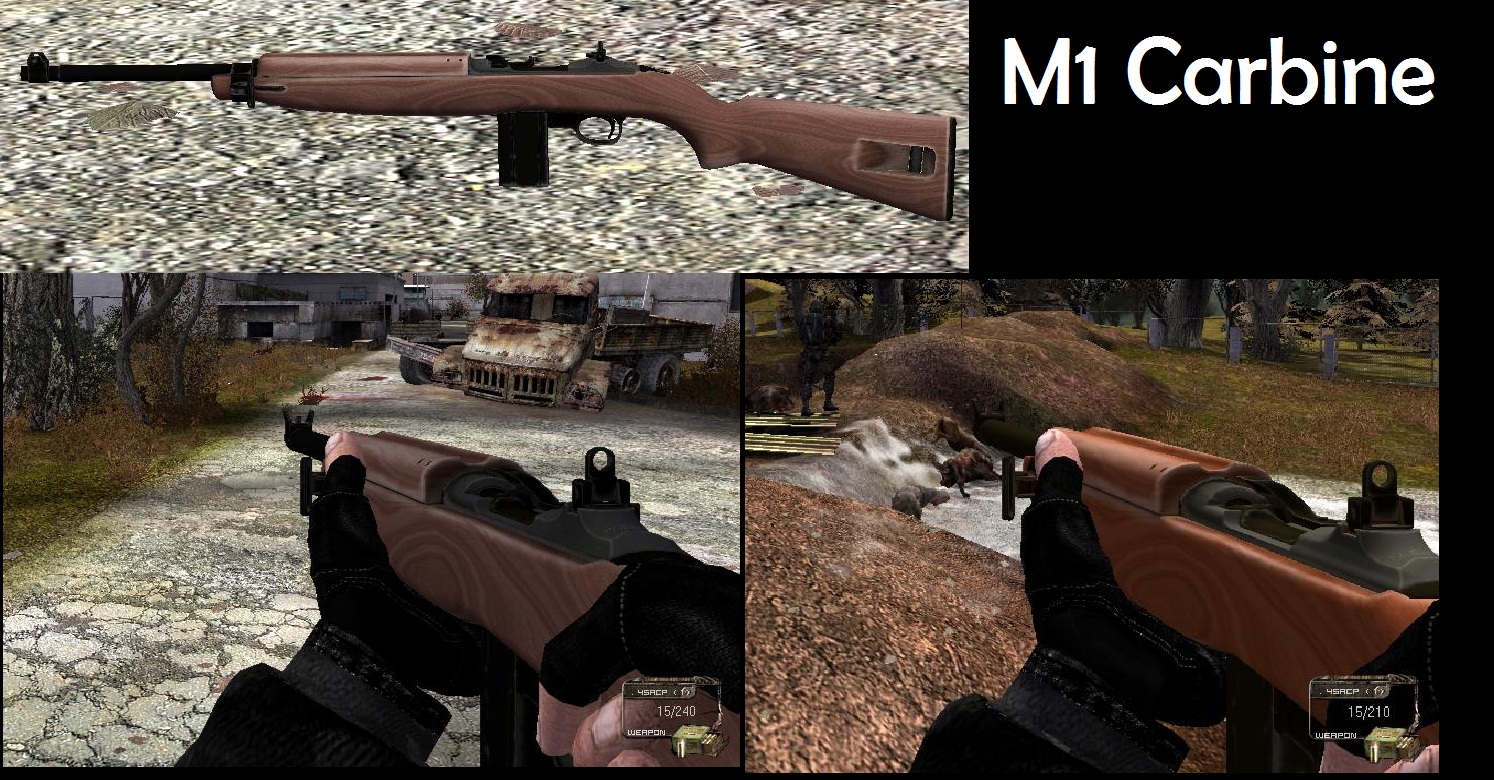 The M1 Carbine is A Legendary gun,After the End of the Second worlds War,this gun were used By some Countries.This gun is Reliable,Not heavy,not too large,Low Recoil,High Damage,and High Rate of Fire (Semi automatic only) Very Cool Gun...!!!. But,this gun Using .30 Cal M1 ammunition,this ammo is Realy Rare... This Gun also Expensive.Find it In Many Treasures. And Also This Gun Cant Be Fitted By any Addons.
- New L85A1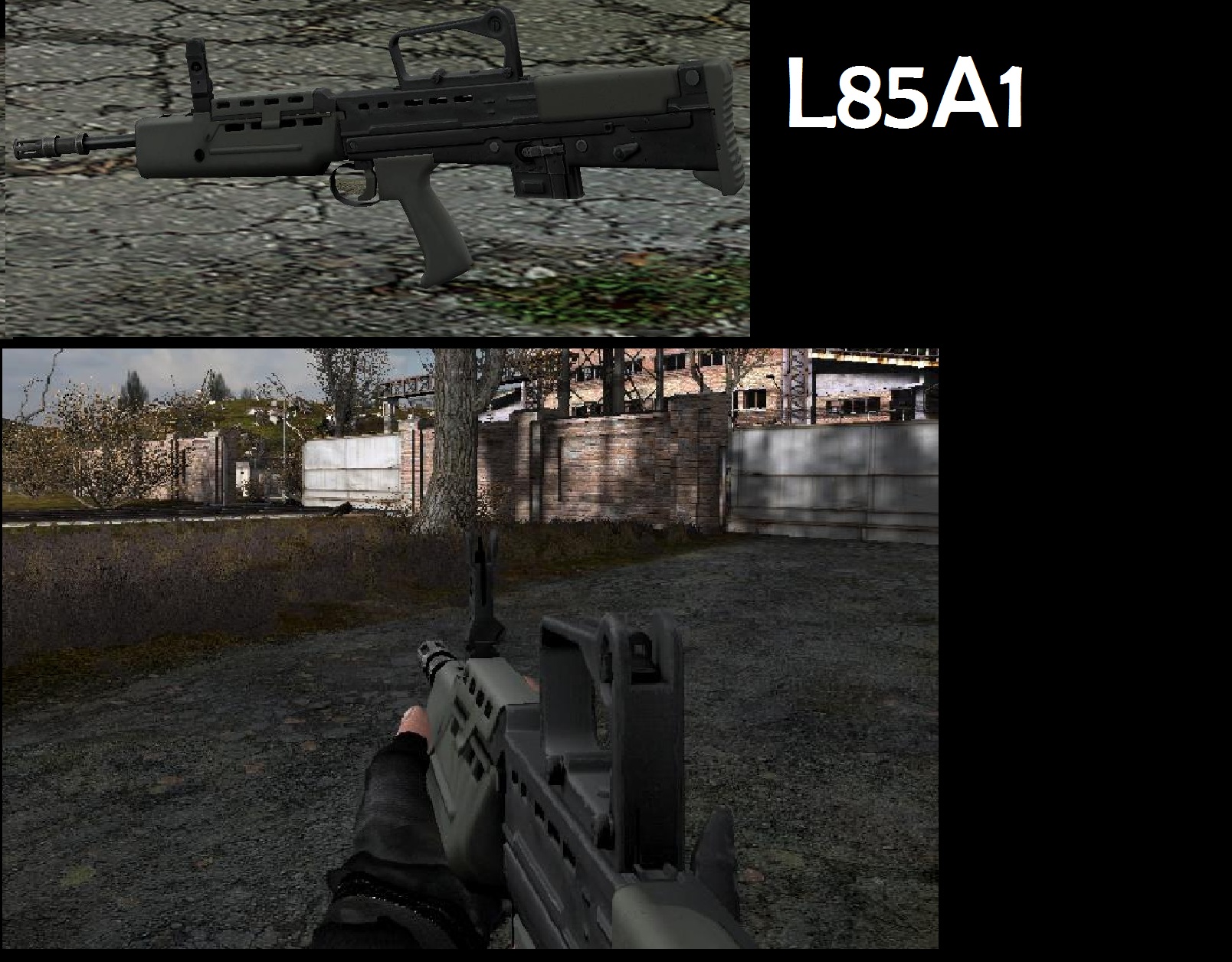 Rare to find Stalkers who use this gun,but you can Bought it On Some Traders. This Gun had good Accuration with Burst shot (One-by-one),but had Big Recoil at Fully Automatic.This gun can fitted only with a Silencer/Supressor. (Thanks To The Creator)
- M16A3 SOCOM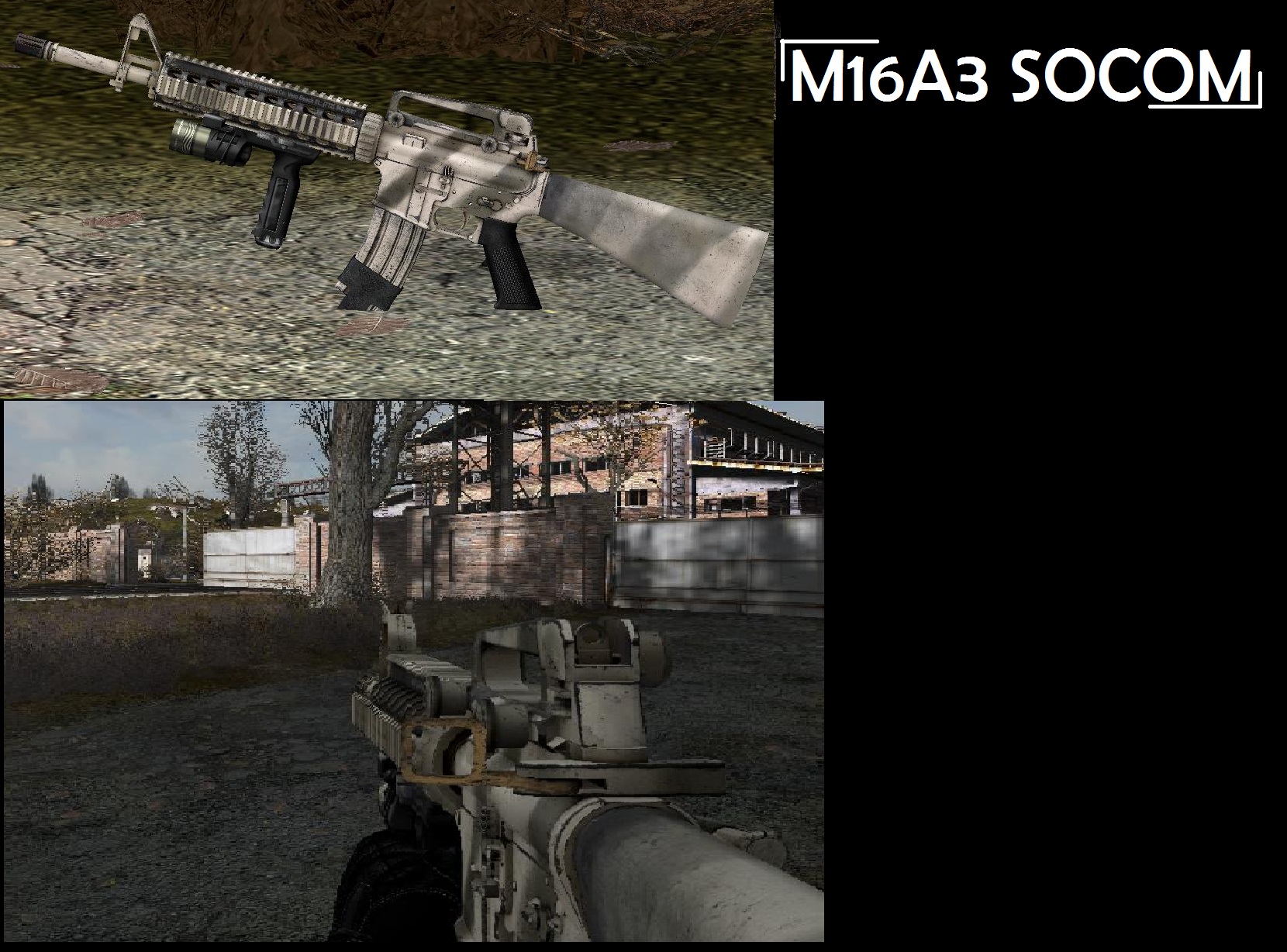 The M16A3 Special Operation COMmandos Are Special Weapon. A Rare guns,This gun had a Good Accuration, Good Handling, Moderate Rate of Fire, and Sure with Expensive Price. You may Can Find it at any Treasures and only Semyon Darko who want to Sell it. This gun Can be fitted with a Supressor and Acog Scope.I Think This Gun is Very Cool!! (Thanks To The Creator)
- Remington 870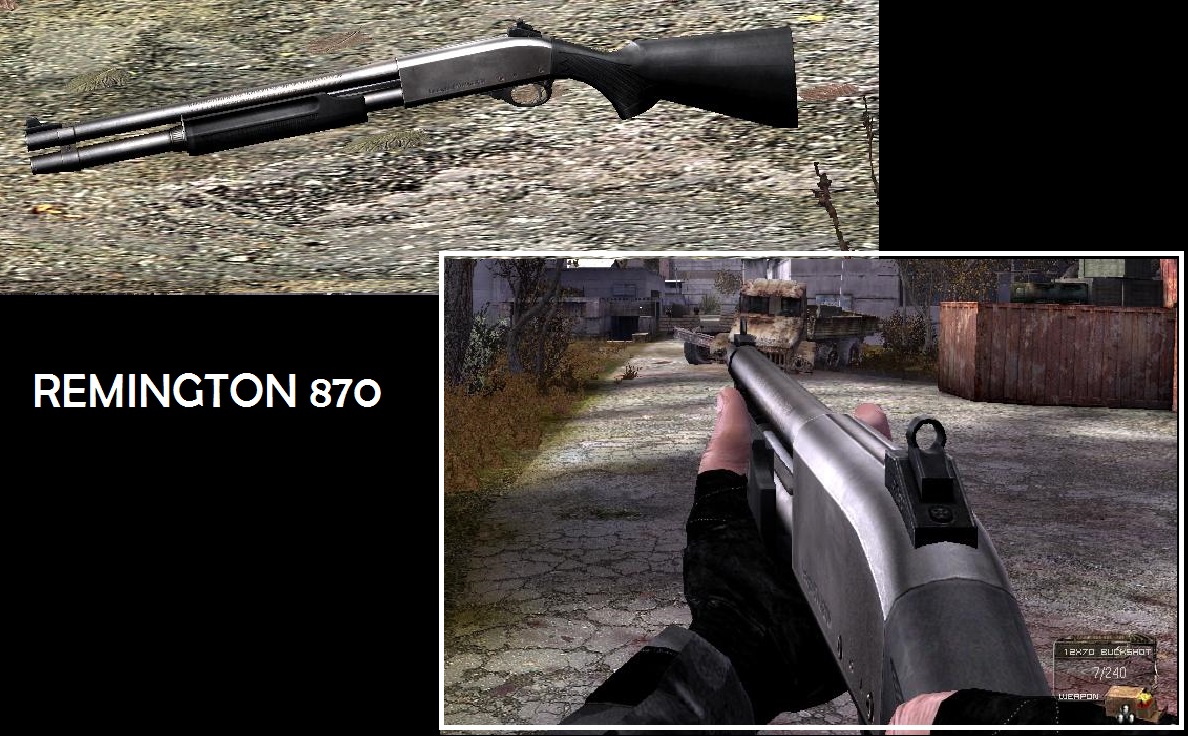 The Remington 870 is one of The Best Shotgun in this Mod.Good Handling,This is are Powerfull gun.Recomended to use This Gun for Short ranges.You may can Find it in The Trader.No Addon can be Fitted.
- RPK 74M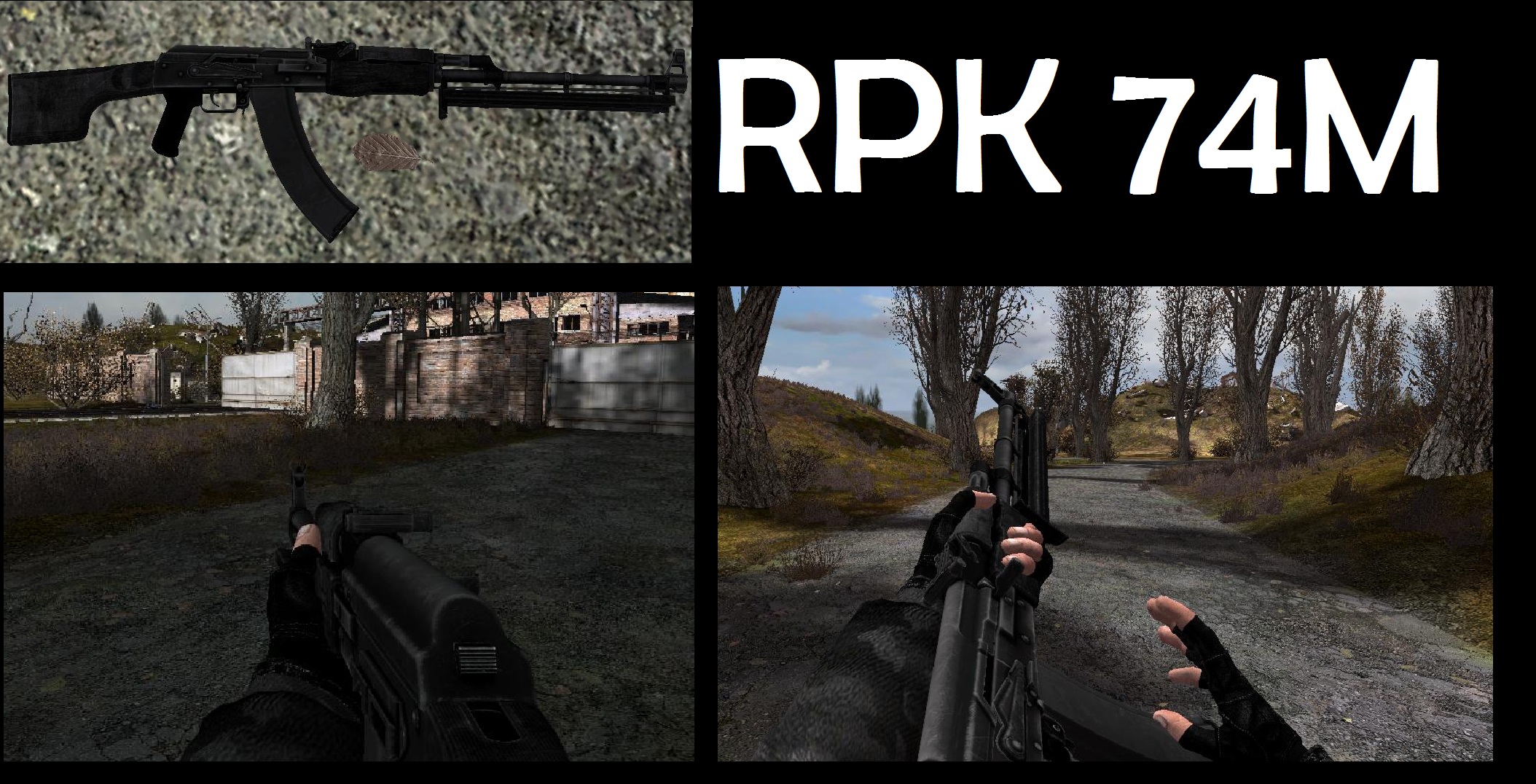 The RPK 74M Is a Light Machine Gun Variant of AK74 Guns Family.This Gun are Heavy,but its condition make this gun had Lower Recoil, and High Accurate.But Also had Bad Handling Causes its Weight. You Can find it In Strelok Secret Room,and Also this Gun Can Be Fitted with a Silencer/Supressor and a 1P78 Kashtan.
- Steyr Aug A3
The one of the Most Modern Weapons In this Earth. With its Technologies (Bulpup system), make it Had Excelent Accuration,and Also Had very Low Recoil, moderate Damages, Cool Design, but Hard to Find.If you interested with this Gun,Do Some Expedition,so find Some Treasures.its Also Expensive. This Gun Can be Fitted with Acog Scope and a Silencer/Supressor.
- Sten Mark.II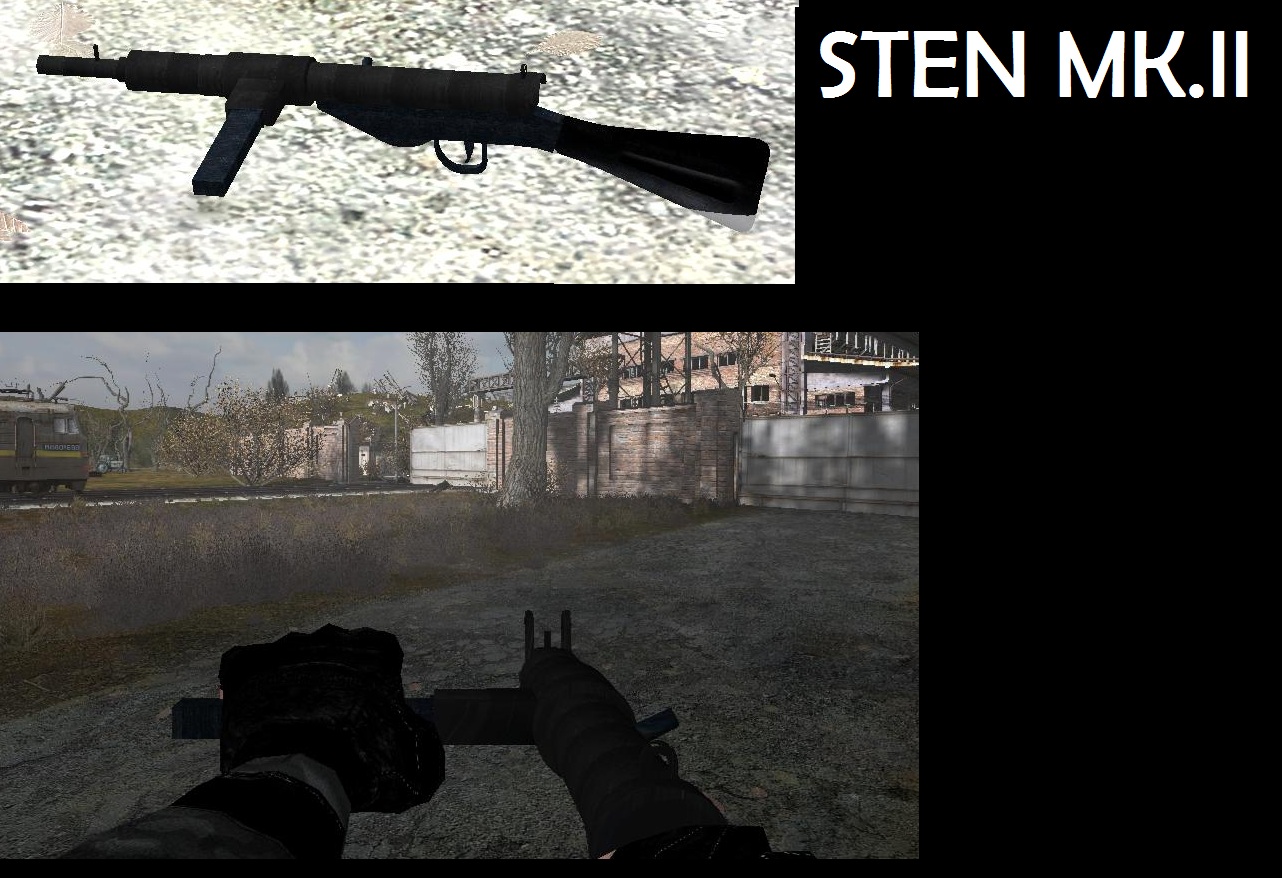 An Old Gun but Cool,an Modified Stock with a Plastic stock were Different From The Original Sten Mark II.This Gun had Good Handling, but Had bad Damage and Bad Accuration.This gun also Rare,Just Few Stalkers were use this Gun,Find Some Treasure to Find it...!!! . This Gun Can't Fitted with anything.
- SV98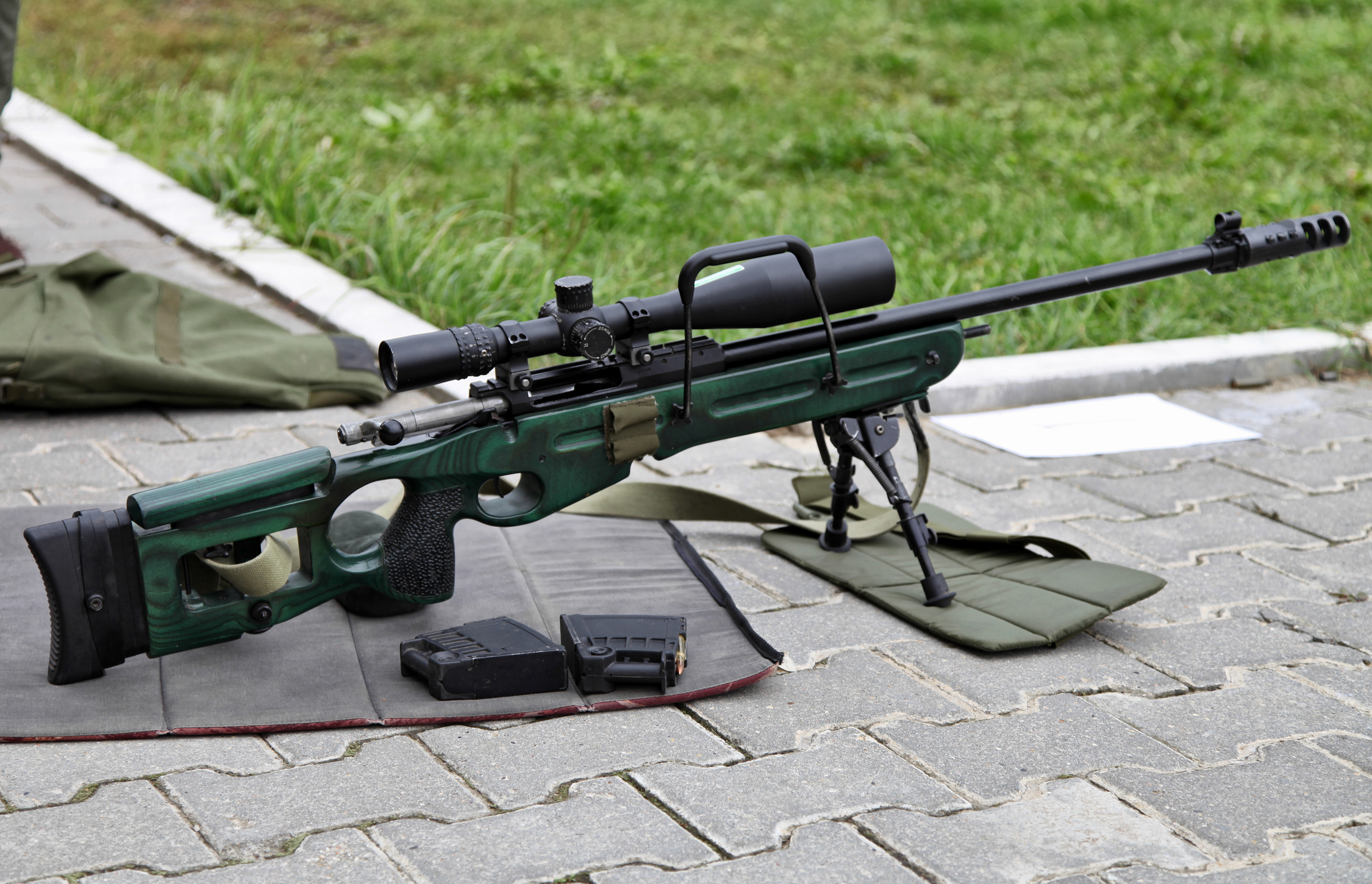 (REAL VERSION)
This sniper rifle was developed by IZHMASH (Izhevsk Machinebuilding Plant) and based on proven sporting rifle Record-CISM.
SV-98 has iron sights (shrouded front and adjustable rear) and a scope mount. Standardscope is a Russian-made PKS-07 7X fixed magnification scope. Trigger is "sport-style" andadjustable (standard trigger pull is 1.5-2kg). The wooden stock features anadjustable buttplate and cheek pad; the folding bipods are integral. The manually operated bolt action has arotating bolt with three frontal lugs. Cold hammer-forged barrel isfree-floating, and has a threaded muzzle which can accept sound moderator(special type of silencer intended for supersonic ammunition). Special plasticmagazine holds 10 rounds.
SV-98 is in production at IZHMASH and used by various Russian law enforcementand counter-terrorist forces. With match-grade ammunition it shots the 5cmgroups at 300 meters, which accounts for sub-MOA accuracy.But This Gun is Rare,and Expensive,but The Gun Will Pay you with its Good Handling And Good Accuracy.Buy it at Duty's base trader.
- SVT-1940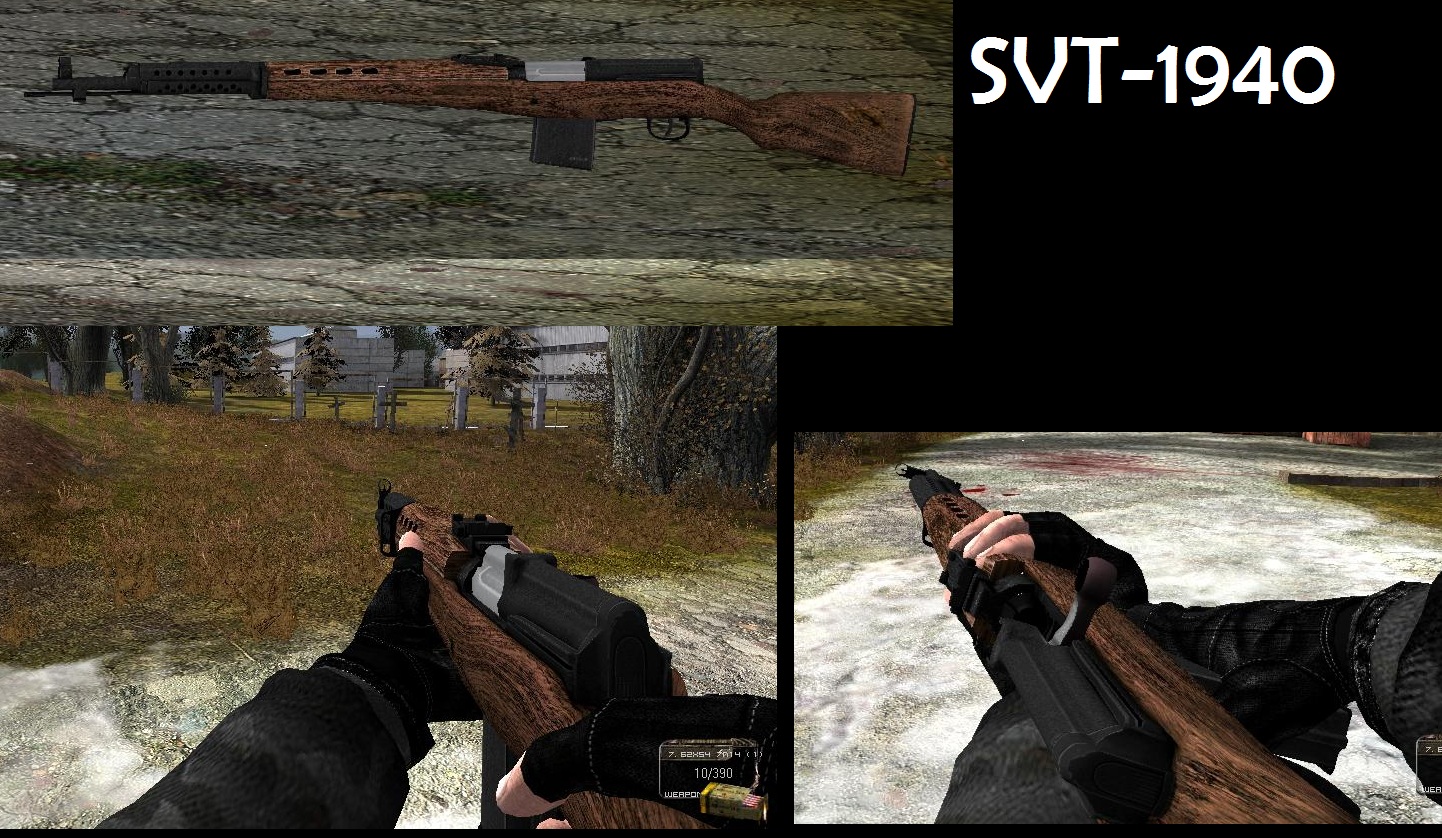 SVT-40 is a gas operated, magazine fed self-loading rifle. It uses a short piston stroke gas action, located above the barrel. The interesting feature of the SVT is that the gas block, along with front sight base and a muzzle brake, were produced as a single barrel extension unit. This greatly simplified the manufacture of the barrel, but the barrel extension unit itself was quite complicated to make. Gas chamber has 5 positions gas regulator to adjust the system for any conditions. The gas piston has its own return string and moved back for about 36 mm (1.5 inch) when gun was fired. It gave a quick and powerful stroke to the bolt carrier, which carried the bolt under it. Barrel locking was achieved by the rear part of the bolt, that tilted down to lock into the reinforced steel insert in the floor of the receiver. Charging handle was permanently attached to the right side of the bolt carrier. Detachable box magazine was made from sheet steel and hold 10 cartridges. SVT could be reloaded either by replacing the magazine or by using 5-round stripper clips of the Mosin-Nagant. Stripper clip guides were machined into the receiver top cover. Bolt system incorporated a bolt catch, that held the bolt group back when magazine was empty, to facilitate faster reloading, especially when using stripper clips. This Gun Is Very Impressive.
- Walther PP-K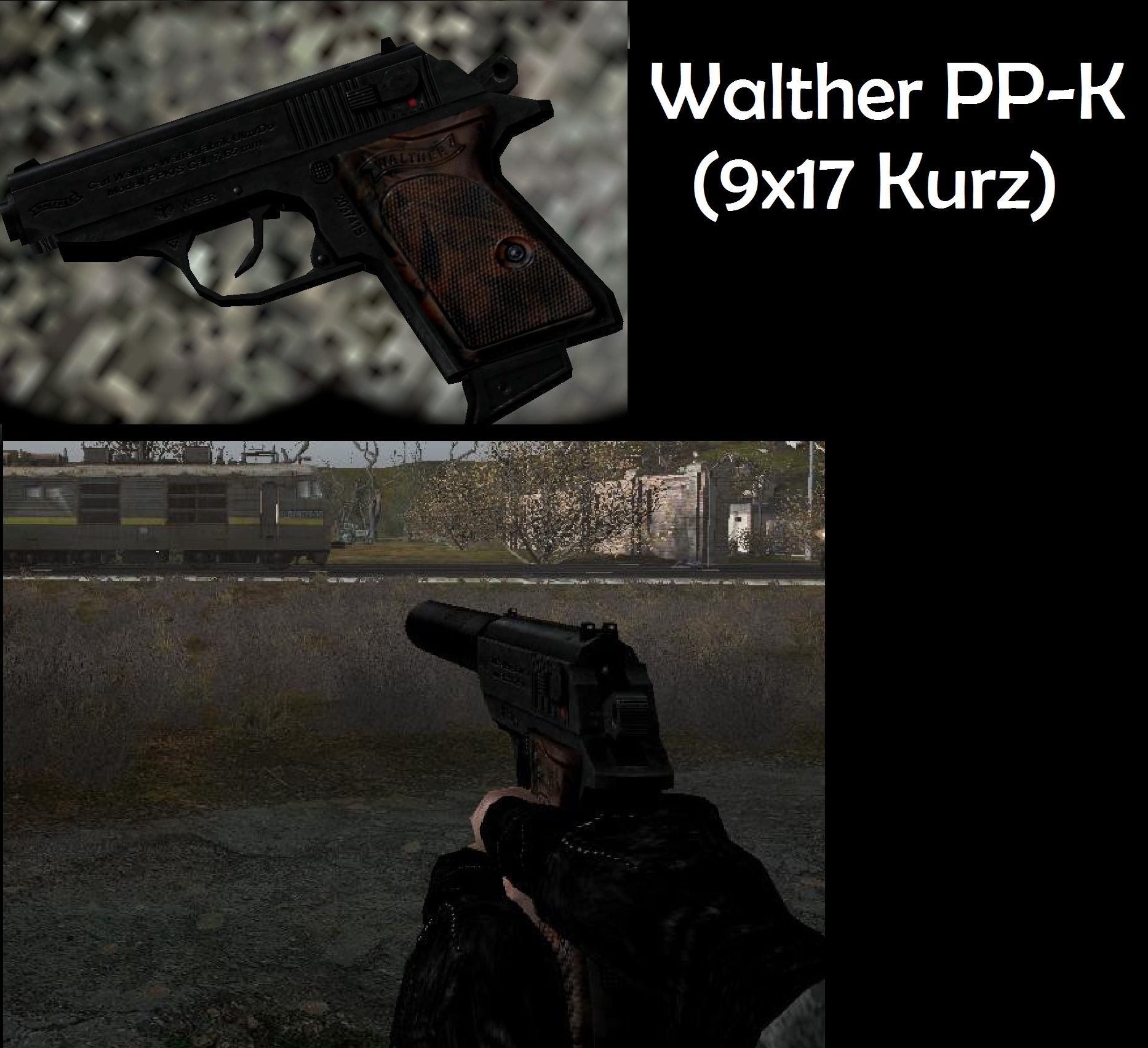 The Walther PP-K (Polizei Pistole - Kurz or Police Pistol - Short).Indeed,this is Are Shortened Version of The Original Walther Polizei Pistole.Good Handling,Good Accuration,But Low on Bullet Penetration.This Gun only Will great with Professional Shooters. Available in Cordon,just find it in Treasures. this Gun Also can be Fitted with a Silencer/Supressor.
------------------Other Guns (I'll take Some Screenshot later)-----------------------
AK12,C7A1,FN Fal (Sniper),MP5SD (2 Version),M14 EBR (4 Version), M4A1 (4 Version),VSSK Vychlop,AWP L96A2, AWM L115A3, AW 50,Remington M24,Remington 700,Remington 870,Sayga (5 Version) and Others.
And Also,Some Vanilla Guns Were Changed By New Animations,Almost All of them.
Some of New weapons are Available on some Traders,but for other weapons,were Available in Treasures and Mission's Rewards.
All Weapons Are Hardcore,All Of them... just Like on Reality.
Watch this Video: Youtube.com
Maybe Just That What I Can Type for now
Thanks To Read...!!!! And Maybe I'll Upload the Mod At The End of this Month,So Prepare yourself Stalker and Thanks to Your Participation...!!!