ArmageDoom is a partial TC for Zdoom, GZdoom, Skulltag, or Zandronum.
It features 7 new levels, 12 new weapons, many new enemies (with older ones revamped), new gore, and many new stuff.
PLOT:
ArmageDoom is a sequel to Doom 2's plot.
Years after the invasion, demons continued to invade Earth. The surviving men from all parts of the world regrouped at the west coast of North America, somewhere near the desert of Mojave, and constructed a giant Fortress City called Metropolis.
Metropolis was built with a giant force-field protecting it. The ultimate hope of survival for humanity. UAC Marines could start a campaign to clean Earth's surface killing all demons while they could maintain a safehouse that would always be protected against anything.
But plans went not like expected. A new force powered by a greater evil never seen before created new portals, which allowed the creation of new portals, with new races of hellspawn. One of these portals opened behind Metropolis' Force Field. The demons have overrun the Nuclear Power Plant, and disabled the force-field. Metropolis have been facing a great siege that have been lasting for months. The defenses at the suburbs have fallen, and now the demons are marching towards the Downtown. The civilians have no way to evacuate, and humanity again faces its Last Stand.
You are Sergeant Stan "Sarge" Blazckowicz, a genetically-engineered Super Marine. Sarge was from the first generation of Super Marines: more powerful than any other kind of marine, but with grievous mental disorders. Sarge has incomparable strength and endurance, but he suffers from DNA degeneration. He is a heroine addict, and he constantly have strong headaches and hear voices in his head, and have been in jail for the last 2 years accused of murdering Marines and civilians. Now with the war begin lost, the Marine High Command have released him.
Sarge is the only marine badass enough to do such mission: break the siege, get into the Nuclear Power Plant, and turn the shields on again.
Captain Phobos and Lieutenant Crash, which are super marines from the Second Generation were assigned to the mission with Sarge with a couple of other Marines and formed the Bravo Squad. They were supposed to help Sarge to reach the Power Plant, but the group got ambushed in the streets of Downtown, and now they are separated. Your mission: regroup with Bravo Team, move into the Power Plant, and turn the shields on again.
GAMEPLAY:
You will constantly find yourself fighting against large clusters of monsters in ArmageDoom. You have very powerfull weapons like a full-auto assault rifle as starting weapon, and you might find semi-auto and full-auto shotguns, miniguns, heavy .50 cal machineguns, flamethrowers, and even nuclear weapons.
The most notable feature in ArmageDoom is the emergent gameplay. Most objects of the world can be used as weapons. Trash cans, flower pots, and even toilets can be used as weapons. Get near one of such objects, select the Fists, and punch these objects. You can do serious damage with them. You can easily kill a Demon with a trash can, and if you find a big enough flowerpot, you can even kill a Baron of Hell with it.
Theres also a very complex fire system. If you use the flamethrower or the incendiary grenade in an area with a high vegetation, the fire will spread, and set near trees and other near areas with high grass on fire. You can easily create some huge area-of-denial damage zones if you analyze the maps and use the right weapons in the right time.
Also, If you are playing coop, one player can crouch and make a step for another player to get into a higher place to grab a super armor or a megasphere.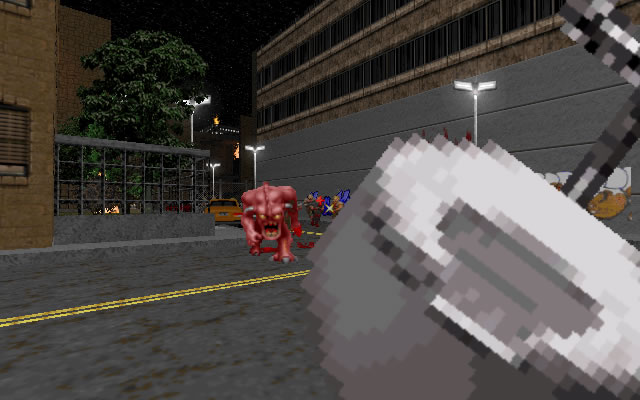 Shit Got Serious... in the literal mean of the word.
OVERALL:
If you are looking into a top-quality wad, you should skip ArmageDoom. This was my first wad ever made. You can expect lots of unaligned textures and stuff like that. But you can also expect lots of fun, some epic battles here and there, some linear maps, some non-linear maps with puzzles, etc. The only thing I can guarantee is one thing: This is going to be a funny and different experience.
ALTERNATE DOWNLOADS:
Mediafire.com
or
Doomworld.com
SCREENSHOTS: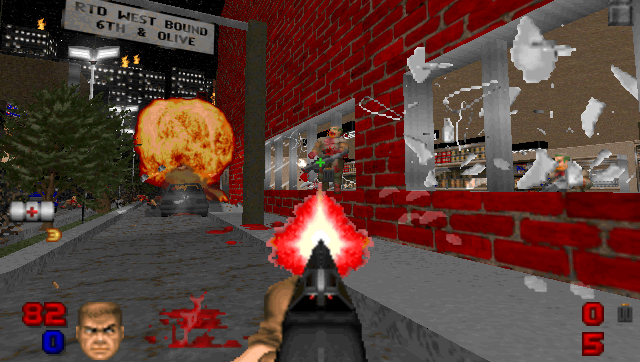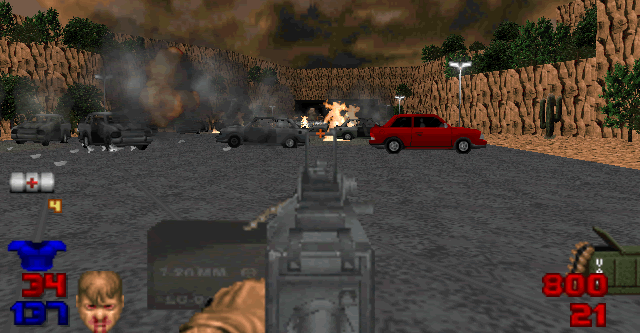 I hope you can have as much fun playing it as I had creating it.