This guide show you how to launch old SDK 2007 mods.
Method 1 (Steam Settings)
SDK 2013
Special thanks to Addy_SRB
Step 1.
You need SDK Source 2013 Singleplayer (Tools section). Right click, go to Properties and set: UPCOMING.
Step 2. You need hl2 ep2 installed on steam.
Step 3. Go libraty and find hl 2 ep2 and right click on it then go to Properties. Then go BETAS Set on BETA UPDATES and then click CHECK CODE option below it to verify.
Step 4. Simple you log out of Steam then log back into it to see if the mod works.
Step 5. Enjoy.
Method 2 (Unpack ep2 Content)
SDK 2007
UPDATE: Video tutorial by JD Rock
A quick note: everything is right except the final extract file destination should be
Source SDK Base 2007\ep2\
Step by step instruction:
First step is: Download clean Source SDK Base 2007 and HL2 Episode 2
Second: Download a mod itself
Third: You need GCFScape latest version
Now what we do with this files?
1) Extract the mod in Steam\Steamapps\ dirrectory
2) Open SDK Base dirrectory. default is Steam\steamapps\common\Source SDK Base 2007
And make folder named ep2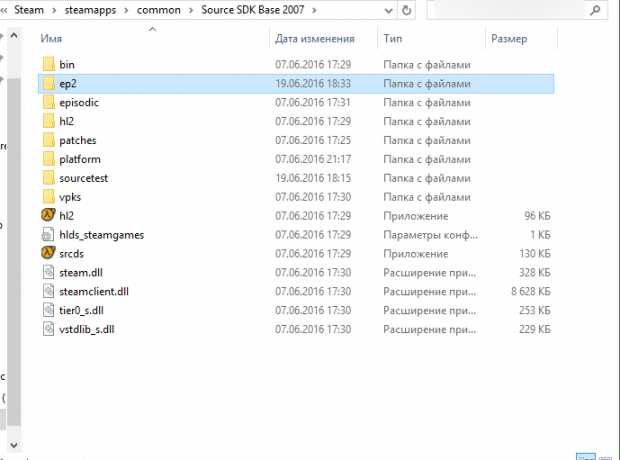 3) Locate ep2 dirrectory. Default is Steam\steamapps\common\Half-Life 2\ep2
And copy this files to your new Source SDK Base 2007\ep2\ folder
5) Next: Open ep2_pak_dir.vpk file with GCFScape
And copy all folders WITHOUT "maps" to Source SDK Base 2007\ep2\ and overwrite them.
6) Now all job is done, restart steam and play.
This method took around 3 gb of free space on hard disc and should fix almost all global Source 2007 problems appeared in mods like a Human Error, Arctic Adventure and other who used heavy changes.