First of all, thank you guys for putting us in the Top 100 Best Upcoming Mods for the 2008 Mod of the Year Awards. It's unexpected, but warmly appreciated. :) Anywho, what have the elves of AFF been doing this winter?
Artside:
As promised earlier, here's a little taste of a facet of the art pipeline gamers seldom see - concept art. And we think they're certainly far too pretty to be kept hidden. Concepts from Faxmaster for the United League of Planets:
High polygon upgrades of the ships are also nearly finished. The ships will now look much much better up close, as the art team hammers together the new spiffier versions of the Ti, Anubis, Rapier, Viper, Sword, Ranger, Huggin, Griphon, Iret, Khamun, and the Firefly. Here are some shots of the upgraded ships:
Some of the new bits of odds and ends added:
And a new ground vehicle, the AIA Basta Hover APC:
Level Design:
Ship internal maps remain the focus for much of the work the last months. A new ground map has been added as well, Planet Blanc:
Meanwhile, here's a tour of the more-or-less finished interior map of the USN Ranger Frigate, courtesy of our lead level designer, Jetfire:
Codeside:
A warm welcome to a new member of the code team, MadNad, former lead coder of the Troopers: Dawn of Destiny for Unreal Tournament 2004. Meanwhile, our coders lead by Sarcen has been busy with:
Ship boarding tests using dropships has been successful (using a USN Dragoon, for the moment).
Windows within the ships now work. You can actually see the battle raging outside from inside the ship itself real-time (ships whizzing past you and all that). The view from inside one of the turret control chairs in the Ranger:
Weapon FX now has different penetration rates for different materials. i.e. A bullet will have more chances of going through wood than it would through steel plates.
---
Angels Fall First: The Second Antarean War
On another front, our sister project, Angels Fall First: The Second Antarean War has now entered Limited Public Beta testing as of January 11, 2008. Congratulations to Treeform. :) If you'd like to be part of the beta testing, please apply through the Angels Fall First: The Second Antarean War Forums.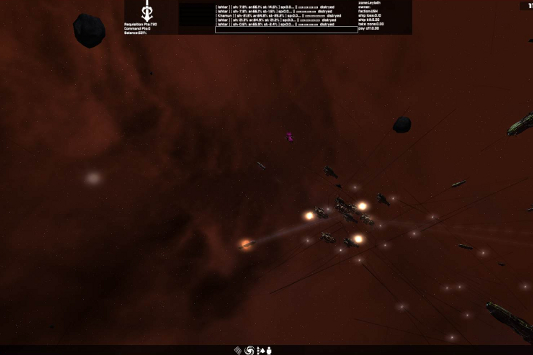 ---
For those who didn't catch the last news, you can download our first release from Moddb. If you have any problems with the installation, you can ask us in the Planetstorm Forums. Make sure to check the readme first.
Common problems encountered can usually be fixed by doing the following:
Ensure that your UT3 install is patched to version 1.3
Go to /../AFFGame/Config/ and delete any .ini's which do not start with DEFAULT*.ini
Make sure AFFGame folder is sat next to UTGame in the My Documents and Settings/My Games/UnrealTournament3/ folder
If you're still having problems, don't hesitate to post and ask us. :)
---
We're still in need of people. If you like what you see and think you can help, contact us in our site: www.affuniverse.com or ps.aff2aw.com.Thank you. :)