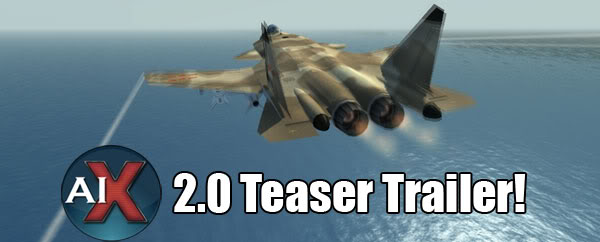 Welcome to another AIX news update! A lot has happened in the last 2 months and our dedicated test team has been hard at work finding all the things that we don't have the time to! So let me first dedicate this update to their tireless enthusiasm and for keeping us so busy we couldn't even update the website with any regularity!
What is the purpose of this months update? Why, to hit you with a fresh 2.0 Teaser trailer, thats what!
Utilizing all the hard work that the Dev team has put into AIX 2.0 in the last year, the team has created a new trailer that shows off many of the new features, vehicles and epic game play you can expect in the new version of AIX. Turn up your speakers and enjoy the ride!
You can grab higher quality and larger sized versions of this trailer in both FLV and Divx format from Aixtended.com
AIX 2.0 is set for release on the 15th of November 2008 and will come with 2 choices of download. The first is a 1.0 to 2.0 Patch for those of you who already have the AIX 1.0 release, and the second will be a full 2.0 installer download. Its been a long time in development, but the AIX dev team is excited to finally be releasing their best work yet!