AIX2 Expansion MiniMOD v0.41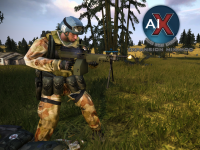 Download links:
HOW TO INSTALL:
Full Install
1. Install Allied Intent Xtended 2.0 (Core & Levels)
2. Download v0.41 Full Client
3. Install it.
3-1.(Optional) Download AIX2 Expansion MiniMOD MapPack.
3-2.(Optional) Unzip & move to "Program Files/EA GAMES/Battlefield 2/mods/aix2ex_mm/levels" directory.
4. Play!
Update from v0.4c to v0.41
1. Download v0.41 patch.
2. Install the patch (make sure you already installed AIX2 and AIX2ExMM v0.4c).
3. Play!
Welcome back to AIX2 ExMM. Here it is, v0.41 is out today on ModDB!
It's not really a big update (as you can see the version number indicates) but we hope you enjoy playing this.
M16A4 with M320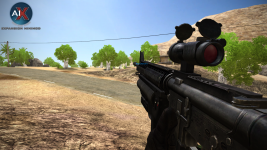 Original 3D model by EA, DICE
3D models, textures by SuzukiWYS
Not only a US medic can have a M16A4 rifle but also US assault solder finally has M16A4 (with M320 UGL!) in the new version!
C9A2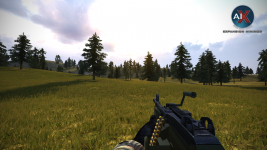 Original 3D model by EA, DICE
3D models, textures by SuzukiWYS
Here's another kind of M249 - it's Canadian!
Looking good with its OD color and M4-like stock, this gun is going to be held by UN support solder.
... Well, it's no surprise since we did announce about these two in the last news.
New function: Vehicle turret ironsight
Machineguns on vehicles now have an ironsight. This works just by right click when you are mounted on the MG. Almost every machinegun on vehicle such as jeeps, tanks, transport choppers and boats have this function.
New function: Spread indicator
All handheld weapons now have a little indicator below ironsight (or scope circle) to help you acquire a better accuracy. It'll appear only when ADS (aim down sight).
AAAAAAAAAAAND we seriously are working on a project that is going to appear in the future update. We can't say what it is or what it is like, but once it's out, you all are gonna love it.
We'll see you on the battlefield!
... Or in the next news!
y-shin
---
v0.41 Changelog:

Handheld Weapons
- Added new weapons: M16A4 w/ M320 UGL, C9A2
- Added new function: Spread indicator
- Increased accuracy of all pistols
- Added damage attenuation by distance on all pistols
- Increased damage of Glock 19 slightly
- Increased the number of magazine for USP, GSH and Kimber by 1
- Added Kimber w/ suppressor
- Changed the firing sound for Kimber
- Increased accuracy of F2000 (MEC) slightly when ADS
- Increased accuracy of MASADA slightly when crouching
- Decreased damage of AK47 and AK103
- Increased the number of magazine for AK47 and AK103
- Decreased damage of G36E, G36K, M16A4 slightly
- Increased the number of magazine for M41A Pulse Rifle (pick-up kit)
- Increased accuracy of Steyr AUG when crouching
- Decreased recoil of Steyr AUG slightly
- UN medics now have MASADA instead of L85A1
- Increased damage of all battle rifles slightly
- Increased accuracy of SIG552
- Decreased damage of SIG552
- Decreased spread of HK53A3 when firing full-burst
- Decreased spread of AK74u when standing slightly
- Increased damage of all submachineguns slightly
- Increased the number of magazine on all bolt-action sniper rifles
- Added 3rd zoom (25x) on all bolt-action sniper rifles
- Increased accuracy of all bolt-action sniper rifles when prone
- Increased the number of magazine on all semi-auto sniper rifles
- Increased accuracy of all semi-auto sniper rifles slightly when standing and crouching
- Increased damage of all anti-material sniper rifles slightly
- Anti-material rifles now can be fired from standing and crouching posture, but fires with a very bad accuracy
- Increased interval until spread calms on all anti-material sniper rifles
- Decreased accuracy on all anti-material sniper rifles slightly
- Added 3rd zoon (25x) on binoculars
Vehicles
- Added new function: ironsights for vehicle-mounted MGs
- Added new sounds for some jets and helicopters
- Anti-ground rocket pods on all jets now fires 6-burst with 18 rounds per magazine
- Decreased reloading time of flares by 10 seconds
- Gunner of F-15/Su-34/Su-30 now can fire AGM in both TV-Guided and Fire-and-Forget (lock-on) modes
- All jets with 1800rpm MG now have 300 rounds (approx. 30 rounds until overheat)
- All jets with 900rpm MG now have 150 rounds (approx. 15 rounds until overheat)
- Increased damage of 900rpm MG on jets