tldr:
1. download and install the HoMM 3 All in One Installer (Full Eng version in a clean and empty folder)
2. download Advanced Classes Mod on ModDB
3. Run the Advanced Classes Mod.exe and specify your Heroes 3 folder
4. Finished, now just start your h3era HD.exe or HD-Launcher.exe


Running mods on Heroes 3

To run mods on Heroes 3 you need the modding platform called ERA 3.
ERA features an easy-to-use modding system that allows the creation and distribution of modifications for Hereos 3. Heroescommunity.com

I recommend installing the Gaming-Assembly which is a pre-configured all-in-one installer and very convenient to use. It contains all necessary files like ERA3, HD-Mod, all important settings, tweaks and is always up to date.
Download the assembly source: Wforum.heroes35.net
The Link will take you to the Russian Heroes 3 forum but don't worry, just look for the: HoMM3 ERA HD Eng Unofficial.exe ~ 1,05 gb - GoogleDisk and install it in an empty folder. After that, you only need to Download the Advanced Classes Mod ModDB and specify your Heroes installation folder. The mod will extract itself in your H3/Mods folder.
If you're uncomfortable downloading from russians you can also visit: Heroes3wog.net
A great H3 fan page. You will also find the Gaming-Assembly and many more mods hosted there. There is also a tutorial video how to install Wake of Gods:


When you install ACM it will automatically activate itself in the Mod Manager. You can double-check however by running the Mod Manager and activate/deactivate other mods as you wish.

Example how you Mod Manger might look: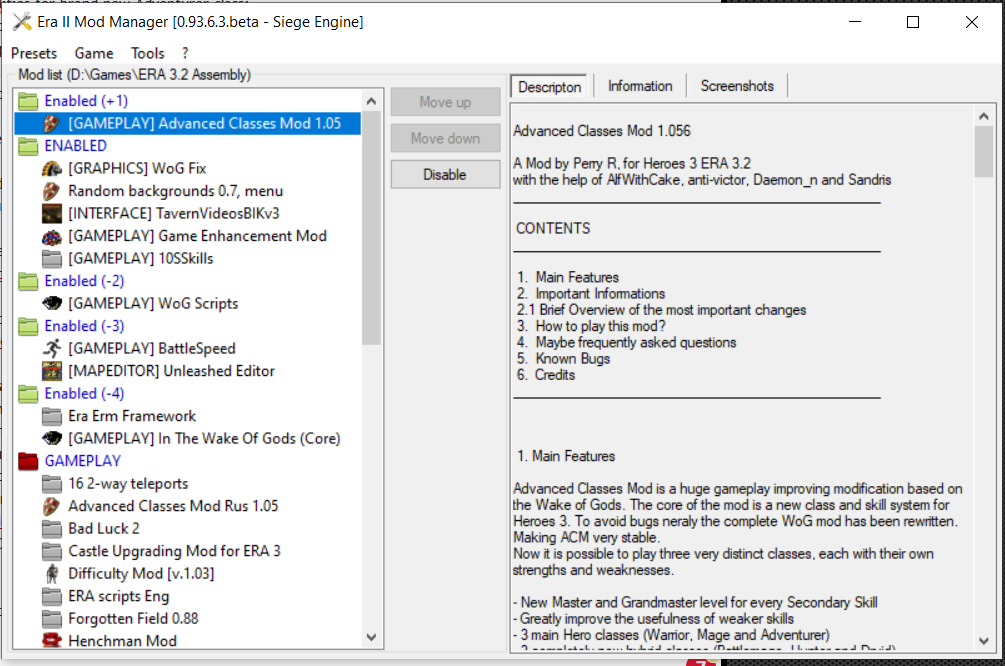 When your installation was successful you will see a welcome screen when you start your first H3 map.