Welcome to Unreal Engine 4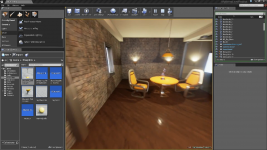 A professional suite of tools and technologies used for building high-quality games across a range of platforms.
Unreal Engine 4's rendering architecture enables developers to achieve stunning visuals and also scale elegantly to lower-end systems.
Revolutionary new workflow features and a deep toolset empower developers to quickly iterate on ideas and see immediate results, while complete C++ source code access brings the experience to a whole new level.
Unreal Engine technology powers hundreds of games as well as real-time 3D films, training simulations, visualizations and more. Over the past 15 years, thousands of individuals and teams and have built careers and companies around skills developed using the engine.
When releasing a product using UE4, you're signing up to pay Epic along with a ($19p/m subscription) 5% of gross product revenue from users, regardless of what company collects the revenue. That means: If your game makes $10 on the App Store, Apple may pay you $7, but you'd pay Epic $0.50 (5% of $10).
What you get: Unreal Engine 4 features and tools Full C++ source code access via GitHub
Official documentation and tutorials Forums, AnswerHub and wiki access Ongoing, regular updates
You are free to cancel anytime.
Supplied with the release is a huge set of in depth tutorials! Directly from Epics technical team.

Learn the basics of the UE4 UI and how to customize it.


Learn how to build levels and implement basic features.


Learn how materials work in UE4 along with physically based lighting.


Check out the feature rich animation toolkit provided with UE4.


Learn the visual scripting tool "Blueprint" used in UE4
For more details or for answers to questions, check the official links below.
What will you create?