Welcome!
Welcome everyone to the Zelda 64 Hackers group! ROM hacking is a bit more involved than modding a lot of other games, and is incredibly rewarding. With the steep learning curve to get started, it makes the need for tutorials and some guidance, as well as a steady stream of what's even possible, uber important. So with that in mind, here are some great resources to check out right from the beginning!
First off, www.maco64.com is a great place to find like minded folks that can answer questions you have. Tutorials, WIP projects, general information. It's all there. Go check them out!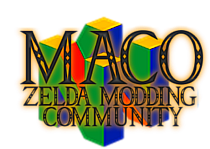 www.maco64.com
Mods on ModDB?
There are already some cool looking mods here on ModDB to check out. Two for Ocarina of Time, and one for Majora's Mask. Go spread some love! While there are only three on ModDB, there are tons floating around the internetz. When you find them, post them here for the rest of us to see!
Project Izou

Project wrote:
Project Izou is a mod for Zelda: Ocarina of Time. Join the same 'Hero of Time' from Ocarina of Time and Majora's Mask on this new adventure that takes place in the land Izou, which he stumbles upon after the events of Majora's Mask. Link sports an updated look, new equipment, all new dungeons, and the connection between him and the Hero's Shade in Twilight Princess will finally be revealed.
Timeless 64

Timeless wrote: An experiment in storytelling, Timeless 64 is a fairly simple modification of the Nintendo 64 ROM 'The Legend of Zelda: Ocarina of Time'. It features 100% changed dialog, with absolutely no change to the gameplay. The new dialog makes the characters motivations, backgrounds, and storylines feel very different. Dive into the game you love with a new story you'll grow to love as much as the original.
Project Antiqua

Project wrote: Project Antiqua is a fangame being created in the Majora's Mask engine.
We, the Antiqua team, hope to create an above satisfactory Zelda experience, along with a dark, moving story line that delves deep into the history of many mysteries within the Zelda Universe.
The story takes place in the land of Termina, the setting of Majora's Mask, several centuries before the original game's story line.