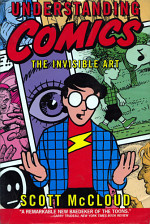 Scott McCloud's Understanding Comics is an excellent book that every hobbyist game developer should read. I say this even though I didn't and (sorry Scott) still don't hold much interest in comics, because important chunks of the book also apply to games: both face an uphill battle against infantilisation, having been hijacked by a market dominated by adolescent males; both have existed relatively unexplored in human culture for millennia; and, like all forms of expression, both require the six steps of creation.
Idea/Purpose (why create it?)
Form (with what medium?)
Idiom (with what style?)
Structure (how to compose it?)
Craft (how to create it?)
Surface (polishing and appearance)
Of course, McCloud goes into what the above means in far greater detail. He explains how each layer wraps around the next in the finished product, and that every creator starts at the list's end before working backwards.
Suddenly, that ever-present, dark, throbbing mass of TV-show mods* makes sense.
I myself have been guilty of adding to it. My first attempts at making maps and mods were to a byte borne of the simple desire to re-create that which I has seen and enjoyed elsewhere, and I waded into each project with knowledge only of its surface. It's no coincidence that of my brief explanations above, number six is the only one not to end with a question mark.
Even today, four or more years after I took an interesting in modding, I immediately saw as I read McCloud's book that I was far from reaching the end – or should I say the start? – of his list. I began my current project quite deliberately to shore up my knowledge of my craft, and am only just beginning to wrestle with its structure. My idiom is lifted more or less directly from other games, although that is partly for workload reasons. When I consider the very core of my work I haven't been able to pierce its form at all, and what little expressive purpose I have has yet to touch what I'm actually doing.
On the bright side, at least I now have a better idea of what the future holds for me. Where are on the steps are you?
* By which I also include those derivative of other media