1. Let's start by downloading PC 1.0 update and installing if you haven't done so already.
2. Now let's go to C:\Program Files\LucasArts\Star Wars Republic Commando\GameData\System and locate the Unreal editor execute file (UnreaEd). Make a shortcut and add it to your desktop for future use.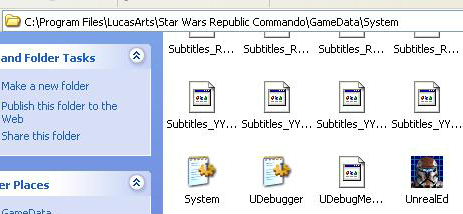 3. Double click on the UnrealEd file to start the Unreal editor application. You will see the following startup screen appear.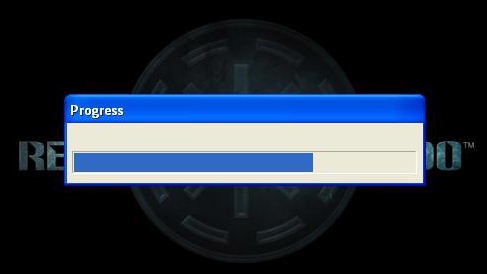 4. It may take a little while for the application to start as different files load. Once the application starts you will be presented with the main screen. The 'Tip of the Day' will always appear unless you set it not to by clicking the check and closing. There are 7 tips.
i) You can add brushes with CTRL+A and subtract them with CTRL+S.
ii) If you right click the "Add Mover" button you can select from a menu of mover types.
iii) If you right click the "Add Volume" button you can select from a menu of volume types.
iv) If you right click the toolbar at the top of a viewport, a menu will appear allowing you to control the appearance of that viewport.
v) You can toggle the drawing of static meshes with the "W" key.
vi) You can toggle the drawing of actors with the "H" key.
vii) You can toggle the drawing of the builder brush with the "B" key.
On the far right you may also notice another pop up window lurking out of the way. This is a convenient pop up with a variety of tool functions all docked together. You can 'toggle dock status' to separate.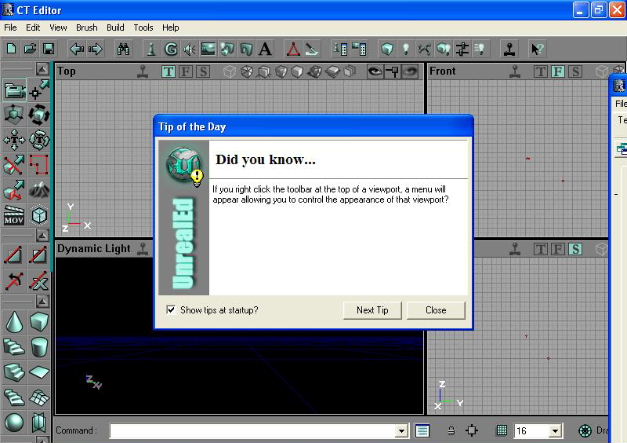 The editor displays four views. These are Top, Front, Side, and 3D. In addition there are a range of tool menus and tool icons. Hold your mouse over each icon to display a text message stating its function. We won't go through the function of each tool as there are too many and it'll give you a headache. :) Let's go through each tool through the tutorial so you can accustom yourself at a comfortable pace.