Fresh out of our weapons forge comes our new and improved Beretta M9 pistol for you to admire!
Just like the FN-P90 it's part of an SG-Team's standard configuration. With the 92FS model that we've chosen to incorporate - the M9A1 - we've deviated a bit from the series' specification, as it sports an additional rail at the bottom that allows us to attach a flashlight.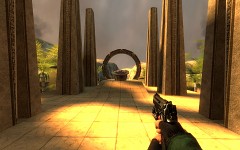 A suppressor can also be equipped, which allows you to go about your killings silently and without any revealing muzzle flash. The weapon handling is however negatively affected by it and your bullets will deal just slightly less damage but you'll be way harder to locate.
Note that as with the P90 the current hands model and its animations are still placeholders.
We hope you like what you're seeing and are awaiting your feedback!