It is that time again. Holiday season is almost upon us bringing joy, presents and food for all... who celebrate it. If you don't: fear not - just like previous years you'll get something special from us. Everyone will for that matter. You'll have to wait a couple more day though, but the time is nigh.
Of course we're not just posting this news to tease you we also have something to sweeten your wait and it's quite the thing actually. Oh scratch that it's super awesome in its own right! See for yourself...
Today we're going to present to you our FN-P90 - the flagship weapon of the Stargate series. Small, lightweight and with a high firing rate this "PDW" (Personal Defense Weapon) is the weapon of choice for SG-1 and can be spotted in almost every episode.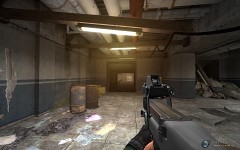 That and the high standard of quality we're going for with our game means we can't just throw in some laxly crafted P90 model all willy-nilly. Reason enough to add some crazy features such as a realistically simulated magazine - it being transparent and all:
(hands and animations in this video are placeholders)
This way the player not only gets ammo feedback from the HUD but can also see it right there on the weapon itself.
The quality of the model itself is important as well. To that end our creation process - much like AAA studios - had the P90 built as a high-poly and a low-poly model which then allowed us with the use of todays technology to transfer fine detail (round corners, scratches, screws, etc.) from the high-poly model to a 'normal map' texture. Put on the low-poly model this normalmap produces the illusion of a highly detailed weapon.
We did not stint on textures either. Next to the diffuse map (color information) and the normal map (surface detail) we have specular and gloss maps. The former controls how much each part of the weapon reflects light while the latter dictates the softness of the reflection. That way we can better define the materials that make up our P90.
We hope you've enjoyed this news and would welcome it if you'd vote us into the ModDB Top 100! ;)
Stay tuned for more updates this month. See you soon!