As gamers and modders, many of us have been exposed to virtual displays of raw power — whether it be the forces of nature ripping apart a physics-driven interactive environment or a monolithic beast tearing apart your computer-generated comrades. Games and the machines we play them on allow us to experience these displays of raw power from the comfort of our own chair. If you were to create a game concept depicting raw power, what would it look like?
Following the success of our previous concept art contest, ModDB is proud to present yet another as we kick-start a number of game development comps that will challenge old and new mod teams, mappers, modellers and the rest of our community.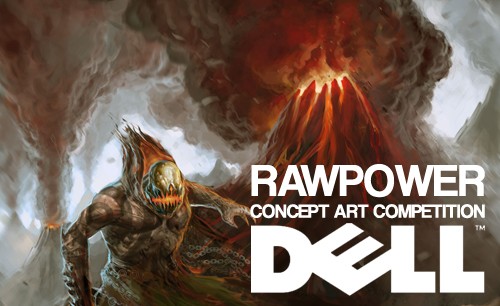 Winners Announced
The finish date has come and past and the entries submitted have been judged. The winners are announced and this competition is now COMPLETE.
The Challenge
ModDB and Dell bring you an all-new game concept art competition that challenges you to put forth your best original concept imagery that showcases raw, unbridled, untamed power in any form.
This competition is brought you by Dell, the people behind XPS and Alienware desktop PCs and notebooks. These machines are put together using the cutting-edge of graphics technology and provide their own raw power to make sure you can run all the latest games and mods.
Entering
All discussion and work in progress shots should be posted in the thread provided here. You are required to submit works-in-progress so we can provide feedback and help you on your way to winning!
Final entries are to be emailed to awards@moddb.com before the deadline to considered for judging.

Judging
The judging of the submitted models will be done by ModDB staff. Judges will choose and will select the top image to receive the award. ModDB staff reserve the absolute right to disqualify any submission that they believe may be in violation of rules.
ModDB reserves the right to amend any of the above during the course of the contest with or without notice.
Prizes
$500 USD cash purse for first place (winner takes all)
Runner-up entries will be showcased here

Participant Rules
All entrants agree to abide by the following rules:
Submissions will be accepted beginning on 21st May 2008
Submission window will close midnight 10th June 2008 GMT
Winners will be announced on the 12th June 2008 with all entries showcased here
Only one entry will be accepted per person. Once your entry is received it cannot be changed, edited or withdrawn
Character art, landscapes, weapons and most other game art will be accepted provided it fits the theme listed above. 3D concept art will be accepted provided all assets, models, landscapes used are original and created for this competition (as emphasized by the rule below)
The work submitted must be original (never before seen) and not a forgery. Forgery will result in immediate disqualification
In any and all cases of dispute the Judges' decision is final
No pornography, political or questionable content will be accepted
By entering the contest each entrant releases ModDB, Dell(Sponsor), their subsidiaries, affiliates and business partners, and the employees, directors, officers, agents, attorneys, successors and assigns of any of the foregoing, from any and all claims or liability, including but not limited to damages, losses or injuries, suffered by the entrant or any third parties in connection with participation in this sweepstakes or acceptance or use, misuse or malfunction of any prize awarded. By entering the sweepstakes, entrants acknowledge compliance with these sweepstakes rules (including without limitation all eligibility requirements). All matters relating to the interpretation and application of these rules shall be decided by Sponsors in their sole discretion. By entering the sweepstakes, entrants and prize winners grant Sponsors permission to use his or her name, address, email address, photograph and likeness, voice and entry for advertising, publicity or other purposes without additional consent or compensation except where prohibited by law. By entering the sweepstakes, entrants consent to receive notification of future promotions, advertisements or solicitations by or from Sponsors or Sponsors's business partners, via email, direct mail, or other means of communication.
In the event of any dispute, entries will be deemed made by the authorized account holder of the e-mail address submitted at the time of entry. Authorized account holder is deemed as the natural person who is assigned to an e-mail address by an Internet access provider, service provider or other online organization that is responsible for assigning e-mail addresses for the domain associated with the submitted e-mail address. The potential winner may be requested to provide Sponsors with proof that the potential winner is the author of the entry and the authorized account holder of the e-mail address associated with the potentially winning entry. If for any reason (including infection by computer virus, bugs, tampering, unauthorized intervention, fraud, technical failures, or any other causes beyond the control of Sponsors which corrupt or affect the administration, security, fairness, integrity, or proper conduct of this sweepstakes) the sweepstakes is not capable of being conducted as described in these rules, Sponsors shall have the right, at their sole discretion, to disqualify any individual who tampers with the entry process, and to cancel, terminate, modify or suspend the sweepstakes. Sponsors assume no responsibility for any error, omission, interruption, deletion, defect, delay in operation or transmission, communications line failure, theft or destruction or unauthorized access to, or alteration of, entries. Sponsors is not responsible for any problems or technical malfunction of any telephone network or lines, computer online systems, servers, or providers, computer equipment, software, failure of any e-mail or entry to be received by Sponsors on account of technical problems or traffic congestion on the Internet or at any website, or any combination thereof, including, without limitation, any injury or damage to participant's or any other person's computer related to or resulting from participating or downloading any materials in this sweepstakes.
BY ENTERING, YOU AGREE THAT YOU HAVE READ AND ACCEPTED
ALL OF THESE RULES. GOOD LUCK TO ALL ENTRANTS!