Firstly no zombies yet because I have been spending a lot of time tweaking the camera system, of course battling with the collision detection as usual.
Anyway also been trying to update the level quality, been taking advice from my fellow community at the epic forums site. There a great bunch for advice but anyway this is what I got from the suggestions: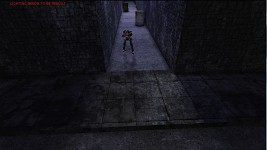 Now I now some of you may have noticed this a while back but I am working on some back ground theme which is getting there. Here's my sample music: (Isn't in the demo build)
Now that I have a base level done, I can upload a demo using the camera system so keep a eye on the download page. (later builds I will try to imprve the camera system, I am aware of some of the camera bugs.