Over the past few months the Zero-K playerbase has risen to around 300 active and unique online players per day. This is enough for at least one team active teamgame at all times, even off peak. It is a daunting task for someone to leave an active battleroom to found a new one so players tended to clump in one big teamgame room. Many players wanted to play games with smaller teams or even free for alls. So we have a matchmaking system which should:
Reduce waiting times
Better match skill within a game (thanks to the elo system)
Increase game type diversityto reflect the types of games people would like to play.
Preferences can be set through the site or lobby.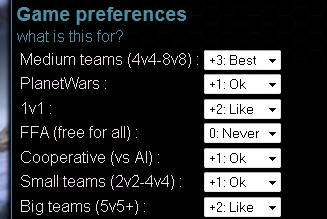 In other news Zero-K is up to version 1.0.4.8. Quite a few things have happened which probably wouldn't mean much to those that don't play so I'll just some particularly interesting things. As always the full release notes can be found here Zero-k.info
Local unit pathing and collisions have been improved to almost the level of supcom 2 flow pathing.
Weaponised capture units can now capture each other. These are 'puppetmaster' type units (think Yuri) so this behaviour can lead to massive trees of control that switch sides if the head is killed.
A few high cost units have had their balance changed. It is actually pretty exciting that we're at the stage where the balance of these units is important because they cost about 30x more than a cheap raider and only a few are seen in a game.
Gravity gun physics has been tweaked and improved. They should become more balancable and unit cannons built with ramp terraform are easier to use and a lot more predictable.