As stated before, it's great to hear that you guys are digging the cut-scenes. They're a little better than the ones before, eh?
One thing I'll have to do more so in the earlier part of ZWC is a tutorial mode. These little events should seamlessly blend in with the canon story, but they will mostly be from my own pocket and not entirely canon. Nothing ridiculous mind you, but just little events that can both progress the story further and explain how the game works for newcomers.
So, because my new cut-scenes use the voice clips from the series, I had to find a way to have cut-scenes that work similar to the others, but don't have any voice overs. I took a look at how other games pulled this off, particularly Kingdom Hearts. They would have the cinematic cut-scenes, but also for small elements, they'd have little comic-like segments which are less intense and cover the smaller story segments. Seeing as how DB was initially a manga, this seemed more than fitting for ZWC.
Thus, in the places where I can't have voices, there will be what I call "cut-comics", which will have elements of the DB manga and my own personal touch of course. Here's a small taste of what they will look like: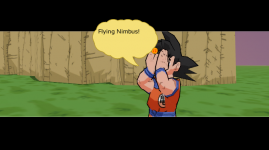 Nothing too special, but it gets the message across. It's also teaching my how to "write\" in a way, because I'm forced to condense these dialogue scenes into small enough sentences that they can fit the bubbles, as well as make sure I don't have too many bubbles because if they did, people would get bored of reading them!
So that's roughly where I'm at now. I'm starting to get the "Gohan Chase" segment put together, while cutting out the unnecessary filler. Which brings me to a bit of a rant, heh.
A few people weren't big fans of ZWC using the filler as part of the story. I agree, filler shouldn't be used as it's a waste of time. But it ultimately comes down to what you consider "filler". It's important to me to have these scenes with Goku, Chi-Chi, and Gohan, as their family dynamic is a big part of the show. Why do we care if Goku fights Raditz if we haven't seen what he has to lose?
A big theme in DBZ is legacy, Gohan being the main focus. We see him go from start to finish, trying to follow in his father's footprints. If we don't see the transition now of him going from wimp to fighter, then the most badass scene in the world where Gohan is beating on Super Buu will have no meaning. It's not JUST the fight that makes us love him at that moment, it's the fact that we're finally seeing him take on his dad's mantle. BUT without the "filler" we can't see any of that. So it is very important to me that ZWC shows these character developments properly so that when you are fighting, it means something - it's not just another DBZ game where you go from fight to fight.
Anyway, I won't showcase the tedious filler like Bulma doing dumb stuff on Namek, but I will show what I feel is important, and trust me, it will pay off in the end.
As for updates, I'll release another version soon which will have some events prior to the Raditz confrontation - including killing a Pterodactyl or two. But be patient, because now that all of the framework I talked about for so many weeks is completed, I am taking my time to fill it in so I don't have to do it twice.
In the meantime, I'll keep posting pictures of my progress, and taking your suggestions into account as always. Don't fret men. The day is coming where we can, indeed, kill Raditz.