A few days ago, our project Warside has been greenlit on the Steam Greenlight. The game was collecting votes for 43 days. I'll let you to decide is it long or not, but we were really pleased by such a fast approval, especially considering the existence of some projects, which are gathering votes on Greenlight for a year.
We were working hard to gain the necessary number of votes, and in this article we would like to tell you about the basic steps, we took to collect precious "up-votes".
Preparing the Greenlight application page.

Okay, before you submit your application, you should polish your Greenlight page. The longest thing to do on this step was writing a worthy text.
We wrote the first text pretty fast, but several members of the team considered to add some corrections into it, so a few days after our text was pretty much like a Frankenstein's monster, so it was really hard to read it without taking some brain damage.

We rewrote it two or three times before we achieved some briefness and came to agreement on what gamer, unfamiliar with our project, is should really know to make a decision – up or down-vote.
Also we agreed that there will be only English text on the Greenlight page. It doesn't mean that Russian gamers are less important to us, of course, but if we placed both Russian and English texts on the page, it would have been difficult even to scroll the wall of text.
Recap: Do not try to include things, that just doesn't fit. Concentrate on the points, which demonstrate the uniqueness of your project. No one will tell you something like: "Oh, is there really more than 20 levels? Couse if it was be only 19, I just would have passed on your project. But more than 20 is really great". Numbers in description aren't the best argument. Try to win attention by the quality of your points, not by the quantity of all the cool things in your project. The main goal is to describe all the key features of your project in brief and simple form.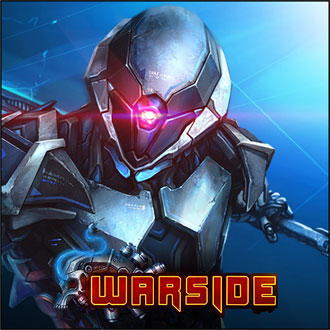 After the text was ready, we had to prepare an some nice design for it and choose the avatar picture for our game. During the day our artist suggested some options of the avatar – with animation or without, with one or other characters from the game, we even considered using part of a screenshot as the avatar. As a result we chose the picture you can see. We decided to remove all the animations, because Greenlight is already dazzle of animations of any kind, so we wouldn't stand out this way. However the style of the game should be understandable by the picture on avatar, it really should attract gamers to stop by the page.
Recap: Consider which avatar will attract to your page, but will not irritate and deceive at the same time. You should think twice before using any animations, because they can be really annoying. However if you decided to use it, it is better to make the animation based on the gameplay to give players some idea what your game is about.

Besides the text, there are some materials on the page – not only screenshots, but videos, that would describe the gameplay as accurate as possible. We looked through many projects on Greenlight with and without videos and came to the certain conclusion. Despite the fact, that Steam hides the number of up and down-votes, you can get idea of what players think about the project by reading comments. Projects without the gameplay trailer cause much more questions and doubts up or even comments like "I will not vote until I see the gameplay". And of course all the text and voiceover in the video should be in English.
We've already had the gameplay video, so it was just the matter of time to translate it, which took us about 2 weeks total.
Recap: Prepare the video. The gameplay trailer would be the best. Many gamers make their decision to give you up or down-vote based on the trailer.
Later we also added another article about class-system in our game, because in the basic text did not go into details. Announcements, as it turned out, do not influence the organic traffic of the Steam, but anyway, if you didn't tell some important information earlier because of the size of the text, then the announcements is the great way to do it.
To demonstrate class-system and to show the gameplay once more as well as some interesting mechanics, we made another trailer and added it to the page. Trailers should not to be too long, because one will rarely watch 15-minutes-long video, even if it is super-informative. In some cases, you will have to remove some cool features from the video to make the trailer a little shorter. Several short but interesting and fast-paced videos are better, then one long trailer.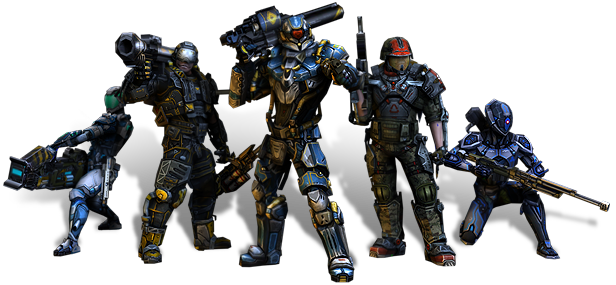 Searching for gamers


After the Greenlight page is complete, the next question appears – where do we find necessary number of votes? The answer partly was found in articles written by other already greenlit studios, partly – on our own experience. There are several groups of sources where you can find gamers to vote. First and the most obvious resource – is the Steam. There are many gamers particularly on greenlight, who are interested in Indie games, because those games often offer something interesting and unusual. The problem is that if you do not develop the most ingenious project of our decade, offering not only unique and unforgettable style, but also original gameplay and, what is really important, wonderful trailers – it is highly unlikely that every gamer will give you up-vote. Actually even if your game is like we described, even then some of the gamers won't give you up-vote.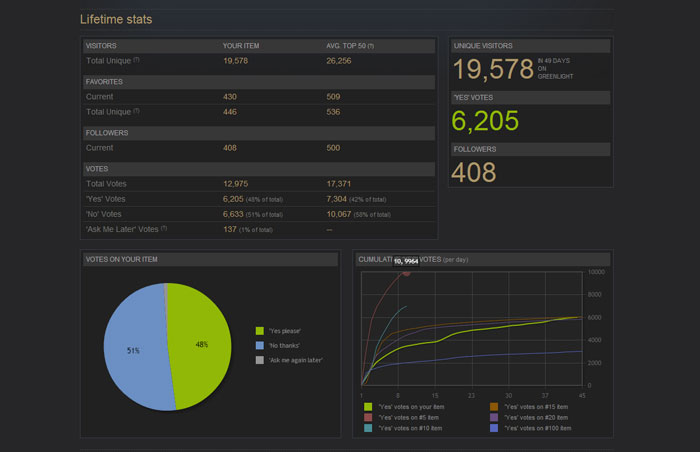 We were ready for that reaction, so the ratio of votes was not a great surprise for us. Furthermore, Warside had better ratio of up/down votes at the start, than the average on Greenlight, it was 60/40.
Recap: Be ready, that not all gamers will like your project. Even if you exert the maximum efforts to make your page beautiful, your text awesome and to your video really breathtaking, even then you won't get 100% up-votes. Actually, there probably will be more down-votes then up-votes, but it isn't the reason to give up and despair – it's okay for Greenlight. Fortunately down-votes don't influence your approval – only the up-votes are important.

Nevertheless, the organic traffic from Steam was not enough to be approved. The first people, we contacted to tell about our page on Greenlight were of course our beta-testers from open and close beta. We told them about it via social web and newsletter.
About 30% of newsletter recipients voted for our game as a result. It's a pretty good rate, usually the conversions from the number of views to the number of votes is lower.
But our audience also wasn't enough to be approve.
We contacted all our friendly Russian resources, who published our press release. We can't say that the impact was great, but we received even less votes from all English-speaking resources, as it turned out later.
Recap: At first you should contact your own loyal audience – players of your game (if the project is on the run already), people, who track the project. Do not forget about sites who've already written some articles about your game, especially if it caused the positive reaction of the community. At this point, you should avoid paid news and articles, because they will probably give you less profit, then loyal resources.

We have also signed a contract with PR-agency to tell about our game abroad. Actually, we could try to promote our game abroad on our own – we did a lot of work in that direction. In particular, we wrote a list of more or less popular English-speaking resources about games. Special attention was paid to indie-games sites.
If English is your native language, it would be a little easier for you to promote a game. Nevertheless, at this point you will contact sites, that you haven't ever contacted or they didn't publish article about your project. In fact, it's the audience unfamiliar with your game.
IndieDB is worth mentioning separately. It has become the second most important resource after Steam, because there were really a lot of gamers here, who we could tell about Warside. We used not only the information from Steam, but also other interesting things like an article about the level-making from our modeler.
Recap: You should pay much attention to resources, were you can do something for your project on your own – to make a page about your game, to offer some news about it. Probably, the agency won't publish news there, but even if it will, it would be useful to show up again.
Nevertheless, we decided that pr-agent would do that better, then we would, because he doesn't only know the language better (which was quite important in our case), but also has better chances with particular resources, because he worked with them before.
The impact from the pr-agent work was less, than we expected and less, than we had from Russian resources. A lot of sites published article about our game, but there were less visits in our greenlight page, then was expected.We still got a few publications on some big resources like RockPaperShotgun, Destructoid, Gamespot and many publications on little ones, which is great anyway.

Recap: If you're not confident in your English skills, or you're not sure that sites will reply to your letters – pr-agency is a good possibility to work with press. Of course, if you had all the knowledge of a pr-agent, you would do it better, because you know better than anyone all the strong points of your project, you are better than anyone in telling gamers, why they should try your game. But without the knowledge how the PR works you probably won't succeed.

In a month or so after pr-agent have started his work we also got into gear. We sent press-releases of Warside via contacts we could find, essentially to the sites avoided by pr-agent, or those who ignored him. We decided, that sometimes a letter directly from a studio could be regarded better, than from pr-agent.
Have to say that indie-sites didn't reply us very often, there were only few publications about our game. It was difficult to understand, why our letters were ignored – was that the subject of the letter or its text. Maybe the problem was in the attached press-kit?
Of course, we couldn't get the answer, but we changed subject and text of our letter to make it more informative before sending letters to other sites.
It's hard to say did we succeed or not, because the number of sites about games at all is much bigger, than just about indie, so there were a little more replies.
When we started mailout on our own, there was about 5% of votes to gain before we get the top-100 on greenlight. It seems to be a little number of votes, but those percent were the most difficult to get for us. All our audience, who wanted to vote have already done it, loyal sites have already published the articles and the pr-agent did the bulk of work. More important that the organic traffic of Steam went thin. Actually there were some votes, but it wasn't enough to get us a little closer to top-100. Therefore it was difficult to find more gamers, who can vote for our game.
Recap: Even if you decided to use the services of pr-agency – do not expect that it would do all the work for you. Its work should be watched closely and you better be ready to work with press on your own. You'll need a list of resources with their contacts, press-releases and all of your charm. It will be especially important for the last push, when you're almost greenlit. The last few percents will be probably hardest for you.

While the mailout was in progress we also tried to work with audience of the sites, we missed before. In particular, we started to publish some articles about the development, fortunately, we had some interesting information to share. That could be just a story about your studio or some specific articles dedicated to some aspects of development. Everyone likes good stories :)
Recap: There are some resources about game development. Surely you can share some interesting about the development process, you can ask your colleagues to write some articles about what they do and how they do it. Do not lay much hopes on that publications, but they will surely give you some more visits on your page.
Literally in a couple of days after we reached 93 place in the top, we were approved. That was surprising, because only 75 projects are greenlit in each wave. But still we were greenlit in that batch thanks to developers resources.
After the journey of 43 days to the top (much more, in fact, if we take into account the time we needed to prepare everything), we want to thank everyone who supported us on Steam not only by votes, but by comments, questions and interest to our project overall.
We wish you more good games!
Sincerely yours,
Kraken Games team.