For our first development update, I would like to reveal our weapon concept art for Valencia. These concepts are discussed over by the team, in order to determine if they fit our distinct visual style. We'll pick the ones that we think approach that standard and ask our artist Wesley Paquette to finalize or combo them as desired. The current concepts are for five different weapons: Swords, Spears, Dual Knives, Pistols, and Throwing Daggers.
Each weapon has a specific place in the game as well as Valencian lore. From a gameplay standpoint, they are also unique in how they allow the player to approach combat. We'll get to that in another dev update however, as we want to showcase the concepts this time around.
First off are the Valencian Spears. The primarily aesthetic of these are supposed to be long and lean, with a flowing blade. As you can see, many of these weapons reach that quite nicely. We should have the updated spear concepts soon to show you a more precise visual representation of what we hope to achieve. Next are the swords. The Valencian world, set in the skies as it is, definitely reflects the light and airy affect. That being said, air barges are the primary means of transportation, meaning a decent amount of swashbuckling sailors are to be had! This is the reason for such a diverse amount of swords!
The Throwing Daggers are a long range weapon for the player and a much more common one in terms of munition compared to the pistols. They can be found virtually anywhere and on anyone in Valencia. The Dual Knives are dual wielded by the player in the place of a sword. This allows a much faster attack progression than the sword. As you can see, there is quite a variety of styles between both sets and we are excited to show you the next iteration!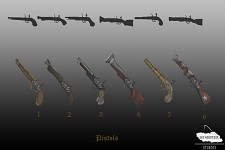 Last but not least are the Valencian Pistols. These align closely with the Victorian fantasy visual style. Many (but not all) of these will be present in-game and unlike the Throwing Daggers, will be less frequent.
_________________________________________
In addition to these concepts, we'd like to point you towards our current website. It's still being worked on, so expect it to be update soon! We'll have a blog that we'll update in addition to our ModDB page, so feel free to bookmark it!
~Timothy aka Arcones