Our Team Member "Destructavator" is developing a new system for air combat / interception featuring its own 3D environment.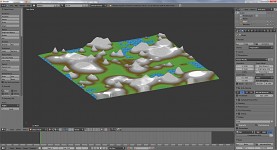 Unlike the battlescape all aircraft and things will move and fight all at the same time, although the speed and pause controls from the geoscape will still be available. If the combat starts with the player's aircraft chasing the UFO, the UFO will start in the center of the map, with the Phalanx aircraft at an edge, approaching the UFO. If the UFO is coming after a dropship or player craft, this is switched, and if both are coming at each other, all opposing forces start at opposite edges of the map. Any aircraft that pass beyond the border of the generated map would be considered to have escaped combat (for the moment).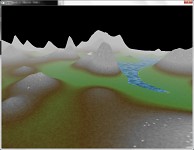 The "Aircraftscape" can generate different types of terrain for various areas on the map, so arctic terrain would be made over Antarctica, mountain terrain over a mountain region, etc. It could also make lunar or alien-world terrain. If a UFO is shot down the game will know if it fell in a lake, on some trees, on a mountainside, etc. This information would then be passed to the battlescape, so a ground battle in a matching map would occur. Its also planned to extend this to generate buildings, cities, trees, etc. and place them on the terrain.