This patch focuses primarily on 2 new features: Elite enemies and elite items.
Elite enemies are rare enemy spawns that are substantially more powerful than normal units. They're each a super powered version of a normal enemy, each with their own pumped up special ability. If you can kill one, they will drop an elite item.
Elite items are the best items in the game: Stronger weapons, overpowered potions and wands, and a scroll that basically levels you up! It's worth taking elite enemies on for the items they drop. If you don't like the elite item you got, use it in alchemy and you're guaranteed to get another elite.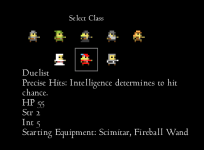 There are also 3 new classes. The Paladin is a defensive class who benefits from high intelligence and strength. The duelist is a melee class who benefits from high intelligence. The Scholar gains health whenever they read a scroll.
There's also a mac downloadable version for the first time.
Detailed patch notes:
-Implemented Teleportation Altar-Implemented Healer class-Implemented Paladin class
-Implemented Duelist class-Created the Scimitar weapon
-Created Flaming Sword elite weapon
-Created Bloodthirsty Axe elite weapon
-Created Poison Knife elite weapon
-Created Omni Potion elite
-Created Power Scroll elite
-Made the explosion wand more powerful and made it an elite item
-Created Fire Trap wand
-Created Elite enemy type setup
-Implemented Skeleton elite ability
-Implemented Brigand elite ability
-Implemented Murderer elite ability
-Implemented Ogre elite ability
-Implemented Flaming Skull elite ability
-Implemented Imp elite ability
-Implemented Minotaur elite ability
-Implemented Rogue elite ability
-Implemented Demonologist elite ability
-Replaced ghost countdown with spawning Death himself!
-Removed starting foods-Increased number of turns before ghosts appear
-Removed Quickplay button (it was more for debugging than playing)
-Decreased the duration of poison by one turn to weaken its effect slightly
-Moved tutorials to the right side of the screen so they don't overlap the mouse over boxes.
-Added particle effects to all altars