Firstly, with the apparition of new neutral buildings, players can find during map exploration different constructions that allow very valuable researches. These researches usually benefit any race, so it should be protected at all times to keep an advantage. One such building is the Healing Fountain found in Chapter 2 (and random skirmish maps) which improves hp regeneration for all troops and enables/improves the Elcor's Balm ability.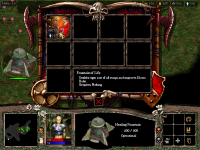 Such capabilities often change the fate of a loosing side. A message is displayed to all players whenever this type of research is complete, also stating the owner.
Secondly, TPC team has implemented different upgrades for specific units. These usually don't have such a great impact, but definitely help and makes the race more recognizable. The Axe Throwing upgrade, for instance, gives all dwarf infantry +3 range (v0.8.1). Thus, the dwarves are the only race that have a ranged and melee unit in one (they are not affected by the penalties of a normal archer), but the small value of the range and not being able to aim at flying units doesn't make them overpowered - the upgrade has a small, but noticeable impact on game-play.
With this feature. we hope to make every battle more exciting and give every playable race more distinction.