We've put together a short devlog on the topic of animations in Take On Helicopters!
We present some of the things we've tried to achieve in this project, and talk a little about the kind of activities involved in our animations pipeline.
Below, you'll find an extract from the full article, along with a selection of new screens!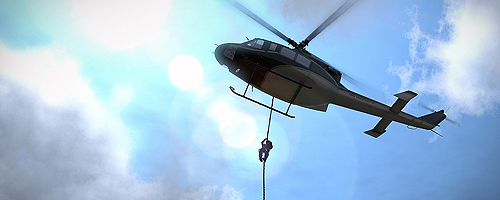 Take On Animations!Throughout our development, we've talked about trying to deliver the 'experience' of helicopters; of course, that's a great disposable marketing statement, but it's also meant a lot for almost all aspects of our development - including animations. While Take On Helicopters is - at its heart - a game about flying, the more tightly focused nature of our project has enabled us to achieve some satisfying improvements in our character and vehicle animations, as compared to what we've done in the past.

Seemingly simple activities - getting in and out of a vehicle; getting 'hands on' with the controls; changing the pitch of a rotor blade - have posed big problems for our projects, most often due to the nature and scale of our games.

The new animations and new supporting systems implemented for Take On have helped to create a sense of 'physicality' that simply hasn't been apparent in our previous titles.
You can find the rest of this article in full across on the official Bohemia Interactive pages, along with a full selection of brand new screenshots!