Hello fans, friends and followers!
For those of you hungry for an update of our progress, the team is still hard at work imagining, creating and implementing core features and mechanics into the beauteously enigmatic, and yet beastly and barbarous lands of Stone Rage! Out of the research, brainstorming, suggestions and discussions, we're now prepared and proud to announce our six new playable, non-anthropomorphic character classes. Each playable animal class have its own unique support class. For instance the Scout Class consists of Gastornis and a flyable bird. Also, we recently created a facebook fanpage of Stone Rage, so do not forget to like and support us on Facebook please. Link: Facebook.com

Class one: Name: Entelodont (The Stealth Class)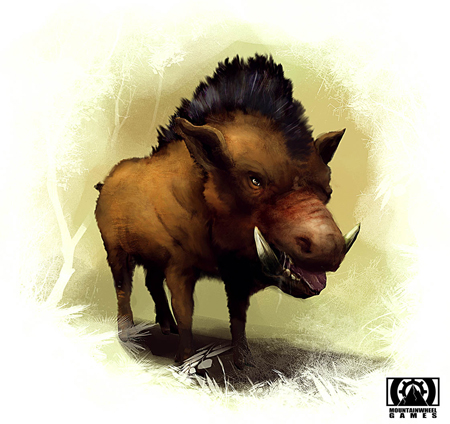 Pros: Balanced melee/stealth character.
Cons: Easy to kill with ranged weapons or long spears.
In the Eocene era, these 'Hell Pigs' lived by scavenging for whatever food they could find. They rarely hunt for their own prey, but when they do they're usually alone or in groups of two or three. These ancient omnivores have long snouts and strong mouths with sharp teeth. They can both charge a small or medium-sized target head on, or lie in wait within the tall grass for an ambush.
Class two: Name: Woolly Rhinocerous (The Defence Class)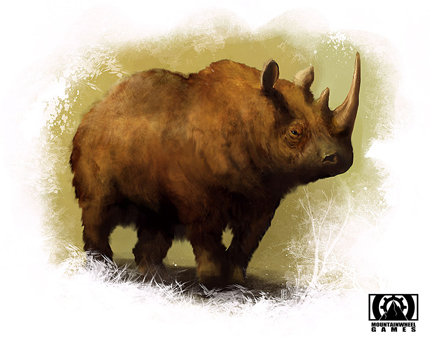 Pros: Greatest defensive character, perfect for holding areas.
Cons: Cannot sprint or cover distances quickly.
In the cold, glacial lands of Eurasia, this heavy, flat-toothed herbivore lived and protected its territory no matter what. A far-sightedness blindness keeps this beast from being an effective attacker, but in a small area, the Rhino can hold its ground against anywhere between three to four opponents at once. Don't expect the Rhino to charge you, but on the other hand, never expect to charge the Rhino and succeed.
Class three:
Class three: Name: Gastornis (The Scout Class)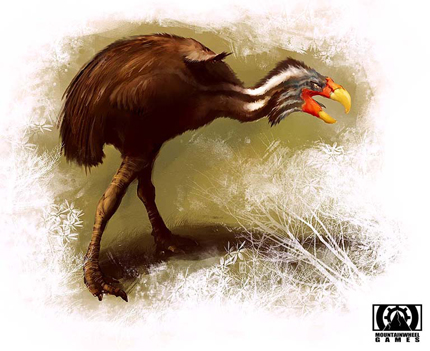 Pros: Quick runners, can slow opponents down with a scream and do bleeding damage.
Cons: Easily killed by every type of weapon, does very little direct damage.
This large scavenger was a runner through and through. Quick on its feet, it can cover large areas and escape from enemies with little incident. Although its beak is sharp and dangerous enough to pierce softer flesh, this giant land-bird's long, long throat is an easy target, and its bones can be easily broken. Long feathers help to make it look bulky, but they hide a weak body and offer very little protection. Its easily broken legs, however, are strong enough to kick down small enemies, and a few medium-sized ones as well. Those with thin skulls can be stunned from its repeated pecking, causing them to bleed and slowly lose their health as The Bird runs to safety.
Class four: Name: Cave Bear (The Warrior Class)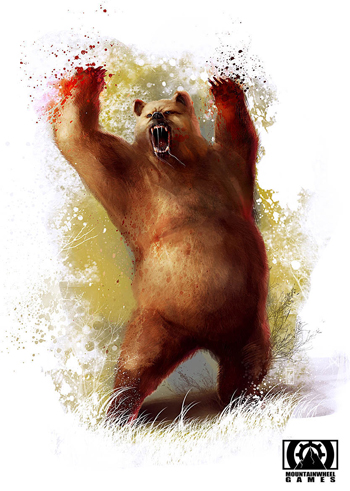 Pros: Highly dangerous attack damage and speed. Strong defense against short-range melee and projectiles.
Cons: Fast attack speed, but slow movement speed, making it difficult to confront many enemies alone or catch a retreating target.
These cave-dwelling killers lived during the Pleistocene era, and were even thought to have been worshiped by many neanderthal tribes. Worshiped though they may have been, it is know that they were feared – and for good reason. Their bones were similar to a dog's, only with shorter hind legs and semi-opposable thumbs. Their ferocious fang-like teeth and their razor-sharp claws are more than enough to teach foes to stay away from dark caves and rocky unknowns.
Class five: Name: Saber Tooth Tiger (The Hunter Class)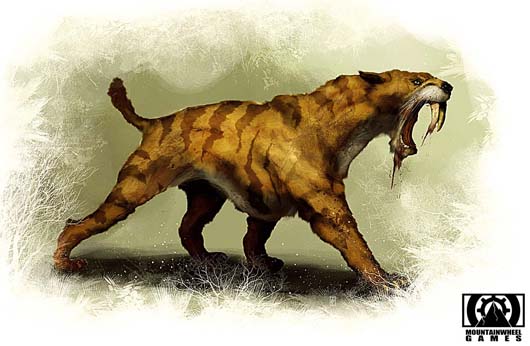 Pros: High damage and quick speeds.
Cons: Thin hide and cannot kill multiple targets at once.
Be it in the confines of a cavern, the mazes of a shadowy bosk or the tall, open plains of a grassland, the Saber-Toothed Tiger can find and kill almost anything. In battles with meticulous planning, or in the sudden bouts of chaotic bloodshed prone to the times, this Hunter can outrun most any prey, beat them down with sheer strength or, more often than not, conquer by sheer numbers. Either way, fighting in packs or fighting alone, Saber-Toothed Tigers are either quickly dispatched, or they will enjoy the meal that you've unwillingly provided with your mangled corpse.
Class six: Name: Mammoth (The Heavy Class)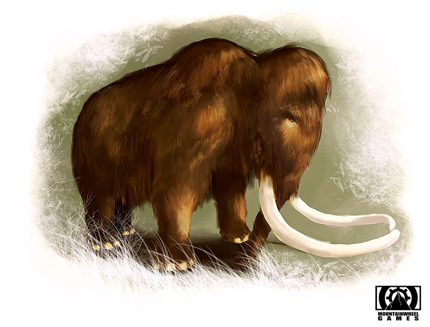 Pros: Most powerful attacks. Most health.
Cons: Slowest attacks. Easily killed by focused groups of quick enemies.
Of all the brutes that have wondered the world, The Mammoth is one the most powerful. Their monstrous strength has no rival, but their lumbering bodies make them slow and easy to avoid. Few can stand against them for long in head-to-head combat, but when attacked in groups or by an agile opponent with enough cunning and guile, even the mightiest of these beasts can fall.

Duduk Song - Mod DB - by Adrian Holmes

-- All Animal Concepts done by Concept Artist Markus Lovadina (Malosart.blogspot.com)
-- Writing done by Writer Justin Wilson.
We're also recruiting new developers:

- Exp. UDK Scripter (network&server, general scripting, importing assets into udk)
- Character/Animal Rigging Artist (Autodesk Maya)
- Character/Animal Animator (Autodesk Maya)
Any suggestions, ideas or additions to this little text-update on the animal classes is both welcomed and encouraged.