Independent game developer Bad Pug Games has announced the launch of it's flagship space strategy game, Starpires.
A free, turn based, massive multiplayer game, Starpires combines many elements of traditional strategy games with social features to create an engaging game play experience for both hard core and casual gamers. Players build their galactic empire, build military forces and do battle with each other through a variety of attacks and covert operations as they move up the player rankings to become ruler of the known galaxy.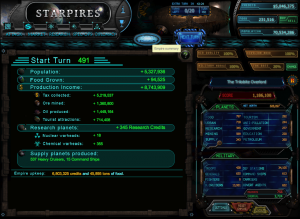 Addictive and Engaging
Starpires has proven to be a very addictive game with a high percentage of players logging in multiple times per day to play. It is a turn based game, with players accruing additional turns over time. According to Starpires creator Matt Heaton, "I hear from players who tell me they can't wait until they receive more turns so they can keep building their empire."
There are dozens of metrics including score, net worth and number of battles won on which players can see their rank. These rankings can be used to compare your empire against others in the game, your known universe of empire, or against your Facebook friends.
The Big Bang - Expanding Universes
Starpires uses a unique system to deal with having thousands of players participating in the same game. When they start out they are in a known universe of players made up of people starting the game at the same time as them as well as their friends. As they progress in the game they discover new, more powerful empires. This creates a game play experience that becomes progressively more challenging while not overwhelming new players.
Starpires is a free-to-play, browser based game. Players can signup and create their empire at Starpires.com<
Additional Information:
Screenshots: Starpires.com
Blog: Starpires.com
Facebook: Facebook.com