02/12/14 > Links for other game pages at "Contribute" fixed
02/12/14 > New title art finished, all covers at all sites where the game is advertised updated
Well, this year is almost over and this project certainly saw some radical changes up to now, not the radical changes which puts an extra burden I would not been able to deal with, but radical cuts to ensure the projects gets a demo soon.
I'm posting this small status report to keep you informed, but it is possible I will post another status report still this month.
Questionnaire Results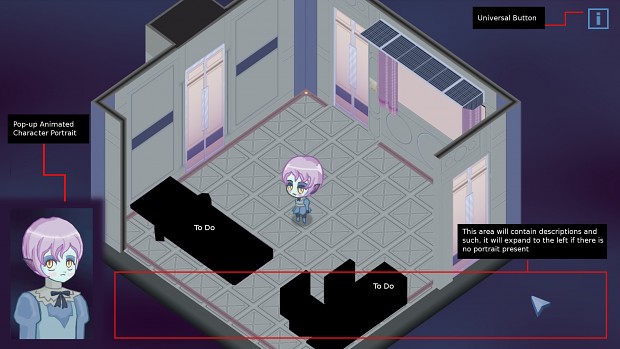 It was expected, the chosen layout for the entire game ground exploration gameplay was Type C, minimalistic yet still showing your character portrait sometimes. With that in hands I already started working at the character miniature(also known as chibi) animations, here a preview.
Game Music
As I said before to allow me to finish this game I decided for a music artist to do music for me instead of me doing it; due to some soundcloud tracks I was close to choosing garoad, which is quite good at cyberpunk music, but he himself told me which the exact track which attracted me more was the work of his friend David Nyman, they have almost the same style, but David Nyman have a subtle musical difference which fitted this project more, something ethereal, nostalgic.
The project need 3 dark yet casual, generic musics, the first one I bought was non custom:
But the second one was custom made, around 2 minutes of adaptation for both of us, as I never requested content before, I did it myself previously. David is a nice person, and we managed to achieve outstanding results for a casual/non-action music.
For the third and final casual music we will remake an old one of mine. Musics are being divided by subject instead of place, as I have not that much cash to spend, also, the game will make use sometimes exclusively of silence, to stimulate your imagination.
After this third one we will enter at the "danger" musics domains.
Project Title
At its very beginning this project was called "Tales of Sun and Moon", but that looked more medieval fantasy like, so after plenty of thought it was changed to "Questverse", a fusion of Quest and universe, the thing is, people didn't caught that words fusion, so the title had no real meaning compared to the game itself, and its growing "raising-up" feature.
Alternatives came by, "Staraiser", "Alien Maker", "Cosmonaut" and others, but the one which reflect more "raising-up" and also future was "StarChild", this one have further meaning too, scientists and spiritualists like to say how "we are children of the stars, as we have in essence the same composition", also there a spiritual theory of the "star children", enlightened other worlds spirits which are born in earth just to bring new knowledge to it, that concept also fits the game secret story(you will have to play to know).
Most of "Starchild" kinds of domains are reserved in the web, but there is one I may be able to negotiate with its owner for a price, since the domain is his but not used for long. There are no worthy unclaimed domains containing this new project name.
I dropped the "Dark version" small text under the title to save space, as it is obvious the game is dark just by looking at its cover, the light version will be recognizable only by its "light" cover art. As long as the project isn't near completion, such kind of changes can still be made.
I am yet to make the new title art futuristic like the previous one, but for now that placeholder title art style will do.
Contribute
Thanks for your visit space adventurer! If you liked this project you can help make it happen by: