At long last v0.3 is out! Though only in beta stage it has some cool stuff to show off. In addition to features mentioned in the previous article v0.3 Beta includes some new features:
1. Unlocked FPS mode between waves & camera interpolation
From now on there are no mode restrictions, you can be in FPS and Strategy mode at any time, though buying from Strategy mode is only available between waves. Also camera interpolates between modes nicely and it also works for tower controlling and zooming (zooming interpolation was not implemented during the recording of this video).

2. Tower Tactics
This allows you to change the towers targeting system to your liking. You can easily optimize towers behavior and assign them with specific tasks (a gatling tower that drops everyone's health to half, leaving the rest of the job to cannon tower etc.). All is explained in this video:
3. Radar
I've implemented the radar which will show you all units of importance on the map. Of course it doesn't work like minimap so the units out of range are shown on the edge of radar. Useful for knowing where those annoying chickens ran off...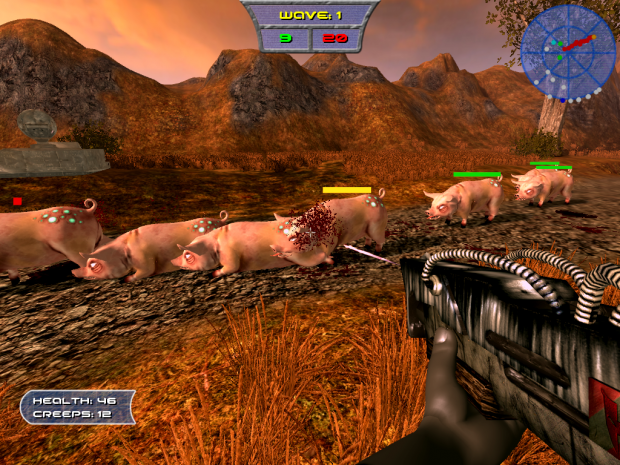 4. Creeps with special abilities
You will not encounter much of them, in fact there is currently only two of them:
* Pig Tank - has the force field around him which reduces all damage by 40%.
* Rooster Shaman - has the heal field around him restoring 12hp each second.
5. Death & Hunters
Hunters are special type of creeps, infested with mutated viruses which are undetectable by towers, with only one goal: to kill you. They are excellent at drawing your attention from normal creeps, because if you die you are respawned after 10 seconds, and time is precious. They will continue to hunt you until they are dead. Oh yeah, your towers can hurt you too if you are not careful enough.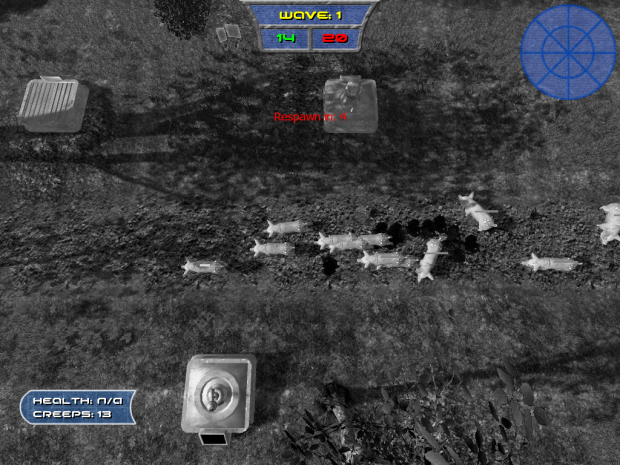 Well that sums it up! There are still some thing to be added like: proper balancing, weapon upgrades, more special abilities for creeps, traps/mines, tutorial, bug fixing etc. but that can take some time so better to release some form of beta version than get dragged like Duke. I'm still working alone so modelling & sound help would be very appreciated.
You can download v0.3 Beta from here.
Due to engine software bug some dlls were not included so you can download the patch from here and here. Just extract it to the game folder.
I eagerly await your feedback :)
Cheers.