As always, I'll start the new post with an obligatory link to the new OverDose website and forums. Over the last few years our servers have had the personality of a chronically depressed lemming and have had the tendency to drop out of existence at the best of times. Thankfully, we have been on the new server for a good while now and it's as solid as an IT nerd on the front row of a swimsuit modeling contest. So, the big shiny logo below, go ahead and play whack a mole with it:
This link will give you access to the main OverDose website where all the news gets posted first, as well as access to the [TBG] forums, which we think of as kind of our "EXTRA!" area. We post a lot of development junk, pictures and info in there that doesn't make it to the main sites, so if you want first hand access to the inner workings of OverDose, get your filthy mitts on a forum account and get posting!
Nice night for a walk?
Its been a while since I've posted an update on here, mostly because I've been so busy with OverDose and this rather annoying thing some of us have called "real life". But I thought I should get some info out there and let you know how things are progressing.
First of all, I'm happy to report that the game is now pretty much renderer complete, and that work is moving onto way more interesting fields such as game code, tools and such. Exciting times are ahead. Sadly, we STILL only have a small team, and we really, really need help coding wise. Having one single coder is bloody hard at the best of times, and we have zero help in this field. If you feel you are up to the job, then feel free to email us at jobs@team-blur-games.com
In other news, I'm handling the media side of things rather well, but again, I'm just one single guy. Having lost our character modeller to the "real world" it left us with a rather big issue in that we had nobody to model characters and weapons. So, I stepped up to the mark and did our Marauder hand models, but I'm just not sure I can learn animation as well… I'll have to give it a shot. But if I do, prepare yourself for the most wooden animations of all time, even worse than the era this engine started in. If you feel like you can help us with a weapon model, character model or better yet, with animation, then send me a mail to jobs@team-blur-games.com
Speaking of media and such, I'm currently doing the massive job of making a map… At the same time as the media it needs. Fun times indeed, as it's a HUGE task, one that I never actually thought I would manage, but some how am doing quite well in. Heres a few new pics for the feed: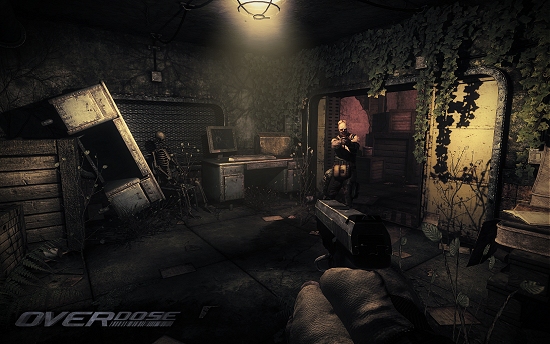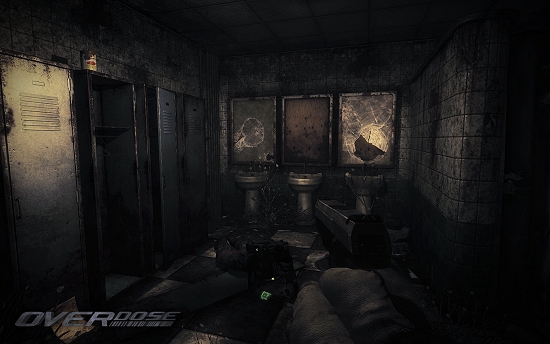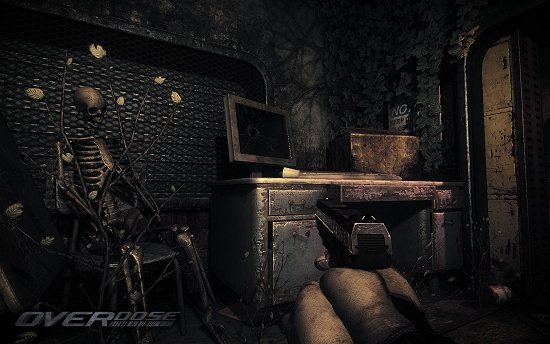 Sounds Good?
Lastly I want to talk about sound. OverDose has what I think is a pretty damn fine sound engine. You WILL be happy with it. OpenAL is fully supported, and we have per area reverb settings too so that you can make any area, now matter how small, sound just right:
This is actually a huge deal, because it allows you to change the sounds of an area so easily, but so drastically too. Its been in the engine for a while, but we never really talk about sound as much. Theres a reason I've brought sound up, and that's because we have a new composer, Luciano Giacomozzi. This talented guy has worked on games, films, media, you name it he's done it, and yet he's still only a young whippersnapper. Hes done a lot of new media for OverDose, and some of this I'm going to preview you to you all below.
Match Music
After thinking long and hard about what we could do in this area, we concluded that nobody really likes music in their game… You just turn it off. Who needs music pumping out loudly over the main sounds all the time so you can't hear a thing? 10 minutes of that? Its not good. Plus our own idea what to have two samples, one quiet and one which switched in when you got into combat which was more RAR RAR IN YOUR FACE. But then… How…? What dictates combat? Firing a weapon? Hitting somebody? What if that combat lasts 2 seconds, it would sound pretty strange…? It just wasn't going to work how we wanted… So we went back to the drawing board to see what we could do. It wasn't until playing *deep breathes* Call Of Duty, that we noticed something… The way the music was set up in the multiplayer component worked. It worked well in fact. Actually, it worked amazingly well for an ambient tone and feel to levels, and dare I say it came off quite depressing? It conveyed a sense of isolation and desperation… Which was quite an odd feeling when you think of all the 11 year olds playing the game. But it worked. And whats more, it worked even better in OverDose.
So, we ran with the basic formula. Music works in stages, that is when you are "readying up" you will have a short sample of music and then every X minutes (2-3 minutes seems the best options) you will have a progressive sample of ambient tone music that plays that only lasts 20-30 seconds. This not only allows you to get a sense of time passing by much easier and without even noticing it, but it also plays in the background in such a way that it doesn't become detrimental to the actual experience (See: Quake III Arena). Then, in the last 30 seconds of the time, you have another piece of music that plays, one that's more amped up, more that conveys a sense of haste is needed. Of course the only thing missing after this, is the round over music, which of course varies depending on which team wins the round, but again each sides music reflects the teams designs…
Thinking about it, it seems basic. But it works so, so well.
Here are some samples of the music and types we are going for so you can experience them for yourself:
OverDose Soundtrack - "Prepare Yourselves" - Luciano Giacomozzi

OverDose Soundtrack - "Time Is Running Out - Luciano Giacomozzi

OverDose Soundtrack - "Holding Onto Humanity – Marines Win" - Luciano Giacomozzi

OverDose Soundtrack - "Holding Onto Humanity – Mutants Win" - Luciano Giacomozzi

OverDose Soundtrack - "Radiation Killed My Soul " - Luciano Giacomozzi

OverDose Soundtrack - "The Horrors Of Apocalypse" - Luciano Giacomozzi

OverDose Soundtrack - "World In Darkness" - Luciano Giacomozzi

Let us know how you feel in the comments with this new direction we are taking.
Also, as another treat for you all, we have a new main theme for you (Which doesn't replace our older theme, it complements it). Reflecting the world we are creating, the tones we are trying to convey and the desperation the universe represents, Luciano has tried to bring it to life in new ways. But you'll have to wait just a little longer for that, as its in the oven as we speak ;)
To Sum It All Up…
Well, to sum everything up, I have to say that even though we look quieter than ever, we are actually making more progress than ever, and yes, well on our way to hitting that beta mile stone we spoke about before. But we can only get there faster if we have the help to do it… That means you. If you feel you can contribute in any way to OverDose development, then drop us an email at jobs@team-blur-games.com and we can do lunch* and all that stuff.
Oh and don't forget to like us on FaceBook! The links at the top of the page!
Thanks, and see you next time.
*Lunch not included.