Hello again IndieDB. I've got more news. There's not as much content to show as the last article but I want to show them anyway. I want to share the official website for Nelo, as well as the official Blog where I'll be posting content as well. I'm working on a system for the hud that allows the player to see enemies behind them when in the third person camera view. And I've got a couple high poly model renders to show.
Both the blog and the website are in an early stage, just like the game is, and they will grow in content and features when the game is further down the road of production aswell. but I just want to let you know that an official site exists and this is where it is.
There was something I was considering during my play tests and that was to initially build a radar in the corner of the screen so the player can see enemies behind them when in the third person camera mode. but after testing the radar I noticed I was taking my eyes off the action too much and It felt like it was easier to just switch to the top down mode then look in the corner. so I made another hud element that displays arrows around the crosshairs that point at nearby enemies off screen. the arrows also turn more red when the enemies are closer to you.
I've been also working on some weapon models. all of the weapons in the game have been coded, but are prototyped with color coded proxy meshes. so I'm working on getting these weapon models in game. I'll explain more about the weapons' names and functionality when I get them in.
And the last thing I want to show is another thing I was thinking about that could make the game more interesting. and that is having a powered mech suit. I was thinking it could be an item you can purchase for the guardian mode. but I took the risk of diving into modeling a mech suit without doing any proxy prototyping. but the only consequence I see for that would be the mech would just be a portfolio piece. but I really want a mech in the game and I'll do my best to make it just as fun to battle with a mech as it is on foot.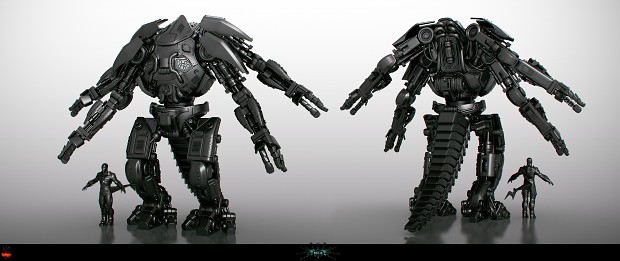 Well that's all I have to say for today. I'm also working on more enemy types and bosses, as well as a new trailer, and some new improvements on object manipulation. But I'll talk more about that stuff when it's ready thank you again IndieDB and continue to rock on!
-Kevin