Hello everyone! My name is Alexander Smith. I am not new to Mod DB, but I have been away for such a long time, that it all certainly feels new. I really enjoy the features and ease of use of this wonderful website, and I'd like to thank the creators and maintainers of Mod DB for doing such a great with it.
To the point, I am here to talk about my 3D scenario for Bungie Software's "Marathon". I first want to warn you that this post is LONG, but it clarifies much of my game, and why it has taken me so long to go from point A to point B, so those of you who are interested in my game should find this quite informative.
My game is similar to Marathon: Resurrection, which any Marathon fan should surely know of, but my game started quite differently, as I will explain.
Marathon: INFESTED, started 4 years ago when I was about 13 years old. I was then and I am still now, a huge Marathon fan (not the kind that rotates and moves air), and I wanted to get in on all the wonderful mod work and map making that was going in the Marathon community.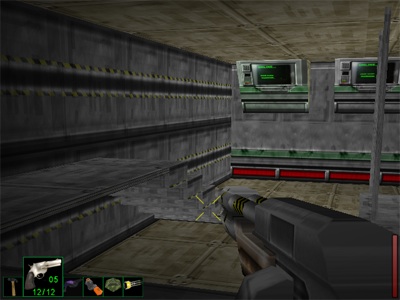 At first I started out making some maps here and there (My brother and I had 1v1 map making comps), and changing weapon physics and damage. In a short while, I started adding my own textures, and other texture packs from the Marathon Orphanage.
After a time, my mind began to form a somewhat ridiculous idea of making a massive scale total conversion for Marathon, complete with boss enemies, all new weapons and monsters, and battles on a scale like no other.
I bought Strata 3D (The same tool as used by the Bungie team for M2/M3) and started working on weapons. I made weapons in Corel's Bryce as well, but I found it limited, so I stuck to Strata 3D almost exclusively.
I completed a large weapon pack after about 1 year, along with several maps, splash/main screens, and some other things. I had a bit of a story by then, and at that time, the projects name was "Marathon: Ragnarok". I grew to hate the name, and eventually decided to change it to "Marathon: Invasion".
After getting a Forerunners website up, and upgrading to Aleph One, I began to realize I was simple not skilled enough to make the project I had desired. To make matters worse, another project already had the name I had chosen, so I was forced to switch to "Marathon: INFESTED".
A time passed when I did very little, I dabbled in map making, and in some character work using MetaBalls for the forms. Suddenly my entire idea of Marathon: INFESTED changed, when someone told me about a new 3D Game Engine that used JavaScript for scripting, and included an Animator and Editor. I was very excited about this game engine, so I looked it up. The game engine was called "Dimension 3" or "dim3". It was very primitive when I found it, but it was exactly what I was looking for. I immediately started developing Marathon: INFESTED in 3D, using this new engine.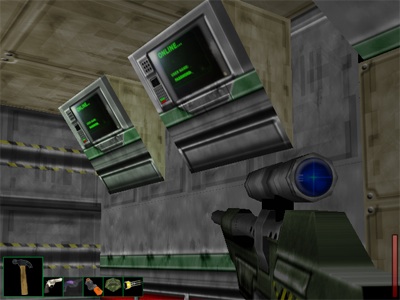 I found dim3 when I was somewhere between 14 and 15. I started making my own textures in Photoshop, and my own weapon, character and object models in Meshwork. After a short time, I had a test map up and running, with all new textures and game play. I had a bunch of new Marathon weapons, objects and textures, and I was moving pretty quickly. Suddenly, my texturing started improving, and I discovered a new free 3D modeler called Wings 3D. I knew at that time, that I would have to redo all my old, and lower grade stuff, and use my new Photoshop techniques, and the newly discovered unwrapping/projection UV methods in Wings 3D to enhance the detail and graphics of my game.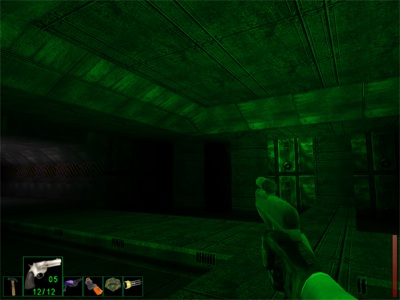 I went through many, many revisions, of story, characters, weapons, maps, textures and everything, until I realized I had wasted more then a year of time on finding a look for Marathon: INFESTED. I needed some better idea of how Marathon felt, so I went back and played most of the way through M1, all the way through M2, and part of M3. I then realized, that all I had to do, was make my game look and play just like.... Marathon!
I started making a bunch of Marathon textures and weapons and everything. I made a new modern Marathon HUD, I created an all new version of the Jjarro texture set, and I made new high res versions of all the M1 human textures. By that time, dim3 had improved significantly, and Marathon: INFESTED was shaping up. I went through a short period where I used somewhat weird Marathon-esque guns, but I quickly went back to the Marathon look again.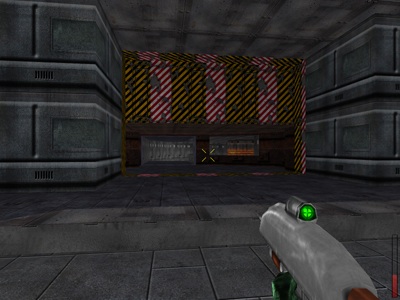 Graphics improved, gameplay improved, I improved. Marathon: INFESTED got better and better. Finally, in 2008, the dim3 engine fully modernized. It now supported the ability to make maps in a 3D modeler, and UV map them, and export them to the Editor for the additional nuts and bolts. At that time had eliminated Wings 3D from my work flow, and had started using Blender 3D, and Photoshop Elements for all my textures and models.
Fast forward to late 2008, and I released new screenshots of my single player work. I redesigned the failing Cold Fusion Games website, and made a new website for Infested. I started play testing multiplayer, and release many screenshots of that. I created a new SMF powered forum, and switched discussion of Infested to my own forum, rather then the dim3 forum where I had usually posted about my game.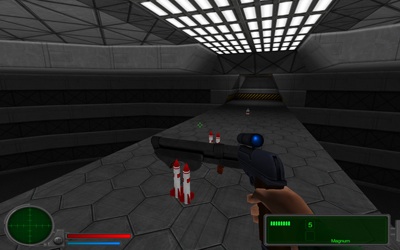 I am now gearing up for a big release of a multiplayer/coop demo of Marathon: INFESTED, with several multiplayer modes, a bunch of maps, and a singleplayer/coop/mp mode Survival which was first brought to Marathon in the Xbox Arcade title, "Marathon: Durandal". This demo should be released some time around Christmas.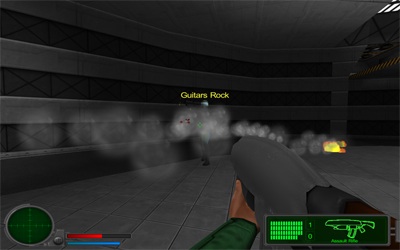 There you have it folks, most of the history behind my game, and a some juicy news as well!
One other thing too, my game. IS. NOT. HALO! Please do not tell me how much Infested looks like Halo, this game is a Marathon scenario, Marathon came before Halo. My game is base 100% in every way in the Marathon universe.
Until next time...
—Alexander Smith
Cold Fusion Games