A brand-new adventure game from Amanita Design. Botanicula has players adventuring as a motley band of tree creatures trying to save their home from parasitic invaders.
... plus Amanita Design's award-winning hits and more. Amanita Design's unique vision shines in the atmospheric Samorost 2 and Machinarium. Pay more than the average price, and you'll also receive the full-length feature film Kooky (with art direction by Amanita Design founder Jakub Dvorský), and Vectorpark's puzzle-art game Windosill! And soundtracks for the Amanita Design games are included!
Pay what you want. If you bought these games separately, it would cost around $53, but we are letting you set the price!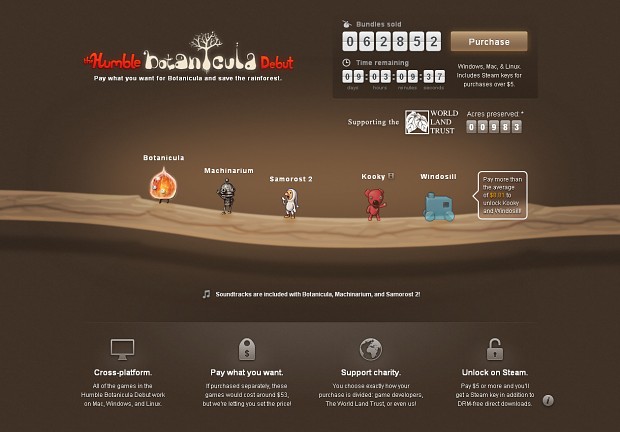 The games work great on Mac, Windows, and Linux (system requirements here). Note that this is the initial release of Botanicula. Please be patient while the developers fix any 1.0 bugs as quickly as they can. Of course, don't hesitate to contact us if you encounter any issues.
You can support charity. Choose how your purchase is divided between the developers and the habitat conservation charity World Land Trust. And if you like this deal, a tip to Humble Bundle would be much appreciated!
The official website: Humblebundle.com
The ModDB Humble Bundle group: Moddb.com
Bundeals group: Moddb.com