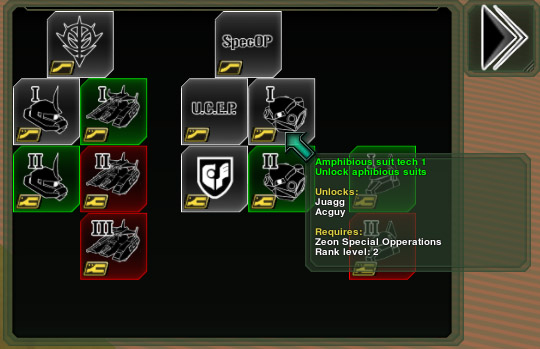 So yeah, look a picture of the research tooltip, you can stop reading now :P lol.
So it has been a busy first 3 months, looks like that isn't changing. Lots of work IRL means that I have a job, which is great for me bad for gundam. Mostly what I have been doing is trying to eliminate the remaining bugs. There has been some play testing with my buddy corsair, and we have found a few balance tweaks and fixes to make.
Most of the testing has been on small maps seeing what can be done in the tight space of 1v1 with the research system. It has been really interesting, so far, my favorite tech has been:
Zeon:
spec ops and vehicle
Federation:
Gundam and vehicle commander
I did find a rather nasty economy bug that I have to work through, in the old economy the error merely went unnoticed, now it is obvious. This also has highlighted a rounding error as well, namely that I round the UI numbers but not the numbers behind the scenes, another bug to fix. So hey, I am actually trying to get this stuff good and solid. these bugs have been ignored/hidden/swept under the rug for years now they are all getting addressed. I know it isn't as interesting to read about as say, new units or weapons but this part is important as well!