Good news everyone! I finished a cityscape and only have a vague urge for murder! Indeed the deed is done, the first of many has been conceptualized. I slew the beast with my might pen of...what's that? You don't care about my triumph?! Fine...
Welcome to Dor-Juk, city of perpetual industry and smog. It could be said it less rolls in and more simply lays atop the city like the world's least helpful blanket.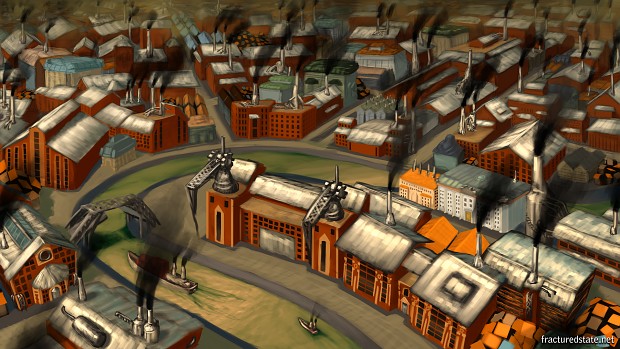 This is a city built for one purpose and it shows. The citizens who toil away in the factories live in low quality tenements or closely crammed and stacked shacks. Working through this image definitely brought up a lot of questions about how I wanted to design buildings which will become actual assets. I really showed a minimum of details because A) I would go entirely insane and B) I was wasting too much time with what I initially started adding in. This led me to take a diversionary jaunt to the land of sketching and non-murder related thoughts. The result was a rough concept for a bank.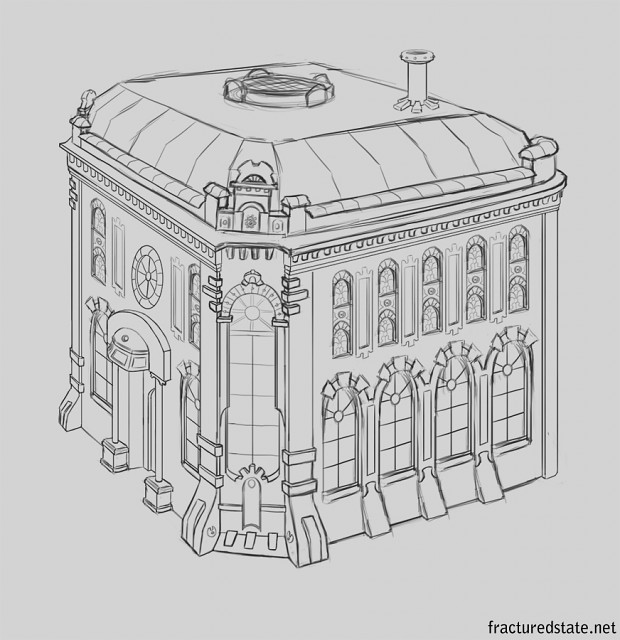 I had been saying I was going to make some of the building design Art Nouveau based, and hopefully I can incorporate that more into the details as I move into a more finalized version. The most interesting question this brought up though was really how tall will buildings be? In game play terms we don't want to obscure too much of the map with overly large buildings, and since we are having all the buildings scaled properly to the units it could become rather quickly an issue. We decided to cap most buildings off around four or five stories and only go higher for really large scale factories, warehouses, or perhaps cathedrals. This works into my initial thought that I would base a lot of the architecture off of European cities which tend to have lower skylines, because the Church will knife you in a back alley if you build higher than their cathedrals.