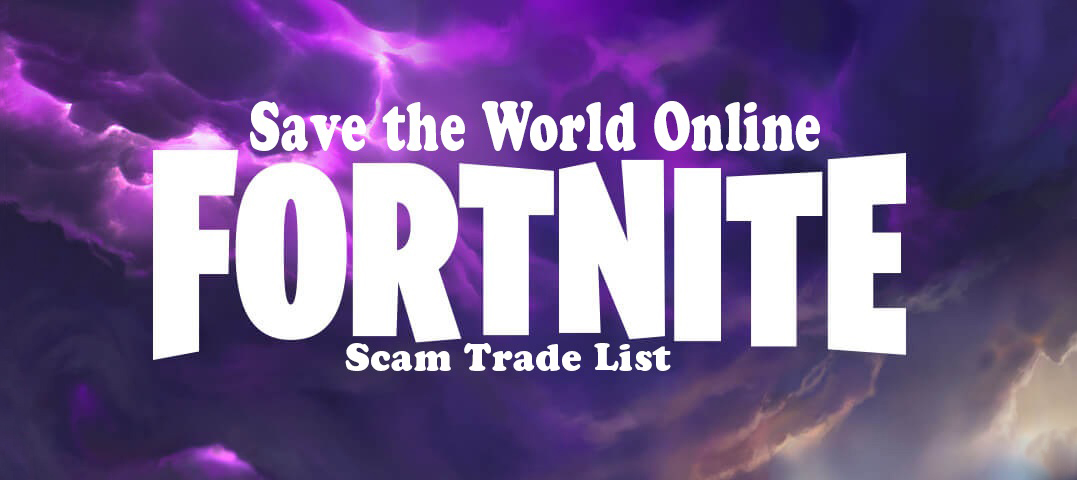 Fortnite Scam Trade List for Save The World
~ Overview of type of online players you can not trust ~

I play alot of Fortnite that I started with in 2018 and some of the players on Fortnite will do what ever they can just to get what you have in a trade offer, so in a other word that they will scam you. This is a list to show you for some that I been in contact with me that have scam me from time to time.
They offer you to come to their home base where you get put in a room where you can't edit the wall and after they see you put out your stuff, they kick you out before you can take the exchange that you both agreement on. He/she gets all of it and you get nothing, since he/she remains in the base.
Others can be added to the list without me having been in contact with them, but then you must first prove it before it can be added to this list with a video that you can upload YouTube. The best software you can use on PC to record people is with "Open Broadcaster Software" PlayStation and Xbox already have a record software you can use and upload to YouTube really easy.
Best way to prove it, is to show it to you with proof. There will be a link next to their name on the list that you only need to press on too see it yourself on YouTube. This list will be updated more when I get in touch with such type of players on Fortnite or some one else can prove it too.
~ Overview list of scammers on Fortnite ~
---
A:
---
B:
---
C:
---
D:
---
E:
---
F:
---
G:
---
H:
---
I:
---
J:
---
K:
---
L:
---
M:
---
N:
---
O:
---
P:
---
Q:
---
R:
---
S:
---
T:
---
U:
---
V:
---
W:
---
X:
---
Y:
---
Z:
---
I'm not mad at those who scam others, I am only disappointed that there are such type of people who will do it just to get what you have. Some how your word is not as iporten as it is for the stuff you can get back in a few minuttes later in the game. But hey... folks like that have no honor after all.