Welcome to the game ENHANCE! Once you've downloaded and unpacked the executable for the game, you might be wondering what you're supposed to do next. You might have messed around in the main menu, maybe even started an empty game for yourself- but now it's time to play the game properly. First- find some friends to play the game with. There aren't any bots (maybe later? I'm kind of afraid of AI coding...), and the game isn't very fun without any humans to play with. Next, get them all at a LAN, fire up the game, and go to the 'Game' screen.
Game screen-
From this screen you can either host, or join, a new game. Hosting is as easy as typing in a name for your game (optional, only used by the Master Server) and pressing the 'Host' button. Once in the lobby, wait for your friends to join the game, and then once everybody has declared themselves 'ready', you can start the game by pressing 'BEGIN'.
To join a game, you need either the IP address of the host, or a connection to the Unity Master Server (if the host is using it). To connect by IP, type the address into the box under 'Manual IP Connection', and then click 'Join'. If you and the host can both connect to the Master Server, you can also select a game from the list provided. If no games are appearing, try clicking the 'refresh list' button.
Once you have joined the game, you will enter the Lobby screen. From here, you can set up your player name, player colour, team and class. Teams will be automatically assigned based on numbers as you join, but feel free to re-stack them as you see fit.
The three classes are shown by the three heads in the middle of the screen. They are, from left to right-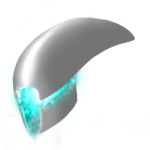 Light- Fast and weak, used for capturing the central point at the start of the game, and for hunting down stragglers who are trying to escape to their forge. Specialises in fist weapons- wristblades and claws.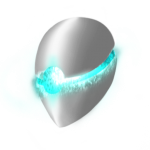 Medium- Versatile and agile, the Medium specialises in one-handed weapons, and so has an advantage in close combat because of the indestructible force-field they can project from their off-hand when using one-handed weapons. Be careful- if you lose one of your hands, you will no longer be able to use your shield!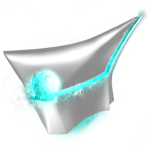 Heavy- Bulky, strong, slow, the Heavy can literally punch other classes to pieces with its bare hands- and that's without the mighty Battleaxe or Warhammer they can call from the Forge! While the Heavy might not be the first to reach the battlefield, they certainly dominate it when they arrive. The heavy is best for corpse recovery, because carrying a body hardly slows them down at all.
Once you have chosen a class, press the ready up button at the bottom of the screen, or the little yellow icon next to your name in the team lists. When every player is ready, the server player can click the 'BEGIN' button, and the battle will start!
Core Game Mechanics-
When you first start playing, you might be a little bit mystified by the control scheme in Enhance. Unlike most games, where attacks are performed by clicking the 'attack' button at the right time, in Enhance the three main actions (attacking, dodging, blocking) are done by holding down their respective buttons, and dragging the mouse in any direction. Blocking happens as soon as you press the 'block' button, but can then be moved to block attacks from a specific direction- up, down, left or right. One-handed weapons are special, because when you block with them (assuming you have both of your arms left) you will project a powerful forcefield which covers almost all of your front. This make one-handed weapons extremely good for defence.
The Forge
Each team has a Forge- a huge, team-coloured orb surrounded by a flowing halo of spare body parts. It is simultaneously a spawn-point, repair station, and outfitting post.
If you die, either from having both your legs removed or from your body taking critical damage, you will turn into a 'ghost'. Ghosts get indicators for how many resources each team has, and can be used for scouting, but the main purpose of the ghost is to return to your Forge and be put into a new body. When you respawn, you can choose to spawn as a different class from what you were before by pressing the 'Attack' button when inside the Forge. Ghosts are very visible to both teams, and are a clear 'kill-confirm' indicator if one appears out of a body. When a body is dead, it no longer has its team-coloured glow on the inside, and appears dull.
Every time you respawn, it costs you- your team's current resource proportion is displayed both by the density of the 'halo' around the Forge, and by the two team-coloured orbs that you can see when you are a ghost.
If you find an unattended corpse after a battle, it is possible to pick it up, and then carry it to the Forge. It will be dissolved and added to the team stockpile- which is the only way to regain resources once they are lost. The heavy class is best suited to this job, because it can climb the steep slope up to the forge with ease, even when carrying a body.
When you spawn, you can press the 'pick up weapon' key while still in the Forge to call down a weapon specifically tailored for your current class. While this weapon will cost your team a small amount of resources, Forge weapons are generally of a higher quality than the junk you will find lying around in the battlefield, and make good opening weapons at the start of the game. After the game has gone on for a few minutes, though, it may be more efficient to see if you can find and use fallen forge weapons from dead players instead of buying them new- you might even be able to use severed limbs as an impromptu attack!
If your team runs out of resources at the Forge and every member of the team is dead, you will lose.
Combat Strategy-
Some aspects of combat are common to all three classes- if you get hit by sharp weapons (like claws, blades and axes) it is possible for your limbs to get cut off. This will cause you to drop anything you are holding, and fall over briefly. If you lose a limb in this way, it is still possible to find it on the ground, pick it up, and then reconnect it using the 'attach' key. However, in the heat of battle, it is often easier to simply abscond to your forge, where you will be fitted out with a new one (so long as your team has enough resources, of course). Being hit by blunt weapons (hammers, fists and clubs, as well as most junk weapons), however, will make your limbs (and body, if you are unlucky) completely shatter- making them unrecoverable.
Light Class Strategy-
The Light class should rely on its speed and agility to avoid combat when possible. When a fight is inevitable, it can run and jump in circles around the other two classes, and fast strikes with claws or wristblades can sever arms with relative ease, if they can get the hits in. If your opponent is using a weapon, take the time when they are swinging it to dodge backwards, or away- you won't be able to take the hit if it lands. The light should be used to harry retreating enemies, or to capture the point before reinforcements arrive.
When fighting a Medium, try to run around behind them if they raise that shield. The shield's one weakness is the fact that it can only face in one direction at a time- and the ability to flank the enemy is the Light's greatest strength.
When fighting a Heavy, the biggest priority is to not get hit. Almost everything the Heavy does can one-shot a light, but are usually slow enough to escape from if you have quick reactions.
When fighting another Light, try to get hits in if they stop moving, but remember that just wailing away on each other won't do either of you any good. Try to keep them busy until reinforcements arrive, and then try to surround them so that they are forced to either fight a battle on two fronts, or escape.
When fighting multiple opponents, run away.
Medium Class Strategy-
The Medium class is a good all-rounder- they can fall a reasonably long way without taking any damage, and can carry fairly large weights without being significantly slowed. They get one-handed forge weapons- these have fairly fast attacks, and can project a powerful shield when blocking. They can provide support for a friendly Heavy, but be careful not to be too close when they start swinging their huge weapons around- it's pretty embarrassing to be crushed because of standing too close to a Heavy's Warhammer. As with Lights, try to dodge-roll away from attacks before they land, and if that isn't an option (or you want to stay in the fight) use your shield to deflect slow attacks.
When fighting a Light, try to catch them as they run or dodge past you. They will try to get behind you- make sure that you never hold any of the action buttons for too long at a time, since they prevent you from turning around.
When fighting a Heavy, bounce their powerful weapons with your shield, and then when they are reeling from that go in for the strike. Repeat until they fall over, then if you're in a good spot, try to take their weapon and turn the tables.
When fighting another Medium, pretend to be a light. Although you can't jump over top of enemies like the Light can, you can still dodge-roll around to confuse them, and if you can get behind your enemy they can't easily block you with their shield.
When fighting multiple opponents, keep your shield up while they are attacking, and try to hold out until reinforcements arrive. Try to dodge in and out of combat, and get hits in while they are distracted, or trying to move.
Heavy Class Strategy-
The Heavy class is the team bruiser- while it takes a while for their attacks to arrive, if the enemy is still there when they do, they won't be there for much longer. The heavy can summon either an axe or a warhammer from the forge, each of which is a fearsome weapon. The Heavy is the only class that can even carry these weapons- they are too heavy for a Light to even pick up, and a Medium can't move very fast with them at all. With their immense weight, they take some time to make it to the capture point or the scrapyard, but when they get there they can crush the opposition. When they are carrying their heavy weapons, they can no longer do the long dodge-rolls that the other classes can perform, instead doing short leaps. You should take care never to fall off any steep cliffs, because there is a good chance that you will not be able to land cleanly- it will result in either heavy damage to your legs, or death. In combat, remember that you can one-shot-kill virtually anything- but your attacks are slow and easy to dodge, so don't bother making any unless you are sure you are going to hit.
When fighting a Medium, try not to make the first strike- if they manage to raise their shield before it hits, it won't do you any good, and will leave you open to attack. If you can manage to block a medium's attack, you can use that momentum to make your own attack- remember that if your heavy weapon hits them, they are as good as dead.
When fighting a Light, wait for them to dodge past you, and try to catch them on the way past. If they try to jump directly over you, do an overhead strike- they won't expect it, and have no way to avoid it if you're fast enough. Just like the medium, you'll get a kill if you get a hit, but remember that escaping is the Light's greatest strength.
When fighting another Heavy, avoid getting hit. Even though you have a better chance of surviving it than any other class, it'll still hurt, and knock you over and probably disarm you. Wait until you have an opportunity, and then go in for the kill.
When fighting multiple opponents, go wild with your weapon. Most sideways attacks have something like a 270º sweep, so it's a good way to keep multiple enemies at bay while you wait for friends to arrive. If you have someone to watch your back, becoming a sweeping whirlwind of death is definitely a legitimate strategy.


Mission Objectives-

The main objective of the game is to capture and hold the crystal in the centre of the map, until it has finished converting a set amount of junk from the ground into bits of refined material of the correct colour. To capture the crystal, the players have to stand near the top part of it on the circular platform, long enough for it to completely change to their team colour. Remember, you can only capture the point if there are no members of the opposing team standing near it! Either knock over or destroy any enemies who try to stop you.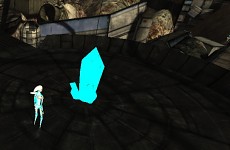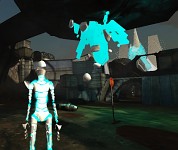 There is another way to win- each time a player respawns, repairs, or summons a weapon from the Forge, they deplete a stockpile of resources. If the enemy team no longer has enough resources to build a new body, and all players on that team are dead at once, then your team will win by default. It is possible to regain resources by carrying dead bodies back to the forge, where they will be dissolved and returned to the resource stockpile. You can reclaim bodies from both teams- in fact, killing enemies and then carrying their bodies back to the forge is a good way to offset costs from weapons and repairs.
And that's it for the basics! Have fun playing!