Hi Galactic Survivalists!

Last week, we released our major update Alpha 8, which was a huge success and marked a milestone in a lot of ways. The Empyrion community has significantly increased in numbers and we reached a new all-time peak in online players. Thank you so much for your support, feedback and bug reports!

After the release of Alpha 8, we did not lean back and relaxed. Instead, our small team worked hard to integrate some of your feedback, polished some features, added smaller stuff that did not make it in Alpha 8, and of course, we fixed several bugs you reported.

Said that, Alpha 8.1 will add a heap of improvements and refinements, but also new stuff like Combat Steel for your HV Tanks, a dedicated Creative Scenario (available from the Game Start Menu) and a few more video options and game settings!

Check out the full changelog below and please report bugs and issues in the threads pinned over here: Empyriononline.com

As a side note: When struggling with getting started in Alpha 8, please have a look at the 'First Hour - Basic Tutorial' Video, made by our community member @Ashrai:
In addition, do not forget to have a look into the new ingame "Empyriopedia" to learn about plants, diseases and their remedies, enemies and more!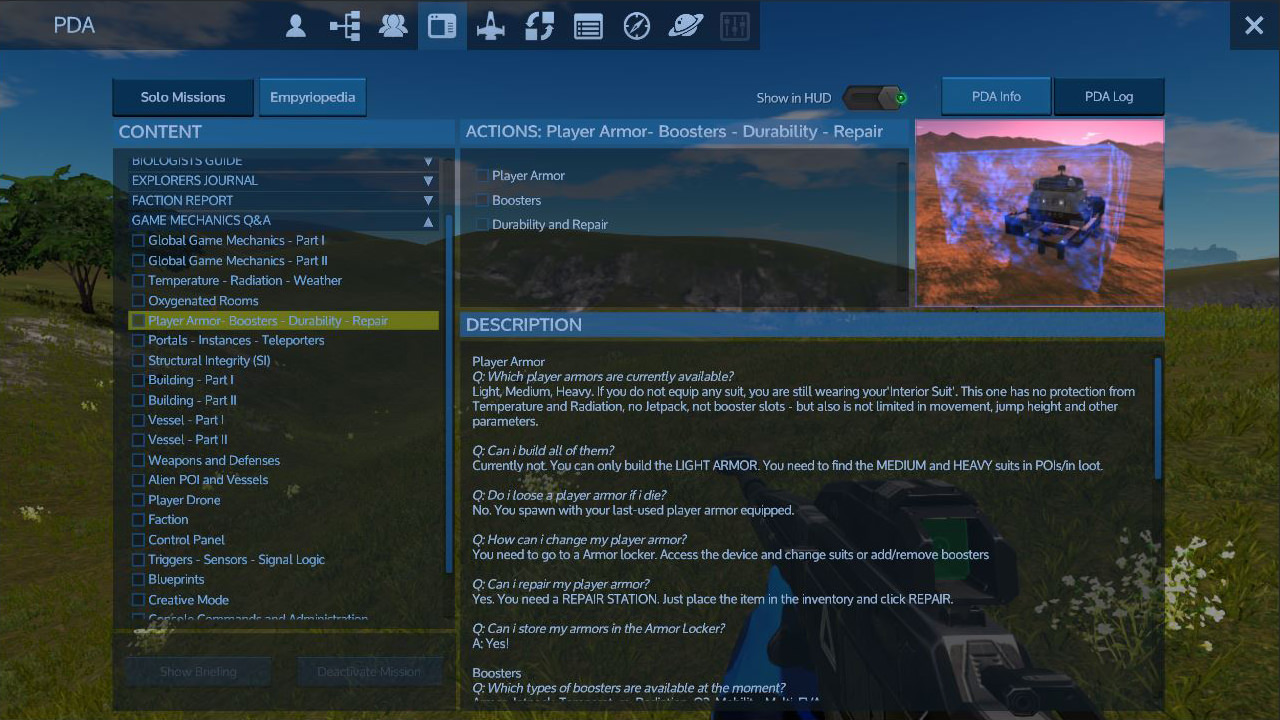 We are looking forward to your ongoing feedback over here: Empyriononline.com

Cheers & have a great time!

Empyrion Dev Team

==========

CHANGELOG: Alpha 8.1.0 (Build 1732)

Starter Planet Update:
TemperateStarter in Default Random scenario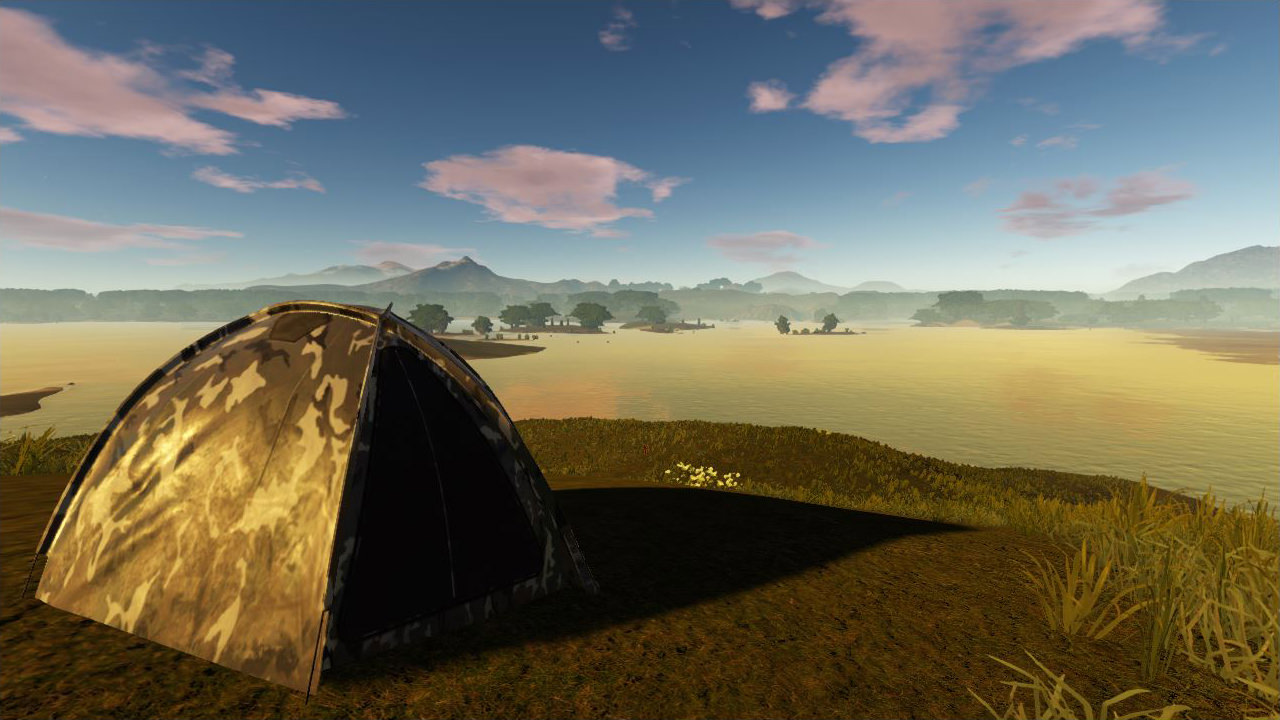 - Reduced size of starter planet from Class 4 to Class 3 and adapted distances of POIs so they are a bit closer to Starter Biome
- Added mobile heater/cooler to start equipment, slightly increased amount of food and medical items in easy setting
- Reduced impact of height changes on temperature
- Added more snowy mountain caps
- Temperature reduction in GlacierSnow, PolarSnow and Pole biomes.

AI Update:
- Updated Mechanoid (2-leg robot) behavior to new AI framework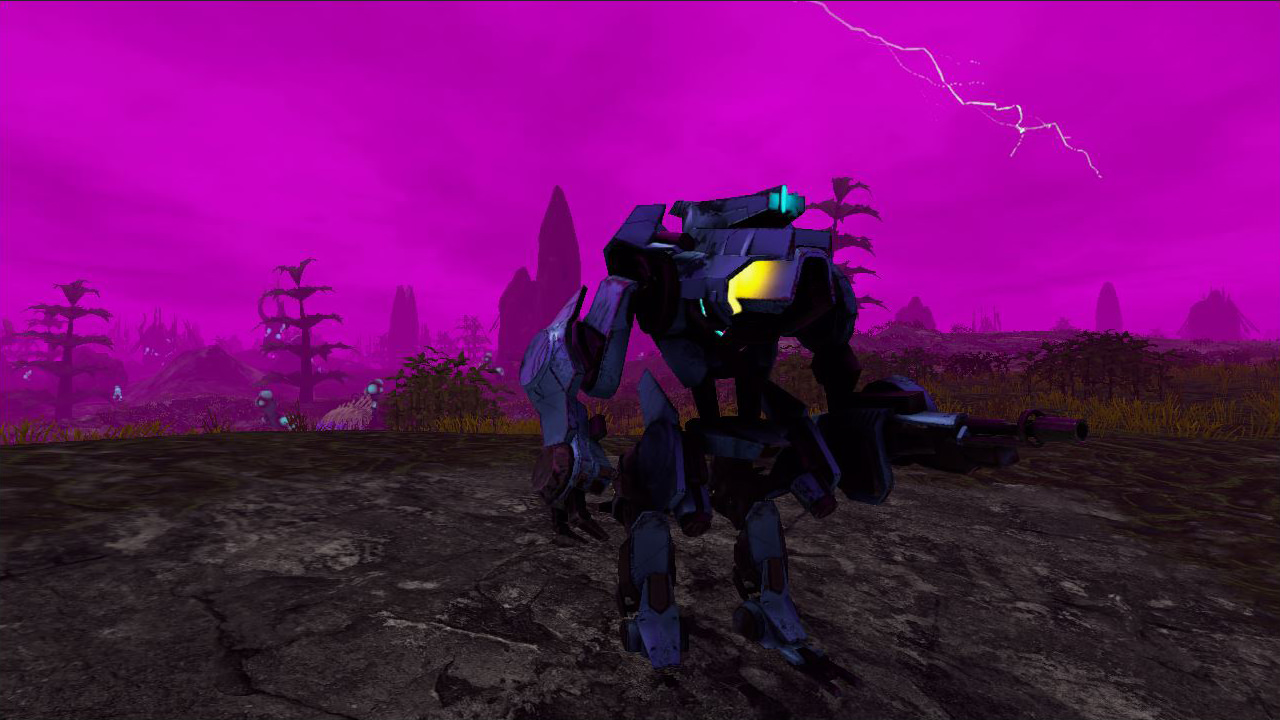 - Updated Cave Worms behavior to new AI framework: It is now similar to spiders, but without the fear component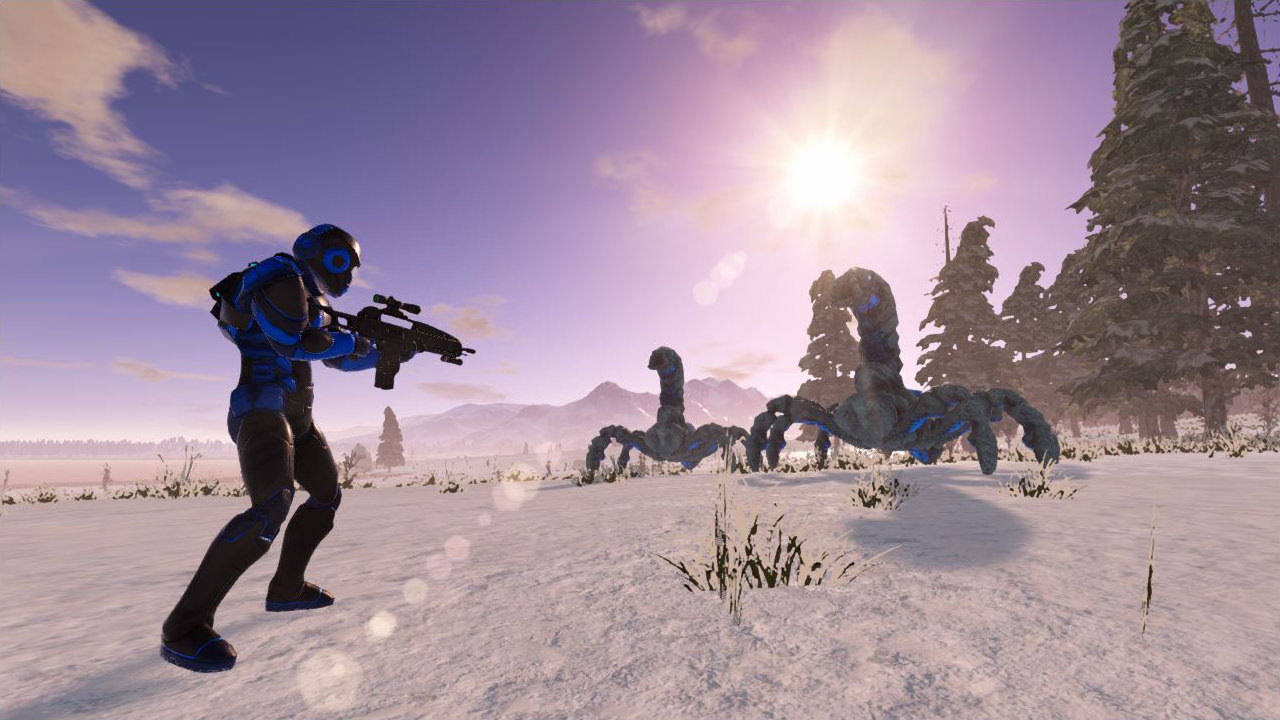 - Added Cave Worm White and Green Herds (tweaked several playfield to take into account new herds)
- Updated Spider 01 behavior
- Updated Spider 02 and 03 to new AI framework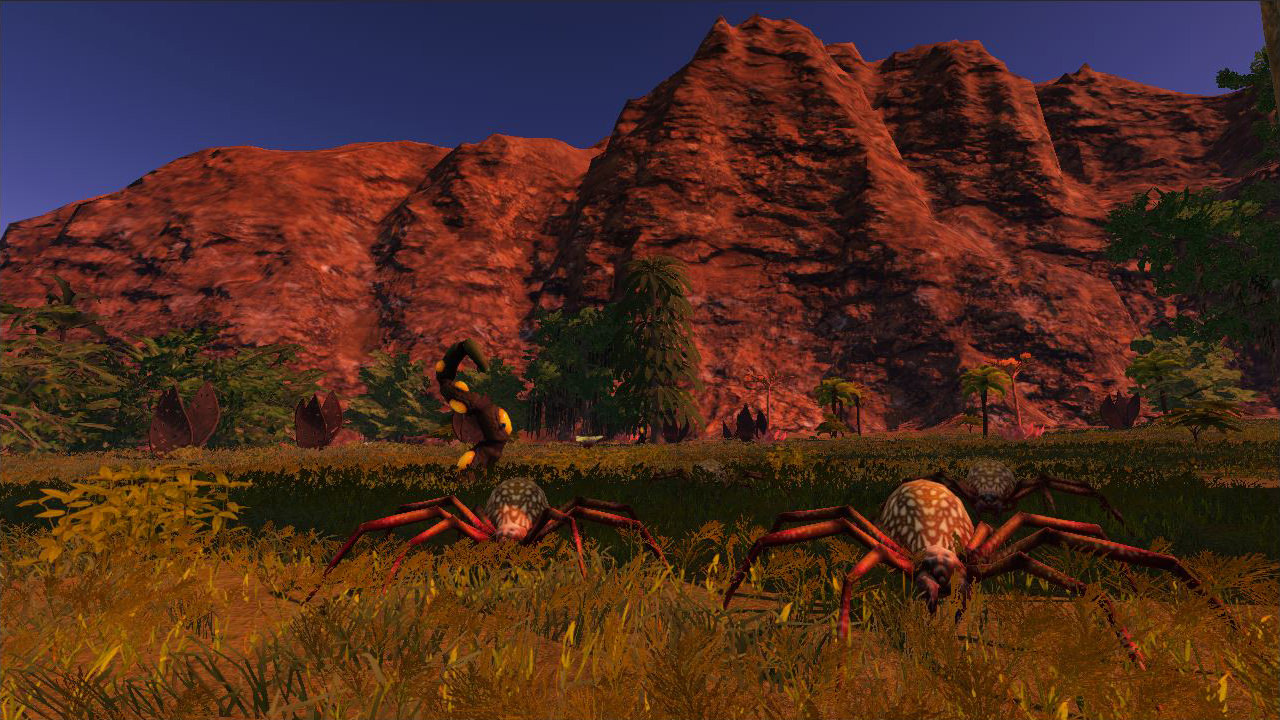 - For all spiders: added hit animations, added search behavior: when spider does not see the target, it will search around his last position; added rotation animation: when rotation is detected, spider will play walk animation in place
- Threat selection update: Player > HV/SV with player > empty HV/SV
- Deactivated troop transporter if no Marker2/DroneSpawner2 block placed on the drone base

Adapted Spider Spawning:
- reduced size of spider group
- reduced number of spider spawn points by around 25%
- slightly larger safe zone around starter biome

Gameplay:
- Added more detailed enemy colliders (eg colliders on legs of spiders, arms of Zirax, Mechanoid etc)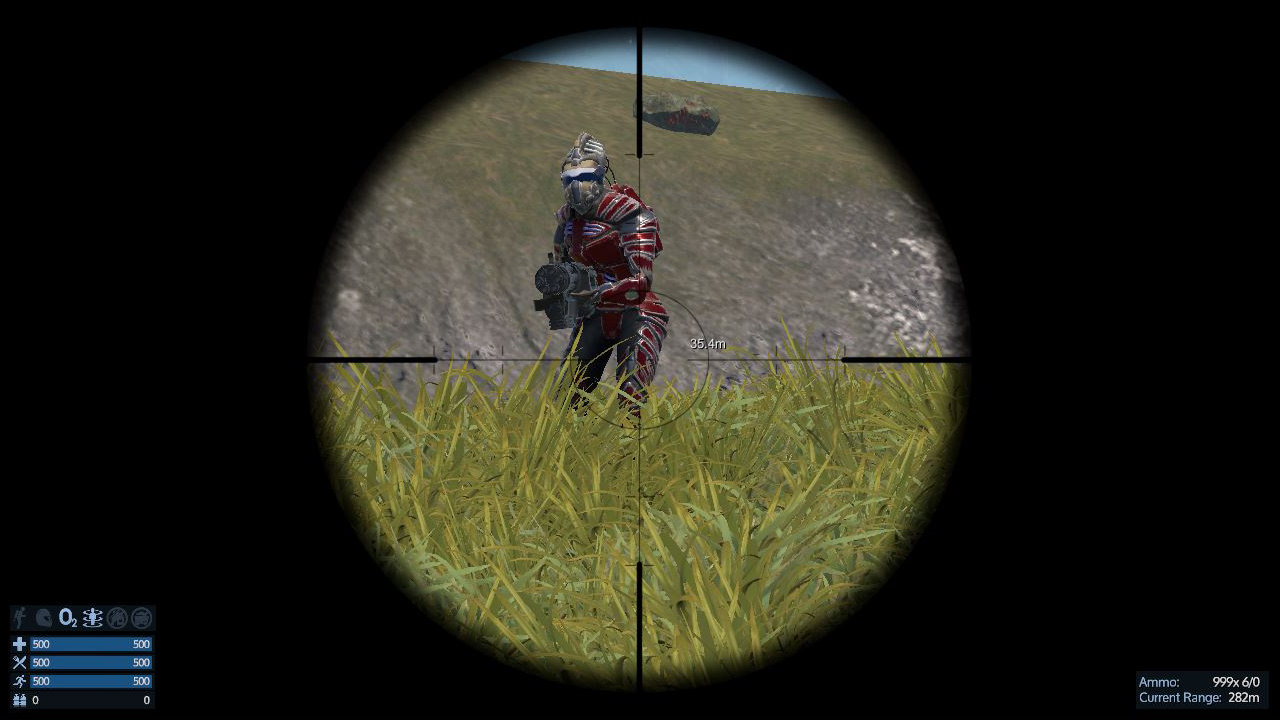 > so now you can hit them also when aiming arms and legs etc
- Added notification Message when attacking a block that cannot be destroyed
- Removing a block in creative no longer uses the Run key as a modifier, it now uses "Shift Modifier"

Visuals:
- Added "Camera Shake" option to Misc Options: you can now switch it off
- Tweaked camera shake, reactivated shake on escape pod
- Adjusted SV/HV cockpit color masks to decrease amount of scratches
- Other planets that show in the sky are now scaled correctly according to their size in orbit
- Updated preview screenshots of some scenarios and updated description text
- Unified Lock Icon and Locked Icon Color for Tech Tree and Constructor
- Tweaked planetary map: reduced icon size, increased max zoom, tweaked zoom levels for different planet sizes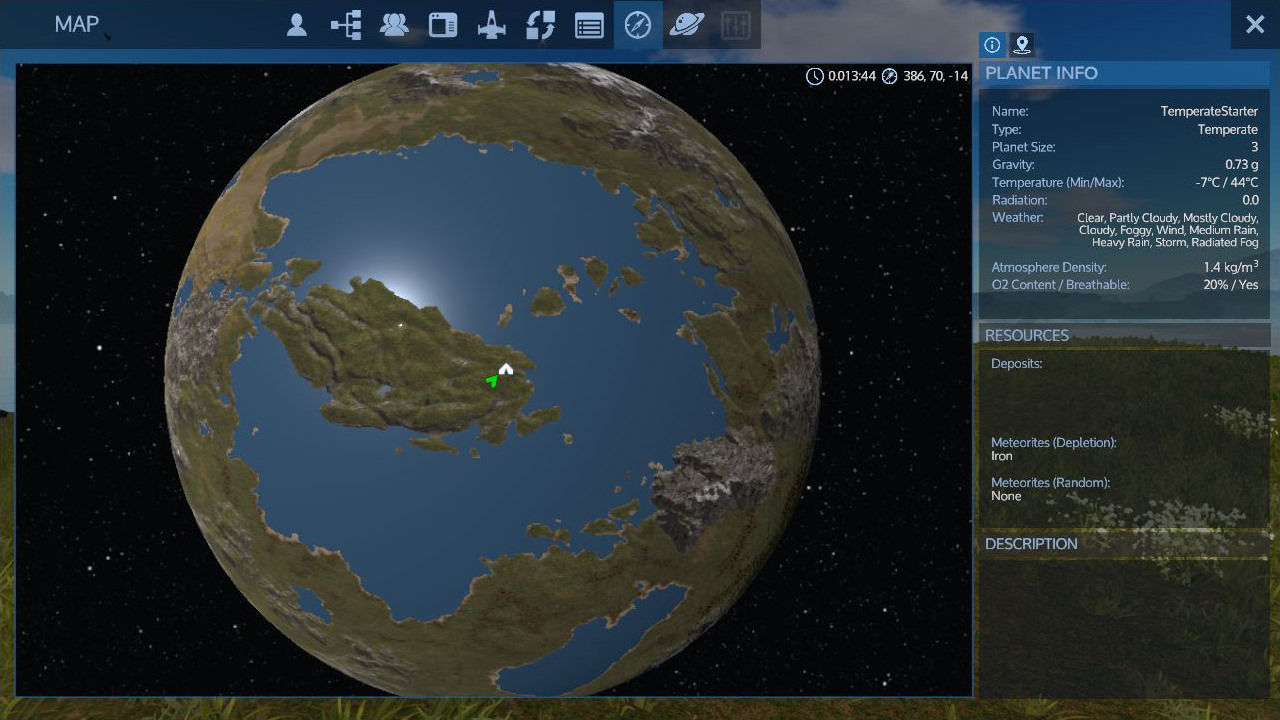 - Use new button style for "Reset to Defaults" button in Control Options
- Improved display of "Effective Against" info in Info Texts (Trader etc)
- Resized some preview icons and made them smaller

Additions:
- Added "Default Creative" scenario with flat planets and few deco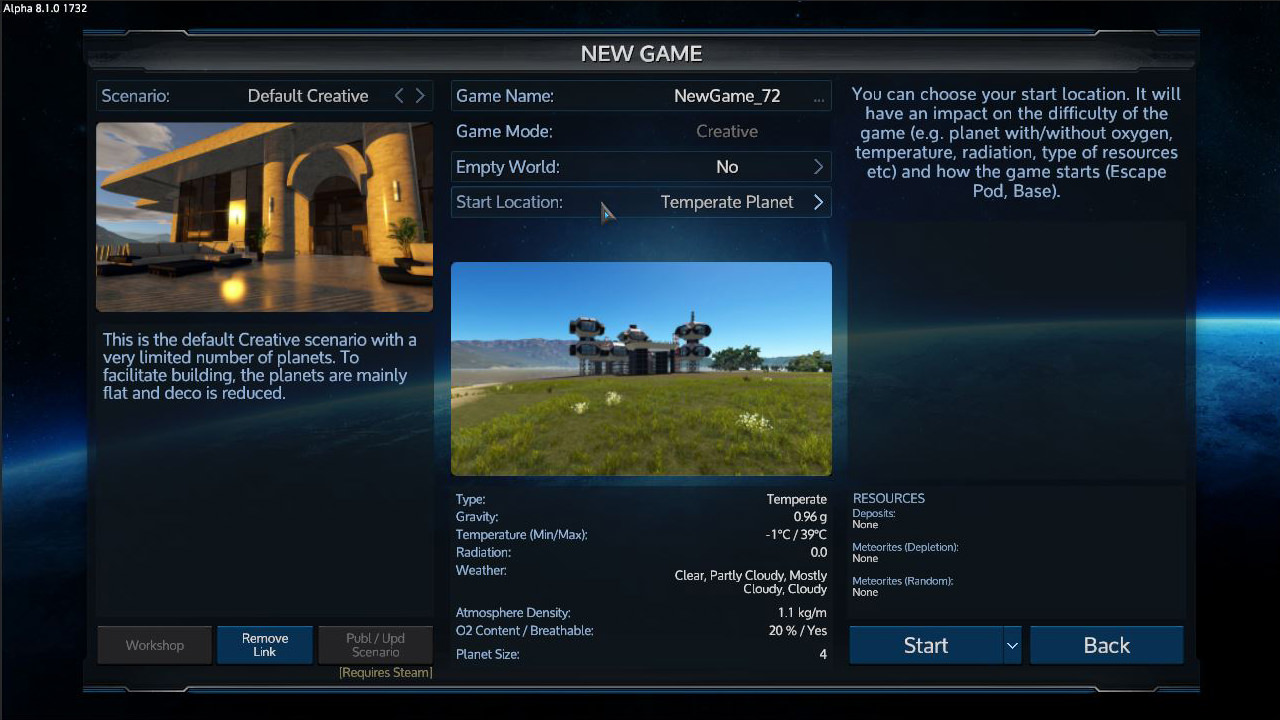 - Added combat steel blocks for HVs (Note: for fast-swapping materials on your HV in Creative Mode, check out this help topic: Empyriononline.com )
- Added static NPC Hexapod, Talon Guardian, Alien Assassin Grey (can be found under Alien Blocks; Deco and for use with PDA Missions)

Optimizations:
- Performance optimization of SSR effect
- Playfield server saves player inventory only every 4 seconds now (not every time a player sends it)

Added more Video Options:
- Added "Low" Setting for SSAO, activated by default in "Fast" and "Medium" Preset
- Added AntiAliasing settings to Video Settings

Multiplayer:
- Showing blocking connection error dialog to avoid exploits with slow network performance
- Dedicated server now monitors playfield server heartbeats during boot / preparation phase
- Server creates now a sub folder 'Playfields' in the Cache folder, Client + Server: deleting only Playfields sub folder when build changes to avoid losing blueprints from factory
- When a playfield server is stuck generating a playfield in the cache, the next playfield server will continue generating this after 20s

Other Changes:
- ThrusterMSRoundBlocks now available in Config.ecf
- SSG: add ability to preview POI resource deposits according to difficulty level: poor, normal, rich
- Added 'pf' for console command 'playfield' as abbreviation
- Reactivated stamp transfer database from server to client
- Updated POI Alien Tower Damaged: Made way to exit structure slightly more 'obvious'
- Updated snow planet: less grass and snowy grass with less snow coverage
- Updated other Temperate planets with more snow caps
- Increased diversity of Temperate planet (ranges in dynamic.yaml)
- Updated Localization.csv and fixed several Localization problems

Controller Update:
- Added proper focus jump support to title menu for controller.

Improved Planet/Orbit Transition:
- Removed noise from shores in 3d map and planet outside view
- Set clouds around player to soft, moved clouds around player into player transform
- Added atmosphere sphere to planet
- Fixed problem that AtmosphereScattering was wrong when entering planet

Updated Stock Prefabs:
- Added new CV Tier 1a StockPrefab: thanks to Nosture
- Added new CV Tier 2 StockPrefab: thanks to Nosture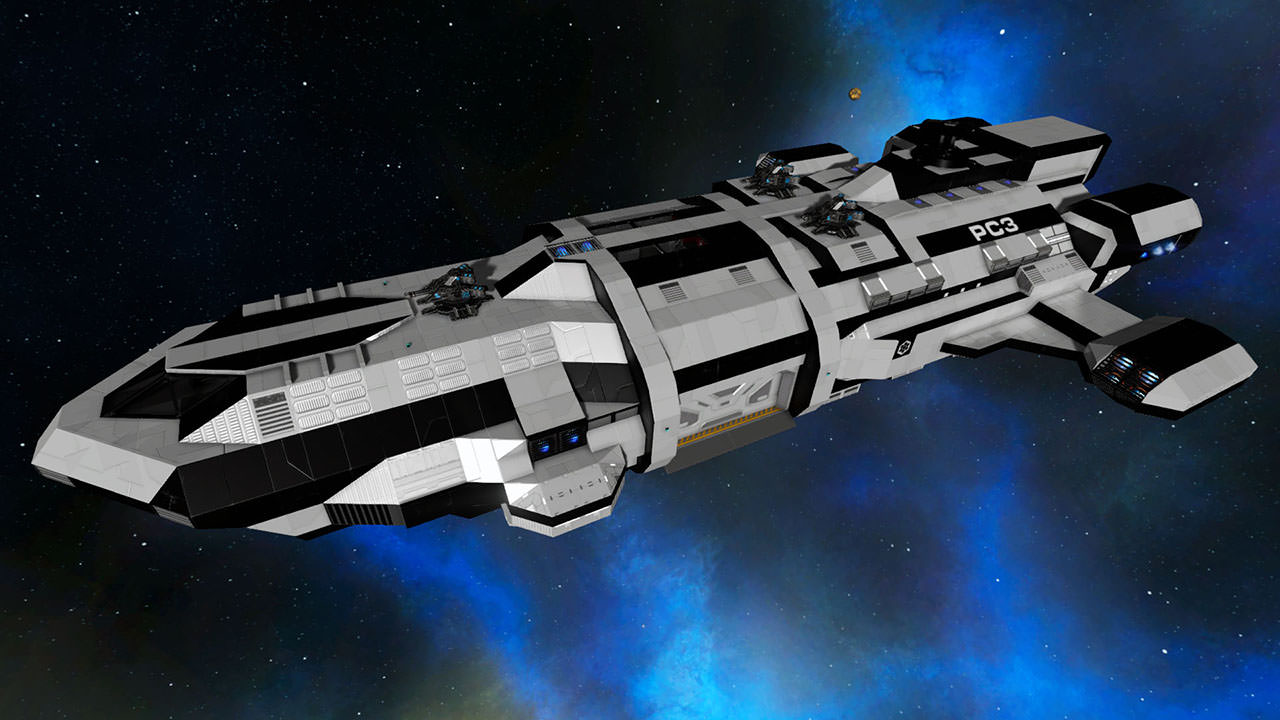 - Added new BA Tier 4 StockPrefab: thanks to Nosture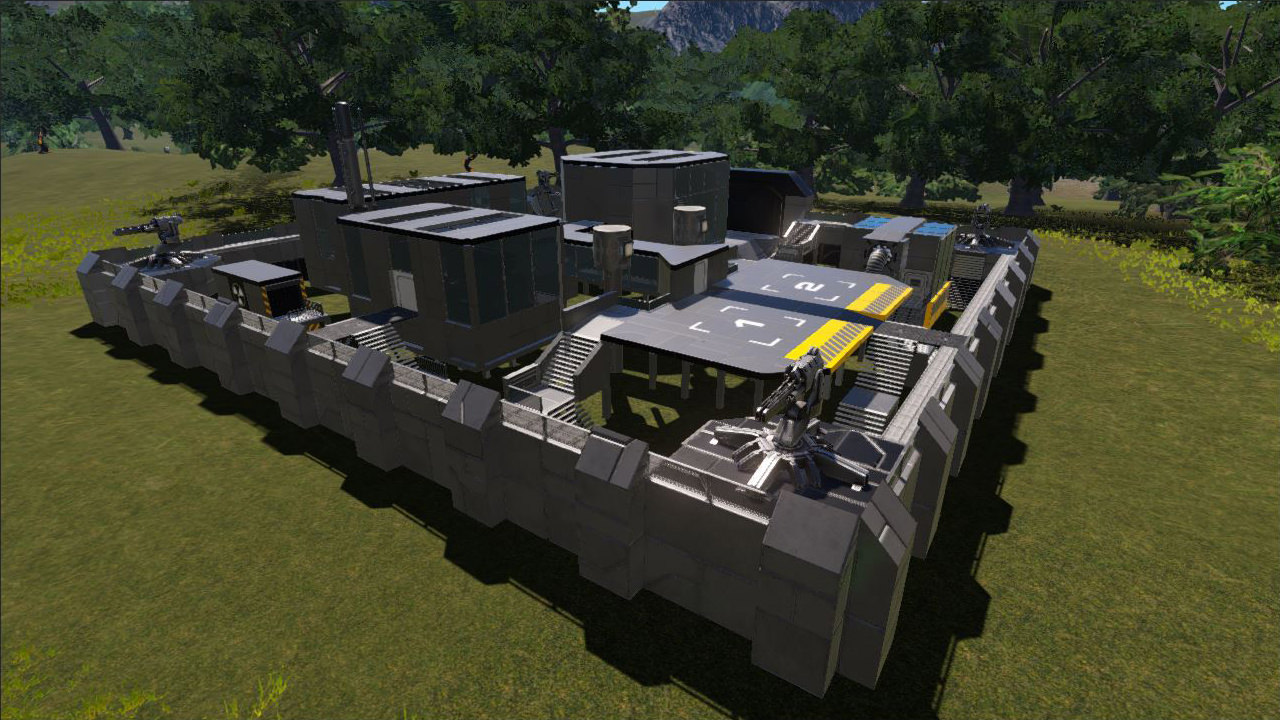 - Cleanup of stock prefabs: removed some old prefabs and some re-arrangement

Status Effects Update:
- Added 'backwards compatibility' for Pills and Injections for Antibiotic, Radiation and Antitoxic branch (Injection = can cure all 3 stages, Pills can cure stage 1 and 2) to add a progression to Ointment > Pills > Injection and reduce medical items required to be carried around.

Template and Item Update:
- Added backwards-compatibility to AntiParasiteInjection (+DermalParasite & EndoParasite) and AntiParasitePills (+DermalParasite)
- Herbal Leaves (PixieStalks, Aloe Vera) and Natural Sweetener (Alien Worm Plant) now cure DermalBurn,PoisonBit and Indigestion when consumed
- Spice now cures Frostbite when consumed
- EVA Booster craftable as a test (Needs GoldIngot for now)
- Ore Scanner, Detector Handheld, Detector HV: Added/updated hover-info description content
- Handheld Drill T2: updated hover info (removd info about pickup-automatic as Drill T1 has this as well)
- Removed DermalParasite cure from Antitoxic Pills & Antitoxic Injection

PDA Update:
- Updated Doctors Journal: Status effects updated with new medication possibilities.
- Updated Robinson Protocol SP and MP: Added some rewards for certain tasks and chapters (Note: In MP only the Mission LEADER gets all the rewards & needs to distribute them to the other group members!)
- Added Empyriopedia also to custom scenarios (SoS, IvD, DoG)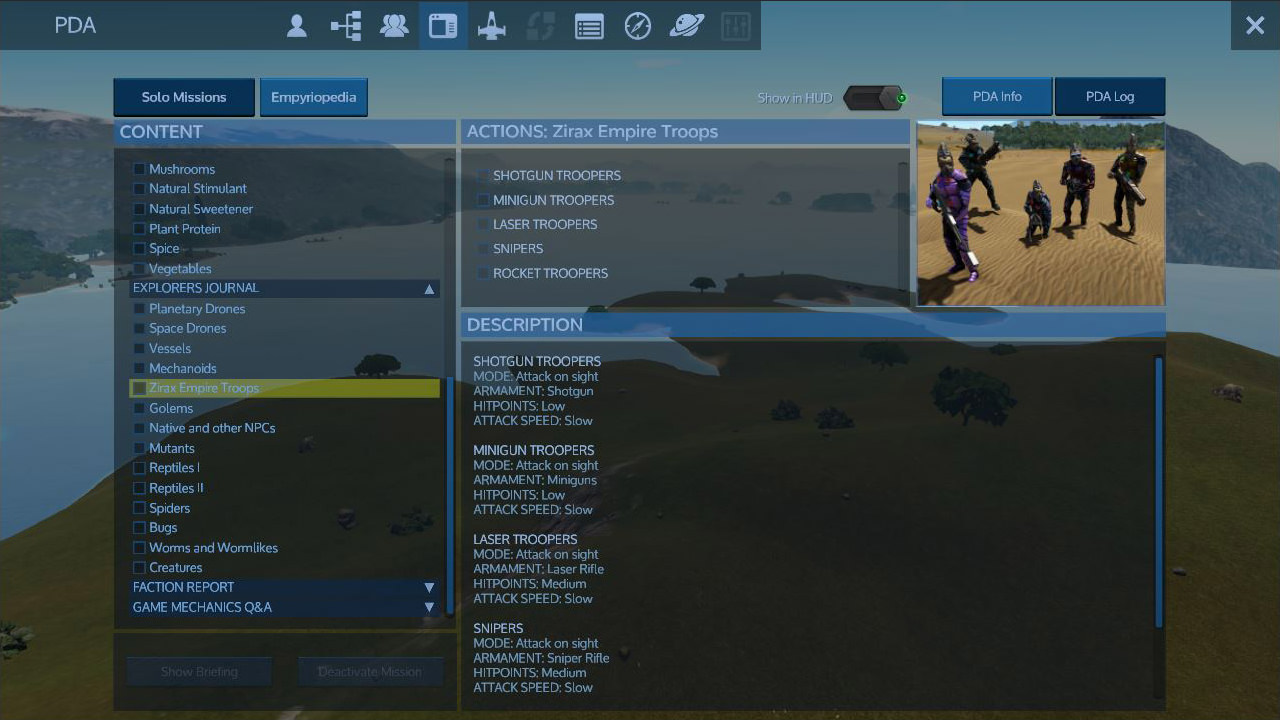 Bug Fixes:
- Fixed: Drop item dupe MP
- Fixed: Problem that HV could get stuck in water (now dynamic adaptation of speed on water)
- Fixed: Planet > Orbit transition: Problem that vessel had a force into a random direction (not the fly direction)
- Fixed: SSOR deposits regenerate if you leave some of the deposit & leave it, then return to it (MP only)
- Fixed: Drone base attacks not working reliable.
- Fixed: Problem that "No BA" spawning rule could be circumvented
- Fixed: Repair-to-Template: Problem that XenoSubstrate was not accepted in Repair Console when a CV used Xeno Steel
- Fixed: AI ShipFighter: problem with docking and launching from AI vessels bays
- Fixed: Global/faction chat cause exceptions when trying to copy text
- Fixed: Problem that Skillon moon in Akua-Omicron scenario was sometimes placed incorrectly due to wrong ordering in Sectors.yaml
- Fixed: Problem with decoration when there are more than 65k changes
- Fixed: Emergency Oxygen Generator did not appear in TechTree
- Fixed: Problem that "Radiation Protection" was displayed for certain blocks like Warp Drive or Gravity Generator (now: "Radioactivity")
- Fixed: Possible to drill surface stones with HV Tree Harvester
- Fixed: Random scenarios preview images now always showing up in new game window.
- Fixed: Not being able to zoom with the controller in the map until pressing something else.
- Fixed: PDA: Chapters with VisibleOnStartPlayfieldTypes restriction didn't show up in SSG created playfields
- Fixed: Alien Planet in IvD scenario was set to PvE (now PvP)
- Fixed: Certain message in Repair-to-Template Window was not displayed correctly ("rtbNoRepairTemplate")
- Fixed: AI exception when loading into a save.- Fixed: Active PDA signal checks got completed for all players when any player triggered it
- Fixed: POI BA_EpsilonOutpos malfunctioning entity spawners- Fixed: LOD of elderberry deco bush (billboard too close)
- Fixed: Status Effect "Intoxication" has broken text
- Fixed: Exception on playfield server when player fires rocket