As promised, the first of several major combat updates is here!

This new patch is focused on our big steps to improving the look and feel of combat. You'll now feel a big improvement in the impacts of your weapons on monsters, and dodging will now feel more reactive and not keep you locked you into attacks as it used to.

Swinging a big heavy hammer? Now you'll see your attacks connecting with monsters and really feel that impact!


Slashing at a monster in a flourishing combo? Now you'll see directional swipes and impacts on monsters!


As a part of these changes monster collision boxes have also been adjusted, and dodge windows on attacks have been tweaked to feel better as part of a larger ongoing overhaul! Today's patch will pave the way towards more improvements in the very near future.

There's of course a lot more in today's patch which you can check out in full below. Your feedback is important, so please make sure to drop us a message on the official Discord or the Steam forums and tell us what you think!

Full patch notes below:

COMBAT IMPROVEMENTS• Weapon hits on monster feedback have been greatly improved.
Improved visual effects for all melee weapon types.
Improved timings and impacts.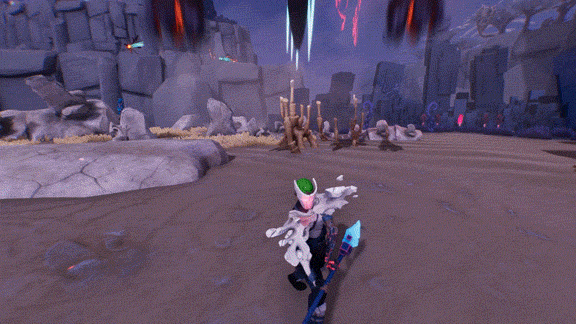 • Player attacks will hit all monsters more reliably on all types of terrain.
• Player character will no longer get 'caught' on collision while running.
• The player camera has been moved back and centered.
Large tree objects will now fade out to prevent awkward camera clipping.
Swapping to a ranged weapon will revert the camera to an over the shoulder view.
DODGE IMPROVEMENTS• Dodge windows while executing attacks have been tweaked to feel better, allowing more reactive dodging to avoid enemy attacks.
• Failed dodge attempts due to lack of stamina now have an appropriate visual effect and audio.
• Fixed animation popping while dodging.

NEW OPENING CUTSCENE• Eden Rising has a brand new opening cutscene! Find out how you came to be on Eden!

MONSTERS• Monster hit collisions have been updated to encompass all parts of the monster more accurately.
• Monsters will no longer snap to idle in the middle of an attack.
• Monsters will now play their warning visual effects and animations correctly before triggering the attack.
• Nametag heights for monsters have been repositioned to be more easily visible.

WORLD CHANGES• Entrance to the Fungal Preserve from The Valley has been adjusted to be more obvious and clear.
• Fungal Preserve starting area has been adjusted to include a new vista and clearer pathways.
• Fixed some faulty collision in the Searing Coast that allowed players to go out of bounds.
• Smoothed out the entrance to the Valley.

SIEGES• Mitigation damage formulas have updated behavior.
• Auto-turret now autofires continually instead of in short bursts with a recharge.
• Withering Turret cooldown time has been adjusted.
• World mini-siege activation radius have been adjusted to better encompass the intended area.
• Siege result screen will now show full score calculation.
• Build points in the Valley and Sulfur pits have been updated to provide new bonus effects.
• Turrets & Pillars will now regenerate mana consistently after it is consumed.

UI• You can now read the latest patch notes when you launch the game.
• Consumables can now be used from the inventory.
• Items now have tags to indicate their intended use, as well as strengths and weaknesses.
• Pressing ESC during the Crafting or Consumable Pop Up Screens (Progress Bars) will return you to the menu.
• You can now drag onto your character model to equip it.
• Server admins are now able to recover items from offline players.

FIXES AND ADJUSTMENTS• Bomb scarabs will no longer instantly disappear on death.
• Null Batons will now display their upgrade icon correctly.
• Discovered tech will no longer display in the Resource Owned Menu (~).
• Fixed a bug where gloves and armor could not be unequipped.
• Crafting will now take into account resource consumption when checking for free inventory slots.
• Fixed a bug where the player would play a damage taken audio without actually being hit.
• Gloves now properly consume mana when used on a valid target.
• Visual effects will now play correctly when using a dye on the hotbar.
• Fungal Preserve center outpost has been adjusted to prevent wild monsters aggroing while a mini siege is in progress.
• Fixed an issue that caused items like consumables and traps to continue to be displayed in the hotbar slots after the player dies.
• Monsters no longer display the 'armored' icon when their damage reduction is not in effect.
• Fixed some sulfur volumes in the Shattered Causeway.
• Fixed an animation loop issue with ranged weapon idles.
• Swapping weapons while sprinting will no longer cause the wrong animation to play.
• Swapping weapons will now reset the special attack UI correctly.
• Jump sound effects will now always play.
• Multiple stuck issues fixes in the terrain all across Eden.