Long time no see, as usual! Here's our monthly progress-report. This time, a lot has happened behind the scenes -- which doesn't make for good screenshot material. But we'll try!
First of all, we've been given an Editor's choice award from IndieDB! This has been great for us, and we're honored that we've been chosen for it. Thank you, IndieDB, and to all of you who've emailed us or otherwise showed us your support. It's been the most heartwarming christmas imaginable! :)
While we've been quiet on IndieDB, we've been hard at work on the game. The new framework is now completely integrated into the website. As a result, many new features have been introduced, and old systems have been much improved.
Our message system is now much nicer to look at, and automatically sorts your messages according to its type. Important messages now won't get lost in a sea of reports about people having the most horrible death in your dungeons.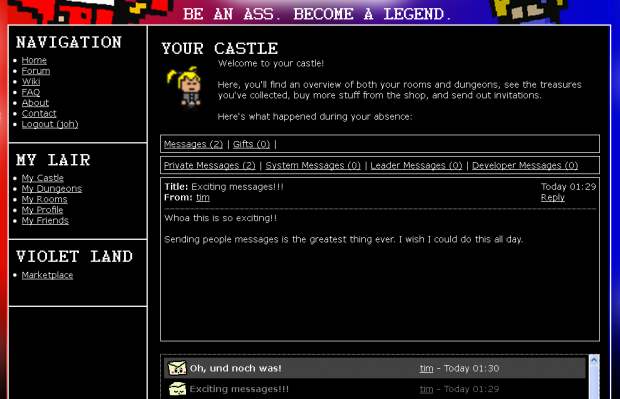 You can now send private messages to everyone else, whether they are in your team or not. This is the first of many new "community" features. You can send your friends (conveniently arranged in a very innovative feature that we may call "A list of friends") invitations to your dungeons. You can see other people's profiles, and check their statistics.
The other new feature is a gift system. If you log in, you'll find that there's an option to look at all the gifts you've received in your castle -- from time to time, we hear that friendly monarchs may express their gratitude in this way.
And, of course, we may also do that as a small apology whenever you encounter a bug.
Will there be a way to give presents to people you love in the game? ... Perhaps. We don't know yet.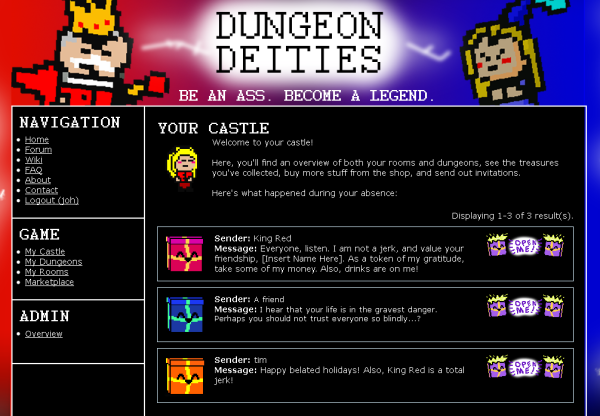 The client software also underwent huge changes. First, we've finally decided to upgrade the engine. We've been working with the now outdated A6-engine, but have now decided to take the huge leap from the old to the newest version. As you can see to the right, we're now on A8, which does offer lots of advantages. The game now runs much faster, and takes up less memory, which may allow us to add some other neat effects to it. The last few weeks thus were spent on porting to the new engine version. Took a while, but it was definitely worth it!

Last alpha, many of you wanted to see some kind of equipment ingame, and since your wish is our command, we've done exactly that! You can collect items such as potions or scrolls, but also equipment that boost your stats. Weapons, Helmets and Armor are even shown ingame! This is done by taking three different images, and overlaying them in different ways. This allows us to get a rather huge variety even with only a few different images - the item you just found should stand out from the rest, and this system hopefully manages to do just that! Below, you can see the system in action.
Another small advantage is that you'd now be able to select a different appearance to your hero: You can chose what body type to use, and from a variety of images for your head.

And in the last few weeks, we've managed to find a composer to help us out! Music really enhances atmosphere and thus the whole experience. We've used free music before, which worked, but we're very exciting to hear some tunes made just for this game. Hopefully, we'll be able to tell you more about that in the next post!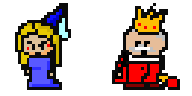 Want us to notify you once we start the next alpha test?
Subscribe to our one-time-newsletter at www.dungeondeities
.com , or watch us on IndieDB for the news!