Cyberdroid is the futurist cyberpunk style remake of the classic arcade Breakout, you'll find the ball, the spaceship and lots of bricks to destroy.
And obviously you'll find a great number of Bonus and Power Ups.
Let's talk about some of them in this article.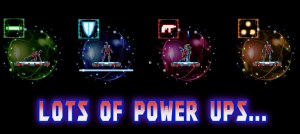 - POINTS
Whit this power up you'll reach points, important to gain extra lives!
- LONG SPACESHIP
This one will enlarge your spaceship, very usefull to reach balls when you are in trouble of distance.
- SHIELD
Power up that will make you able to loose ball, when the energy ball hit it, will bounce and return in game.
- CANNON
Great to reach and destroy bricks that you can't reach easily with normal bouncing.
- SPEED UPPay attention, with this bonus you'll be faster in brick's destruction, but more difficult to keep the ball in the game.
- SPEED DOWN
With this one the ball speed will decrease and will be easy reach it and make it bounce safely.