First Thing's First
First and foremost, you need the Spring Engine. It provides the framework for the game to function, and the program Spring Lobby, which you will use to launch games. You can find the latest installer here:
Now, onto Conflict Terra
After you have the Spring Engine, you can get Conflict Terra from a few different ways. The first way utilizes a very small download but is able to easily update the game after you acquire it.
The second way, using the Rapid-GUI, doesn't require any additional downloads but is a little cumbersome. It is advised that you read both methods to determine which you're more comfortable with. The first way is recommended. First we'll talk about the easier to use way that requires just one small download.
---
Custom Rapid Files
The recommended way to get Conflict Terra starts with downloading a pair of files, found in a .zip we've provided. You can find this .zip in two places:
Inside you will find a rapid.exe and a rapid.bat. Extract both of these files into the folder you installed the Spring Engine. An example of the path will be:
64-bit Windows - C:\Program Files (x86)\Spring
32-bit Windows - C:\Program Files\Spring
An important note: Ignore the folder named "rapid" in this directory. It deals with the other download method, detailed below. Leave the pair of files in the main Spring directory.
Double click rapid.bat, and you will be greeted with a cmd window. You should see some text, and then a crude progress bar showing the progress of your download.
When you do this the first time, nothing else happens. However, when you do this afterwards to update to the latest version of Conflict Terra, you will be prompted if you want to uninstall the previously downloaded version. This is up to you, but know that this is the easiest way to get rid of the previous versions of Conflict Terra. The other method involves going into the "pool" folder of your Spring install and deleting a lot of folders, indiscriminately wiping out all games downloaded via rapid. This is not advised.
The advantage of this method of getting Conflict Terra is that all you have to do to update the game is to run the rapid.bat again. The old files get removed, and new ones added automatically. You don't have to re-download the entire game, or search for the latest revision from a very long list.
It is recommended to create a shortcut to the rapid.bat and put that shortcut on your desktop (or wherever you please). This will make updating Conflict Terra very easy!
---
Rapid-GUI
When you install the Spring Engine, you also installed a program called rapid-gui. This is the GUI (Graphic User Interface) for Rapid, one of the main distribution systems for games on Spring. This program can be found here if you didn't change where Spring usually installs to:
64-bit Windows - C:\Program Files (x86)\Spring\rapid\rapid-gui.exe
32-bit Windows - C:\Program Files\Spring\rapid\rapid-gui.exe
Run this program and you'll see this on your screen:
---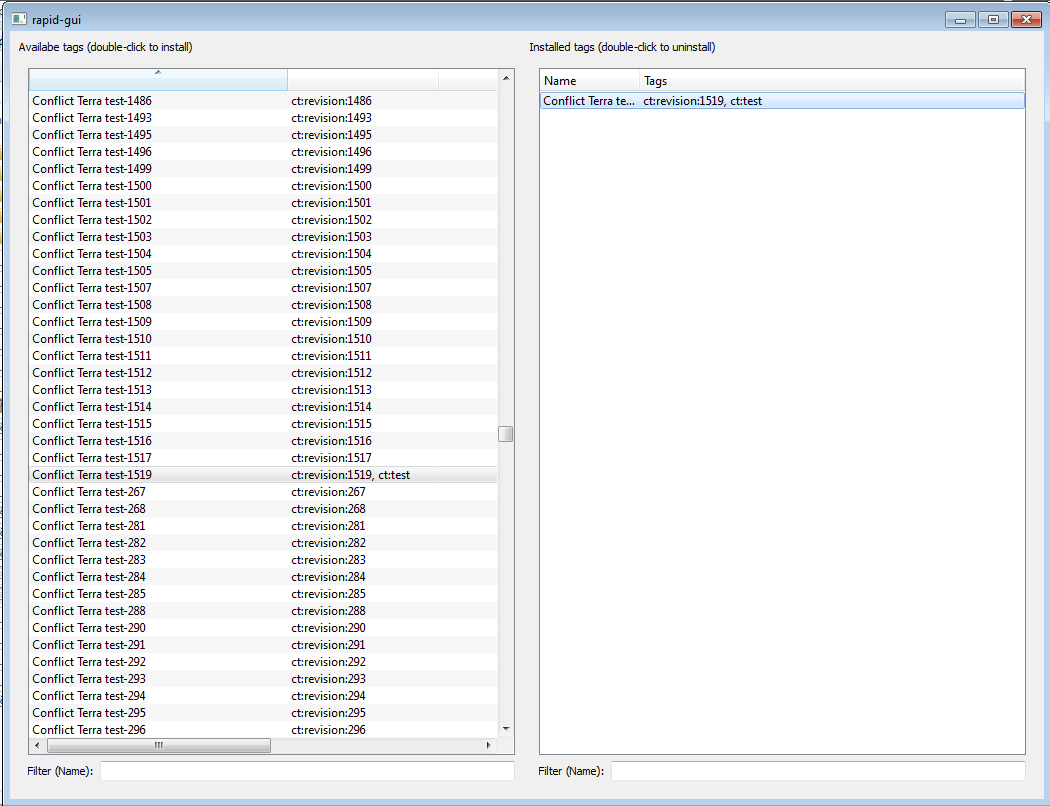 ---
The column on the left is the list of available game builds to download. To download and install, you simply double click the build you wish to acquire. It downloads and installs automatically, and then you're done.
The column on the right is the list of game builds you've downloaded and installed. You use this column to uninstall game builds you don't want anymore, or builds that are outdated.
Now, a few notes about Rapid-GUI. At the time of the writing of this tutorial, it is still a work-in-progress project. It works, but it is kind of buggy. You'll notice a Filter bar at the bottom of each column, used to sift through the very, very long list of available downloads. It does not work, yet.
You will see a lot of game builds to download, and most of them are not Conflict Terra. You'll find a lot of other games on the Spring Engine there, but don't forget Conflict Terra!
You will want to find the latest revision of Conflict Terra. This, of course, means you want to find the highest number. The Filter bar at the bottom may not work, but you can organize the Name column in Ascending or Descending order. This will help a lot. At this time, the revision of Conflict Terra is 1519, so search for a number higher than that :)
Rapid-GUI puts the files exactly where they need to be, and all you have to do is select the game in Spring Lobby.
---
Finally...If you're proficient with SVN software, you can download the game from our source page. I won't go into detail with that, you should only do it if you know how to ;)
Good Job! Now...
Now that you have the files for Conflict Terra, you can follow this tutorial on how to start a game and start playing! Go ahead and download the Map Pack too! Enjoy!